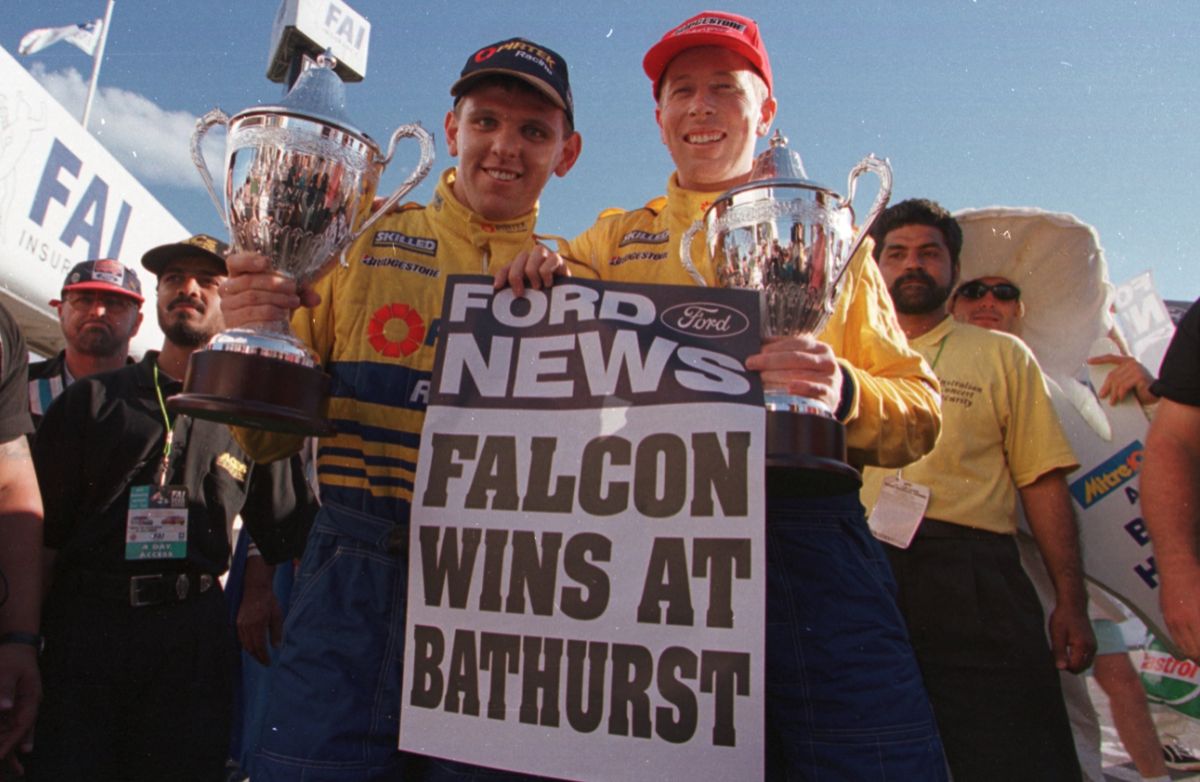 Bathurst winner confirmed for Hampton Downs event
Steve Richards' fifth win in the Bathurst 1000 in October meant that only five drivers have won more times around Mt Panorama. The popular Australian-based Kiwi driver will be one of the guests of honour at the Legends of Bathurst event at Hampton Downs from January 12-13.
'The King of the Mountain', Peter Brock leads the all-time winners' list with nine titles, followed by Steve's father Jim on seven. Craig Lowndes, who Richards helped to victory at Bathurst this year, also sits on seven wins with Larry Perkins and Mark Perkins on six apiece.
Richards stands alone with five wins, his most recent elevating him above such greats as Greg Murphy, Jamie Whincup and Allan Moffatt (four wins), the legendary Dick Johnson (3) and John Bowe (2).
Richards Snr and Jnr will be joined by Johnson, Bowe and the Stone Brothers for the Hampton Downs event.
"2018 was a monster year and I'm really looking forward to coming over to New Zealand to celebrate with all the motorsport fans over there," says Richards. "Jim and I were privileged to attend the first Legends of Bathurst event last year and it was a great initiative. It was a unique atmosphere and it showed how much Bathurst means to Kiwi motorsport fans."
"Jim started his career in New Zealand and some of the photos and memorabilia that people turned up with last year was just incredible. I know that Dad loves seeing that old stuff. A big part of what he achieved in Australia and Bathurst was down to what he learned here in New Zealand and the people who supported him."
"When you think of motor racing in Australia, you think of Bathurst and we feel pretty privileged to be able to come and showcase some of the cars that have been involved at Bathurst over the years. It's just a great opportunity to see a bit of history, watch some good cars driving around the track and meet some people who have been lucky enough to be part of something special at Bathurst."
Richards first win at Bathurst was with Jason Bright in 1998, in a Stone Brothers Racing car prepared by New Zealand brothers Ross and Jimmy Stone.
"Ross and Jimmy Stone were pivotal in kickstarting my Bathurst career and I'm incredibly thankful for the opportunity they gave me," says Richards who went back-to-back at Bathurst winning in 1999 with Greg Richards. It was 13 years before he added his third with Mark Winterbottom in 2013, followed by success in 2015 and 2018 with Craig Lowndes.
"Winning this year in Craig's last year as a full-time driver will go down as one of my best wins at Bathurst," says Richards. "There was a core group of people involved in the team who were part of the experience and it's pretty special to walk past one another in pit lane and know you've been part of something special. It will be the same at Hampton Downs. We all share that feeling of just how special it is to drive around Bathurst."
Both Richards, father and son, will race in the Historic Touring Cars category at Hampton Downs with Jim driving the Peter Sturgeon-owned, ex-Frank Gardner Group C BMW 635i in the iconic black and yellow John Player Special livery. Steve will pilot a Nissan Primera Super Tourer which raced in the British Touring Car Championship.
"It's almost identical to the car I drove in England in 1998," says Richards. "I took it for a few practice laps at the Legends of Bathurst in 2018 and it handled the same, it smelt the same and I'm looking forward to getting reacquainted with it."
John Bowe will be behind the wheel of the Group A Volvo 240 GT car he raced around Mt Panorama in 1986 while Paul Radisich will compete in the Ford Mondeo he drove to victory in the 1993 & '94 Touring Car World Cup at Monza and Donington respectively.
Other categories at Hampton Downs include Central Muscle Cars, Pre 65s, Formula Libre and Formula Ford with one more to be confirmed. The Legends of Bathurst will do autograph signing sessions over the course of the weekend while there will also be a massive Show 'n' Shine exhibition. The Legends on Stage dinner on Saturday evening at Hampton Downs Pavilion promises to be another highlight of the weekend.
For tickets and more information visit www.hamptondowns.com