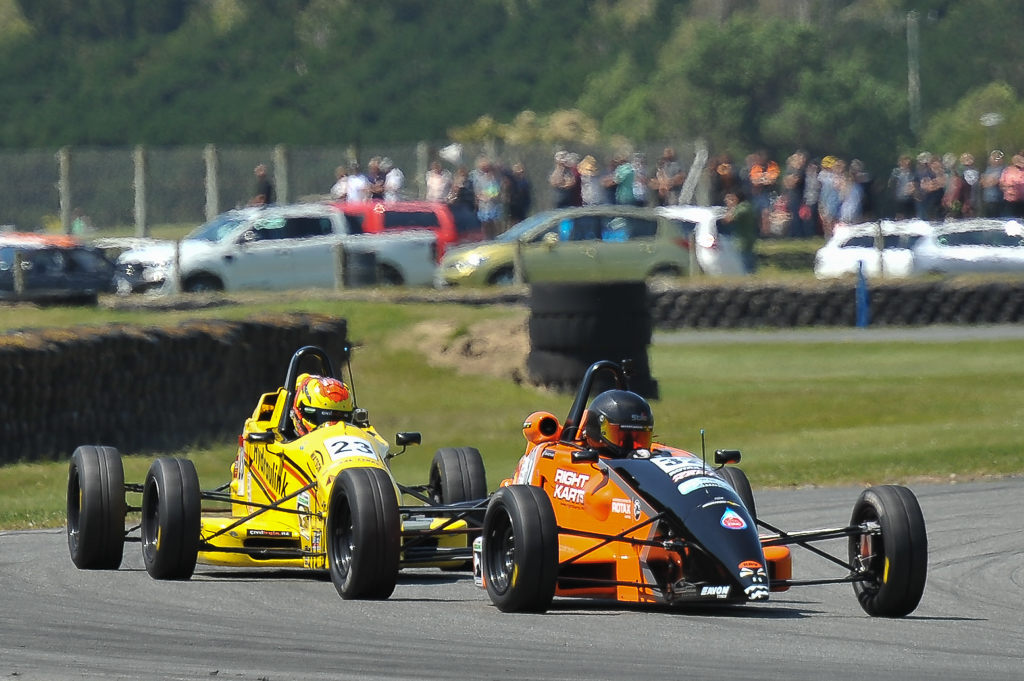 Rivals look to threaten Bethune's NZ F1600 Championship lead at Ruapuna
2018/19 New Zealand Formula 1600 Championship
Round 2– Preview
12-13 January 2019 Mike Pero Motorsport Park, Christchurch
A large grid of 26 Formula 1600 single seaters will take to the Mike Pero Motorsport Park this coming weekend as the second of five New Zealand Formula 1600 Championship rounds gets underway.  Current points leader Josh Bethune from Auckland (Ray GR17) will be looking to increase his eight-point lead over local James Penrose (VD Stealth) with Southland's Jordan Michels (Mygale SJ13) three-points further back.
Joining the field are two international drivers, Kyle Gurton (ex-Michael Collins VD RF91) from Australia and Luke Kohlbecker (ex-Bethune Mygale SJ2007) from the USA.  Kohlbecker begins his 2019 campaign after a successful run in the 2018 Canadian F1600 Toyo Tires Championship where he finished on the podium in both the Ontario series and the Ontario/Quebec Super Series.
This season is lining up to one of the most competitive with several drivers knocking on the door of either a podium finish or race wins. This includes Ben Stiles (VD Stealth) from the UK, Zac Stichbury (Mygale SJ08a) from Napier and Christchurch's Jack Noble-Adams (VD Stealth) and Bailey Paterson (VD Stealth).  Joining the field for the first time this season is Auckland's Kurt Peterson (Stealth) who finished third overall last season.
Bethune has won two of the three national championship races so far as well as finishing third.  The other race win going to Michels. Penrose, with three second places is the leading rookie.
The weekend also doubles as the fourth of six South Island F1600 Championship rounds.  Defending champion Bethune leads from Michels and Penrose with Noble-Adams fourth overall.
With three Class titles also being competed for, Bethune leads Class 1 from Michels and Stichbury while Penrose leads Stiles and Ethan Anderson in Class 2.  Noel Atley (Crossle 55F) continues to lead Class 3 from Gary Love (VDRF88) and Roger McKenzie (Begg FM3). Drivers' face qualifying and three races over the weekend before heading to Teretonga Park in Invercargill for the third round next weekend.
2018/19 New Zealand Formula 1600 Championship Points 1/5 rounds(Top 15)
1 Josh Bethune Ray GR17 113
2 James Penrose VD Stealth 105
3 Jordan Michels Mygale SJ13 102
4 Ben Stiles VD Stealth 70
5 Ethan Anderson VD Stealth 68
6 Zac Stichbury Mygale SJ08a 65
7 Jack Noble-Adams VD Stealth 63
8 Robert Toshach Spectrum 08 58
9 Cameron Freeman VD RF92 52
10 Bailey Paterson VD Stealth 50
11 Callum Crawley VD RF92 47
12 Steve Edwards Mygale SJ08a 40
13 Noel Atley Crossle 55F 36
14 Simon Spencer-Bower VD Stealth 30
15 Andy Downs Lola 642e 27
South Island Formula 1600 Championship Overall Points 3/6 rounds (Top 20)
1 Josh Bethune Ray GR17 345
2 Jordan Michels Mygale SJ13 276
3 James Penrose VD Stealth 238
4 Jack Noble-Adams VD Stealth 211
5 Cameron Freeman VD RF92 186
6 Bailey Paterson VD Stealth 186
7 Ben Stiles VD Stealth 156
8 Zac Stichbury Mygale SJ08a 146
9 Steve Edwards Mygale SJ08a 134
10 Robert Toshach Spectrum 08 132
11 Noel Atley Crossle 55F 118
12 Corey Hodges VD RF92 104
13 Andy Downs Lola 642e 104
14 Dominic Robertson VD RF92 90
15 Roger McKenzie Begg FM3 90
16 Stephen Heffernan VD Stealth 87
17 Gary Love VD RF88 86
18 Simon Spencer-Bower VD Stealth 79
19 Grant Campbell VD RF03 73
20 Ethan Anderson VD Stealth 70
2018/19 New Zealand Formula 1600 Championship Calendar
Rnd 1 10 November 2018 Timaru International Motor Raceway
Rnd 2 12-13 January 2019 Mike Pero Motorsport Park, Christchurch
Rnd 3 18-20 January 2019 Teretonga Park, Invercargill
Rnd 4 23-24 February 2019 Manfeild Circuit, Manawatu
Rnd 5 3 March 2019 Pukekohe Park Raceway, Pukekohe
2018/19 South Island Formula 1600 Championship Calendar
Rnd 1: October 27-28 2018, Mike Pero Motorsport Park, Ruapuna, Christchurch
Rnd 2: November 10 2018, Timaru International Raceway, Timaru (also Rd 1 NZ Formula 1600 Championship)
Rnd 3: December 1-2 2018, Teretonga Park Raceway, Invercargill
Rnd 4: January 12-13 2019, Mike Pero Motorsport Park, Ruapuna (also Rd 2 NZ Formula Ford Championship)
Rnd 5: January 18-20 2019, Teretonga Park Raceway, Invercargill; (also Rd 3 NZ Formula Ford Championship)
Rnd 6: April 6 2019, Timaru International Raceway, Timaru
Photo: Richard Dimmock
Prepared by SB Networks on behalf of the South Island Formula Ford Club