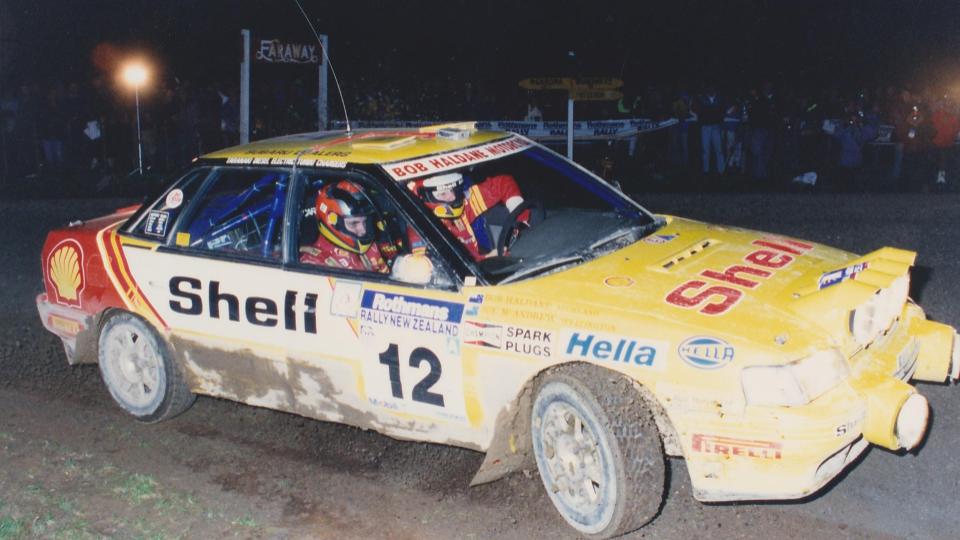 Awards presented as part of 50th celebration of New Zealand rallying
Seventeen people have been recognised for their contributions to New Zealand rally sport during the Motorsport New Zealand 50th anniversary of rallying celebratory event which took place in Hamilton overnight.
Fifty years ago, in 1967, the Hamilton Car Club ran a competitive motorsport event called the Rally of the Pines which is now regarded as the first rally in New Zealand. The half-century milestone of one of New Zealand's most popular motorsports was marked with the 19 August celebratory dinner at Claudelands Event Centre in Hamilton and the inaugural presentation of these 17 Heritage Awards.
"MotorSport New Zealand established its Heritage Awards in 2014 to celebrate our motorsport heritage and those people that helped shape motorsport both here in New Zealand and overseas," says Wayne Christie, President of MotorSport New Zealand.
"Since their creation, the Heritage Awards have typically been presented to those involved in circuit racing, so as part of our celebration of the 50th anniversary of rallying in New Zealand, we are delighted to present the first collection of Heritage Awards to those who have made significant contributions to rallying."
The inaugural recipients of the MotorSport New Zealand Rally Heritage Awards are:
Mike Marshall, Auckland, a top competitor for many years from 1970, the first New Zealand driver to compete overseas, started the first New Zealand rally safety business with Marshall Rally seats (became Autosport seats), ran the first NZ Ford-supported rally team and recently campaigned a Peugeot at Rally Barbados.
Blair Robson, Auckland, a competitor who started out in trialling, becoming the NZ Gold Star Trials Champion in 1966, '67 and '68, also the NZ Gold Star Rally Champion in 1978, the first New Zealander to compete in an Australian rally, and generally acknowledged as the fastest driver in the Masport rally team.
Doug Benefield (posthumously), Auckland, a competitor in national Gold Star trials and rallies, instrumental in the formation and management of the dominant Woolmark Ford Team and Masport Escort Team in the '70s, formed the Rallies and Trials Enthusiasts Club (RATEC) and the Rally Pilots Association, and made lasting contributions with personnel development and national organisational structure and management.
Murray Thompson (posthumously), Wellington, a marshal at the 1969 Silver Fern Rally, a competitor-turned-event organiser for the Wellington Car Club team who organised the NZ Heatway Rallies, a MSNZ Executive member, chairman of ROANZ (before it became Rally NZ) and the driving force behind the FIA's decision to include Rally NZ in the World Rally Championship calendar.
Dave McCahon, Christchurch, competitor in a Datsun 1200 and Mazdas, founding member of the Canterbury Rally Panel and the Autosport Club, a Rally Clerk of the Course and rally organiser, and a former member of the MSNZ Executive.
Jim Scott, Whangamata, a competitor starting in the 1971 Heatway Rally, turned to co-driving and won the Heatway alongside Andrew Cowan in 1972 and 1976, his most high-profile co-drive was alongside a young Ari Vatanen in New Zealand's first World Rally Championship round in 1977, a team manager with the Masport team and Possum Bourne's Australian rally campaigns, a MSNZ Competitor Relations Officer and Steward officiating at an international level, and a former MSNZ Executive member.
Gary Smith, Hamilton, a competitor and engineer from the '70s on, a co-driver for Tony Teesdale – they became the first recipients of the Woolf Whittaker medallions, the local co-ordinator at Rally NZ for the Ford and Hyundai world rally teams, chairman of the NZ Silver Fern Rally, member of the MSNZ Rally Commission, director at Rally NZ and driver mentor.
Robin Curtis (posthumously), Fielding, photo-journalist for more than 50 years, publisher of the fortnightly Motor Action in the '70s and contributor to Speedsport magazine for over 20 years, and manager of the Chevette dealer rally team in the '80s.
Bob Haldane, Auckland, a national motorcycling champion before turning to rally as a co-driver, winning the New Zealand Gold Star Champion Co-driver title in 1988, 1989, 1990, 1993, 1994 and 1996.
Neil Allport, Auckland, a competitor and engineer, winner of the New Zealand Rally Championship in 1986, 1989 and 1992, Ford World Rally Team driver, and the instigator of the use of stage notes in New Zealand rally events and a member of the MSNZ Rally Commission.
Mike Fletcher (posthumously), Christchurch, a competitor as both driver and co-driver, a founding member of the Canterbury Rally Panel and the Autosport Club, an organiser of numerous rally events and a member of the MSNZ Rally Commission.
Malcolm Stewart (posthumously), Dannevirke, a competitor since 1974, the 1983 NZ Gold Star Rally Champion, competed in more Rally NZ events than any other New Zealand driver and introduced the first Group B rally car to New Zealand domestic rallying with the Audi Quattro A2.
Roger Laird, Gore, a competitor, scrutineer and organiser at his first rally in 1976, roles he continues to fill with the Gore, Southland, Rankelburn and Catlins rallies, a MSNZ Rally Clerk of the Course and a former member of the MSNZ Rally Commission.
Norman Oakley, Dunedin, a competitor during the '80s, an exceptional event organiser and motivator of people who developed the Otago Rally into a prestigious and internationally-recognised event, a former MSNZ Executive and Rally Commission member.
Brent Rawstron, Christchurch, a competitor since the mid '70s becoming the 1981 and 1983 NZ Group One Rally Champion, active as a sponsor and team owner bringing top overseas drivers to Rally Otago, and a member of the Silver Fern Rally organising committee.
Willard Martin, Auckland, a competitor in the 1969 Shell Silver Fern – the first-ever international rally run in New Zealand, a Gold Rally Clerk of the Course and the Clerk of the Course for many events organised and run by Rally NZ, an FIA WRC and APRC Observer, the route co-ordinator for WRC Rally NZ and APRC Rally Whangarei, a Rally NZ board member and recipient of a MSNZ Distinguished Service Award in 1996 and an Award of Merit in 2010.
Brian Green, Palmerston North, a competitor since 1972, contesting more than 400 rallies in New Zealand, Asia and other countries, winner of the 2004 Malaysian Championship, the first New Zealander to compete in the Arctic Rally in 2009, rally organiser and sponsor of the New Zealand Rally Championship and other regional events.
The next major milestone of motorsport in New Zealand to be celebrated in 2022 will be the 75th anniversary of MotorSport New Zealand since its establishment in 1947 as the Association of New Zealand Car Clubs.
Source: MotorSport NZ PR
Photo: Geoff Ridder