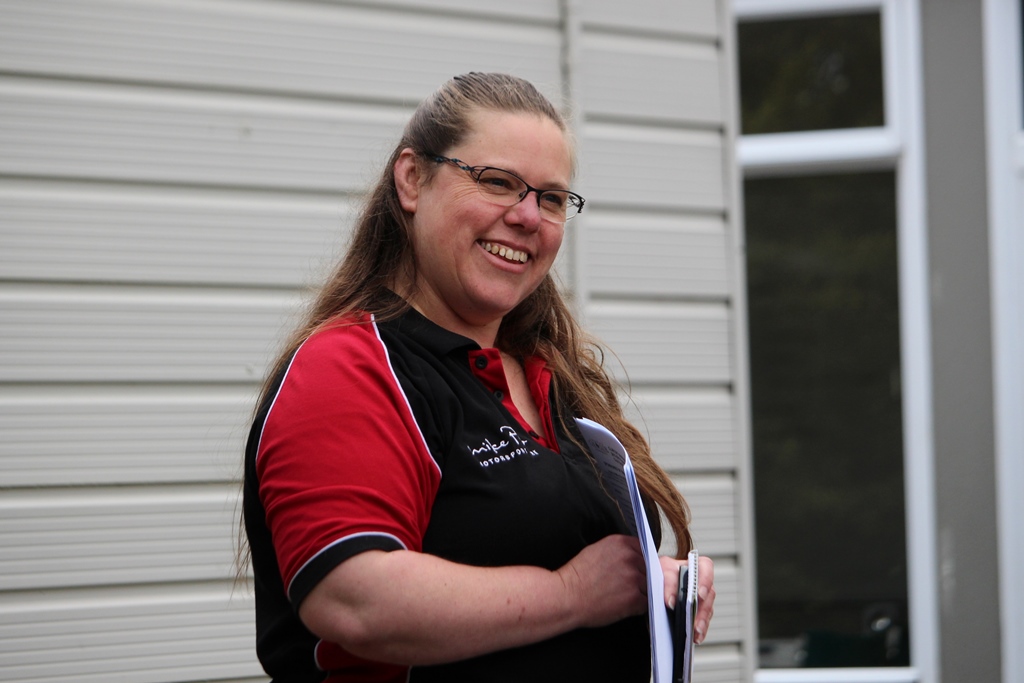 Christchurch motorsport official selected for Bathurst exchange
Long-serving volunteer Shelly McSaveney, from Christchurch, has been selected to attend the famed Australian Bathurst endurance race as part of a trans-Tasman female motorsport official exchange programme.
The exchange is organised by Women in MotorSport New Zealand (WiMNZ), an advisory group to the sport's governing body MotorSport New Zealand (MSNZ), and their Australian counterparts Women of Australian Motor Sport (WAMS). The aim is to strengthen motorsport ties across the Tasman, and promote women in motorsport. The exchange enjoys the support of the Virgin Australia Supercars Championship (VASC) in providing opportunities at two Supercars events for the exchange participants.
McSaveney, a member of the Canterbury Car Club, gets to attend the iconic Bathurst event where she will be hosted by WAMS personnel and get to meet a range of people undertaking volunteer official roles during the event. At home, McSaveney fulfils various roles at the club-run events at Mike Pero Motorsport Park (Ruapuna) including clerk of the course, competitor relations and documentation. She has just received her gold clerk of the course licence, making her one of around 35 people in New Zealand with this level of certification to run motorsport events.
"Motorsport has given me the confidence to make decisions on the spot, and to speak and hold my own in large groups," she says.
McSaveney, formerly a project manager and now the owner of a tyre and mechanic shop, and a car sales yard with her husband, says she wants to become more involved with motorsport than she is currently.
"To do that, I need to meet more people within the motorsport arena and travel to other tracks. I want to see how other tracks operate, I want to learn what it is like at big meetings, and take this and apply it to what I already know and love. I feel you always learn a new way to do things when you work with a new group of people. The exchange programme, which takes me outside our established group at Ruapuna, makes this possible in more ways than I could manage on my own."
Having travelled to the 'great race' twice before as a spectator, the expenses-paid trip to Bathurst will be a highlight of the year for the self-confessed petrol-head. "I always took the opportunity to go to local events or watch them on TV. A while ago, I decided to take my passion further and contacted Ruapuna to become a volunteer, and I've never looked back. Motorsport has become more than a hobby for me, it tends to be a way of life, and other commitments are arranged around when I have motorsport events on my calendar!"
MSNZ president Wayne Christie says that MSNZ was delighted with the calibre of the applicants for the second year of the official exchange run by MSNZ and CAMS, and is pleased to be able to facilitate the learning of new skills for the betterment of New Zealand motorsport for people like Shelly McSaveney.
"This exchange provides a valuable opportunity for Shelly this year, and Timaru's Cate Paddon last year, to see how things are done at a high-profile event in Australia," says Christie. "While many aspects of our sport's administration and management are similar, it's those nuances, those ways of communicating and bringing a big team of volunteers together to make these events run like clockwork that can help our people's skill levels and return value to the sport in New Zealand."
Christie extends his thanks to all the female officials who applied for this year's exchange and to Deb Day, WiMNZ chair, for driving this initiative.
"We have many capable women in our sport and we thank them all for their time, energy and enthusiasm," he said.
Auckland's Belinda Linton was selected as the runner-up for the 2017 trans-Tasman female official exchange programme, and will enjoy the opportunity to travel to a premier race meeting event at Teretonga on a New Zealand exchange.
The Australian female official who will travel to New Zealand for the ITM Auckland SuperSprint in November will soon be selected.
Find out more about Women in MotorSport New Zealand via the Facebook page https://www.facebook.com/womeninmotorsportnewzealand/ or website www.womeninmotorsport.co.nz.
Source: MotorSport NZ PR