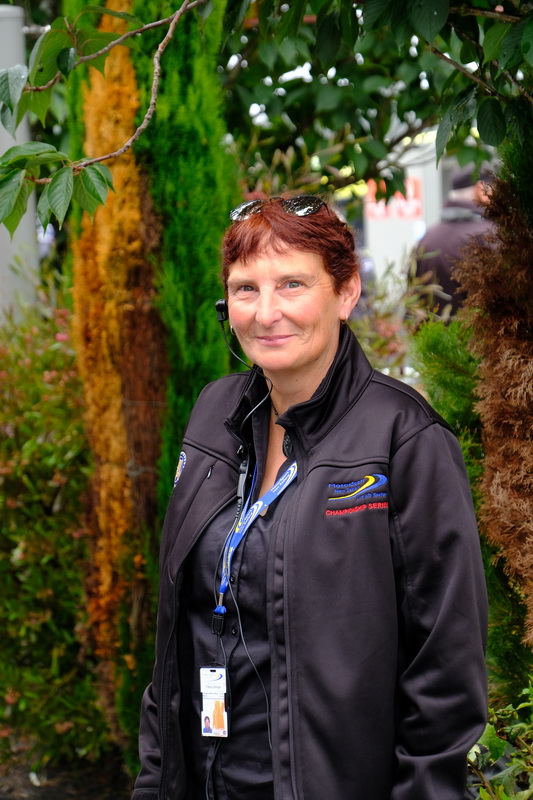 Wairarapa female motorsport volunteer selected for trans-Tasman exchange
Masterton's Tracey Stringer has been selected as the New Zealand participant in a trans-Tasman exchange for female motorsport officials.
Now in its third year, the exchange is organised by the Women in Motorsport advisory commission (WIMNZ) of MotorSport New Zealand with their Australian counterparts, the Women of Australian Motor Sport (WAMS) to assist female motorsport officials expand their knowledge of the sport and recognise their contributions to motorsport.
The exchange is supported by the Virgin Australia Supercars Championship which facilitates Stringer's attendance at the Gold Coast 600 Supercars event which runs 19-21 October. The Australian participant, Tasmanian Suzanne Ashlin, will attend and work at the 2018 ITM Auckland SuperSprint in November.
MotorSport New Zealand President Wayne Christie says the trans-Tasman female official exchange continues to offer value on both sides of the Tasman.
"The opportunity to see how other event officials work is valuable, no matter what sport you participate in," says Christie. "Feedback from our previous two exchange participants – Timaru's Cate Paddon and Christchurch's Shelly McSaveney – highlights just how much they benefited from the experience. They brought back new ideas, ways of communicating with fellow volunteers, of organising big groups of people at these major events, and got to look at our New Zealand motorsport regulations from a fresh perspective. It can only benefit our sport in the longer term and we're delighted that Tracey Stringer will now get this opportunity – Tracey is a very deserving participant who devotes considerable time, skills and effort to our sport."
Christie adds: "People may ask why we need a Women in Motorsport commission. It's the same for our Youth commission – it's all about visibility and inspiration. If prospective competitors or volunteers do not see women or young people involved in motorsport, they don't know what opportunities they could find for themselves in motorsport. Raising the profile of women and young people in our sport can only be a good thing, and that's a core reason for our support of the trans-Tasman female official exchange."
A retail manager in a pharmacy during the week, Stringer follows her passion for motorsport at weekends. Currently she is the president of the Wairarapa Car Club and has served as event and club secretary for many of her 25 years of membership. If Stringer is not helping with a local club event, she heads off to volunteer at motorsport events run by other clubs around the lower North Island in roles such as Competitor Relations Officer and Clerk of the Course. Last year, she was co-opted into a nationwide team of motorsport officials who travel the country each summer to administer and run, from a technical viewpoint, MotorSport New Zealand's premier championships such as the Castrol Toyota Racing Series and the BNT V8 Touring Car Championship. Stringer is also a Wellington region Steward and on Saturday nights in summer can be found at the Manawatu speedway crewing for a superstock competitor.
Stringer is excited about the opportunities afforded by the exchange programme, especially as she has never attended one of the high profile Supercars events in Australia before.
"It's amazing to be selected," says Stringer. "I'm looking forward to meeting our Australian colleagues and seeing how they run these big events, so I have to thank former MotorSport NZ President Shayne Harris and my club members for their support and encouragement to apply for the exchange.
"We do what we do for the sport because we love it, and don't expect more because the friendships and participation give us everything we want. I have friends up and down the country thanks to motorsport. So being selected for this exchange is welcome acknowledgement of the effort that people like me put in. It's also nice to know that the Women in Motorsport commission and the Board of MotorSport NZ appreciate and recognise my contributions over the years."
A mother of four, Stringer adds: "I am extremely lucky to have an amazing partner and family who support my wonderful life full of motorsport, as well as fantastic support from my manager and co-workers in a busy 7-day business. Without them, I wouldn't be able to do what I do for motorsport."
Follow Women in MotorSport New Zealand on Facebook, Twitter, Instagram or the website www.womeninmotorsport.co.nz.
Media release: Kate Gordon-Smith
Image: Geoff Ridder