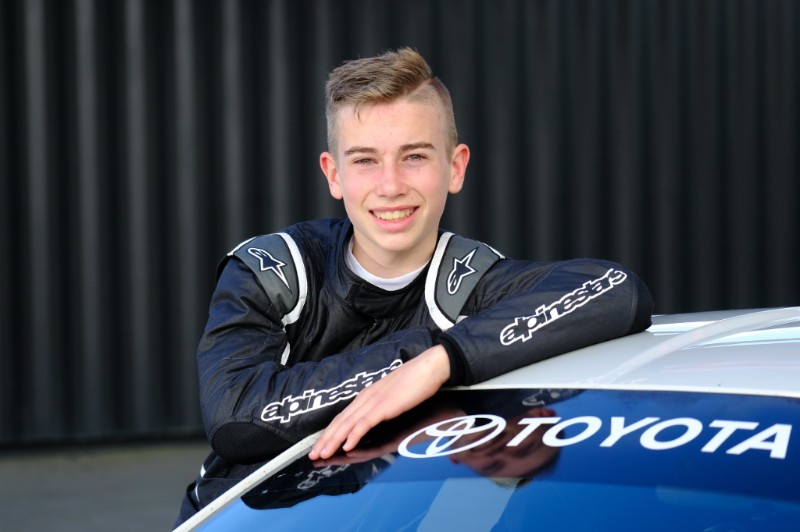 Tony Quinn backs Waikato motorsport prospect
Hampton Downs and Highlands owner Tony Quinn is looking forward to following the career of Connor Davison who's been handpicked as the first driver to benefit from a new motorsport foundation. The 13-year-old from Cambridge makes his debut in the Toyota 86 Series in November and Quinn is excited about his potential.
"I don't want to put the weight of the world on his shoulders but there are a lot of very knowledgeable people out there saying, 'watch out for this kid'" says Quinn. "For me, I want to give something back to New Zealand motorsport and follow the example of people like Sir Colin Giltrap, Kenny Smith, Peter 'PJ' Johnson, and many others. They've been supporting Kiwi drivers for a long time and I want to continue to build on the great work they've done."
"I also want to give the members of Hampton Downs and Highlands the opportunity to get involved. This year I'll support Connor in the Toyota 86 Series but going forward we'll give members the chance to get involved. I'll match their contributions dollar for dollar and hopefully, the Highlands and Hampton Downs Motorsport Foundation can help the next Scott Dixon or Brendon Hartley or Shane Van Gisbergen on the start of their journeys."
"Who knows, our members may even see a return on their investment if some of the kids we back find fame and fortune, but that would be the icing on the cake. There are so many kids in New Zealand with talent who don't get the opportunity and we want to give some of these kids a leg up."
Davison was recommended to Quinn by Mark Pilcher of M2 Competiton, the owner of a Hamilton-based motor racing team.
"I work as a race engineer for Tony's GT team and he asked me to let him know if I came across any young kids who had talent but needed some financial support and direction," says Pilcher. "I've been keeping on eye on the go-kart scene in New Zealand for the last three or four years and Connor stood out, not just because of his performances, but because of his attitude."
"I see a lot of teenagers who are arrogant and not very respectful of where they are and how they got there. Connor is different. He's a really decent, young kid who's not afraid to go out there and make it happen for himself."
Davison started practicing in a go-kart at 6-years-old and had his first race at the age of seven. He's won New Zealand karting titles and has also raced in Australia in recent years. One of the highlights of his career to date was finishing second in the Race of Stars as a 10-year-old, an event that attracts the best go-kart talent from around the world.
Still only 13-years-old (he turns 14 in November), Davison had never sat behind the wheel of a race car until earlier this year. In the last few months, he's done over 3000kms of testing with Pilcher and Kiwi driver and instructor Chris van der Drift.
"He's been driving go-karts since he was 7 but he'd never driven a car before," says Pilcher. "He had to learn how to use a clutch and a gearshift but he's a great listener and his progression has been very impressive. What that means when it comes to the Toyota 86 series we won't know until it starts but it will be interesting to see how he goes against the other rookies in the field."
The Toyota 86 series kicks off at Pukekohe at the start of November as a support category for the V8 Supercars.
"When I was younger I wanted to get into Supercars but there are so many different opportunities in motorsport and I'm just looking forward to driving in different series and categories and gaining as much experience as I can," says Davison.