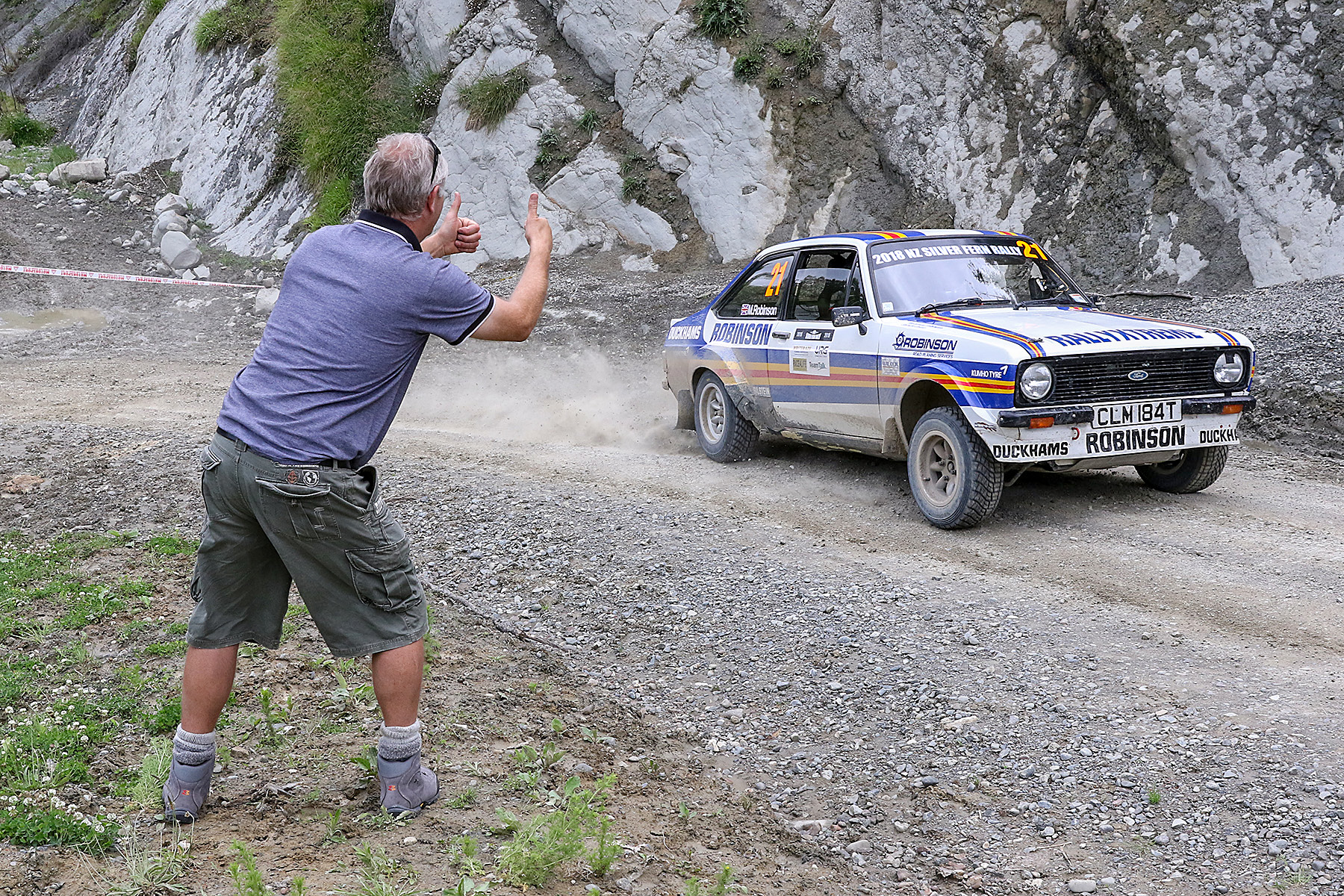 TYSOE HANGS ON TO FINAL PODIUM SPOT ON THE WAY TO ROTORUA FINISH LINE
A late event charge on Thursday saw UK historic marathon rally specialist Roger Tysoe and co-driver Paul Morris wrest the final podium spot in this year's NZ Silver Fern Rally off Kiwi pair Brent Rawstron and Ian McKee on.
But any hope Tysoe had of further closing the gap on event leader Matthew Robinson and co-driver Sam Collis, and multiple Thursday stage winner Roger Chilman and his co-driver Max Freeman who are currently running first and second were – if not dashed, at least put on hold until tomorrow – through the final stage today, the 29.98 km Mangapoike Rd high in the misty Ureweras, south-west of Gisborne.
Before the  lunchtime service in Wairoa, Tysoe and Morris were comfortably third quickest through the stages. By the first stage after the lunch stop, the marathon 44.64km one through Ruapapa Road, they slipped to fifth, losing just over half a minute to stage winner Matthew Robinson. Then through the final 29.98km s of Mangapoike Rd, they slipped back to ninth place, losing just over  a minute to a fired up Chilman, who won the stage from young Kiwi gun Brad McFarlane and Dad Stuart McFarlane in their repaired Porsche 911, and German-born Kiwi Peter Scharmach and his co-driver David Jasko (Ford Escort Mk 2).
Even Matthew Robinson lost time to Chilman through the stage (21 seconds) but the upshot of it was that it was Scharmach – out of the overall running but back in the event anyway –  who finished third behind day winner Chilman and day runner-up (by just 6.3 seconds) Robinson , with Tysoe back in fourth for the day and slipping further back behind the leading pair, rather than closing the gap.
Chilman again won the day, but Robinson conceded less than 10 seconds over 139km of Special Stages and heads into tomorrow's final 178km Special Stage/295km Touring in-between with a buffer of over eight-and-a-half minutes over Chilman and almost 13 minutes over Tysoe and Morris.
Brent Taylor and his co-driver Dave Neill (Toyota GT86) continued, meanwhile, to set the pace in the Challenge class, winning four of the five stages today.
Because of issues earlier in the event however, they are running third overall, and despite taking a good two minutes out of long-time event leader Mike Goldsbury and his co-driver Dan Wallis and second-placed Dave Strong and Rob Scott, he and Neill are still over a quarter-of-an-hour in arrears with just six stages to go tomorrow.
From parc ferme in Gisborne overnight tonight, tomorrow sees a final run to the finish line in Rotorua via six stages including a 45 km marathon final through the famous Motu Road.
2018 NZ Silver Fern Rally Hamilton-Rotorua Sat-Sat Nov 24-Dec 01
RESULTS, Day 7
1. Matthew Robinson/Sam Collis (UK/UK) Ford Escort Mk2 12:38:56.3
2. Roger Chilman/Max Freeman (UK/UK) Ford Escort Mk 2 +8:46.0
3. Simon Tysoe/Paul Morris (UK/UK) Ford Escort Mk 2 +21:38.6 +12:52.6
4. Brent Rawstron/Ian McKee (NZ/NZ) Ford Escort Mk 2 +25:13.8 +3:35.2
5. Andrew Siddall/Alexander Lee (UK/UK)Ford Escort Mk1 +34:52.8+9:39.0
6. Keith Stewart/Jason Sutherland (NZ/NZ) Ford Escort Mk 1 +50:45.0 +15:52.2
7. Brad McFarlane/Stuart McFarlane (NZ/NZ) Porsche 911 +53:45.0 +3:00.0
8. David Hills/Ben Richards (Aus/Aus) Ford Escort MK2 +1:10:59.4 +17:14.4
9. Phil Squires/Nigel Hutchinson (UK/UK) Ford Escort +1:28:41.1 +17:41.7
10. Kevin Blackley/Rodney Christensen (NZ/NZ) Ford Escort+1:54:37.6 +25:56.5
Challenge
1. Mike Goldsbury/Dan Wallis (NZ/NZ) Toyota Corolla DX 13:00:00.1
2. Dave Strong/Rob Scott (NZ/NZ) Honda Civic Type R +7:06.5
3. Brent Taylor/Dave Neill (NZ/NZ) Toyota GT86 +16:24.7 +9:18.2
4. Chris Ramsay/Mike Vincent (NZ/NZ) Toyota AE86 +37:16.8 +20:52.1
5. Charlie Evans/Andrew Hooker (NZ/NZ) Mazda RX7 +7:15:43.4 +6:38:26.6
CAPTION: Long-time  2018 NZ Silver Fern Rally leaders Matthew Robinson and co-driver Sam Collis (Ford Escort Mk 2) get the thumbs up from a spectator today.
Photo credit: Fast Company/ProShotz
Prepared by FAST COMPANY on behalf of the Ultimate Rally Group