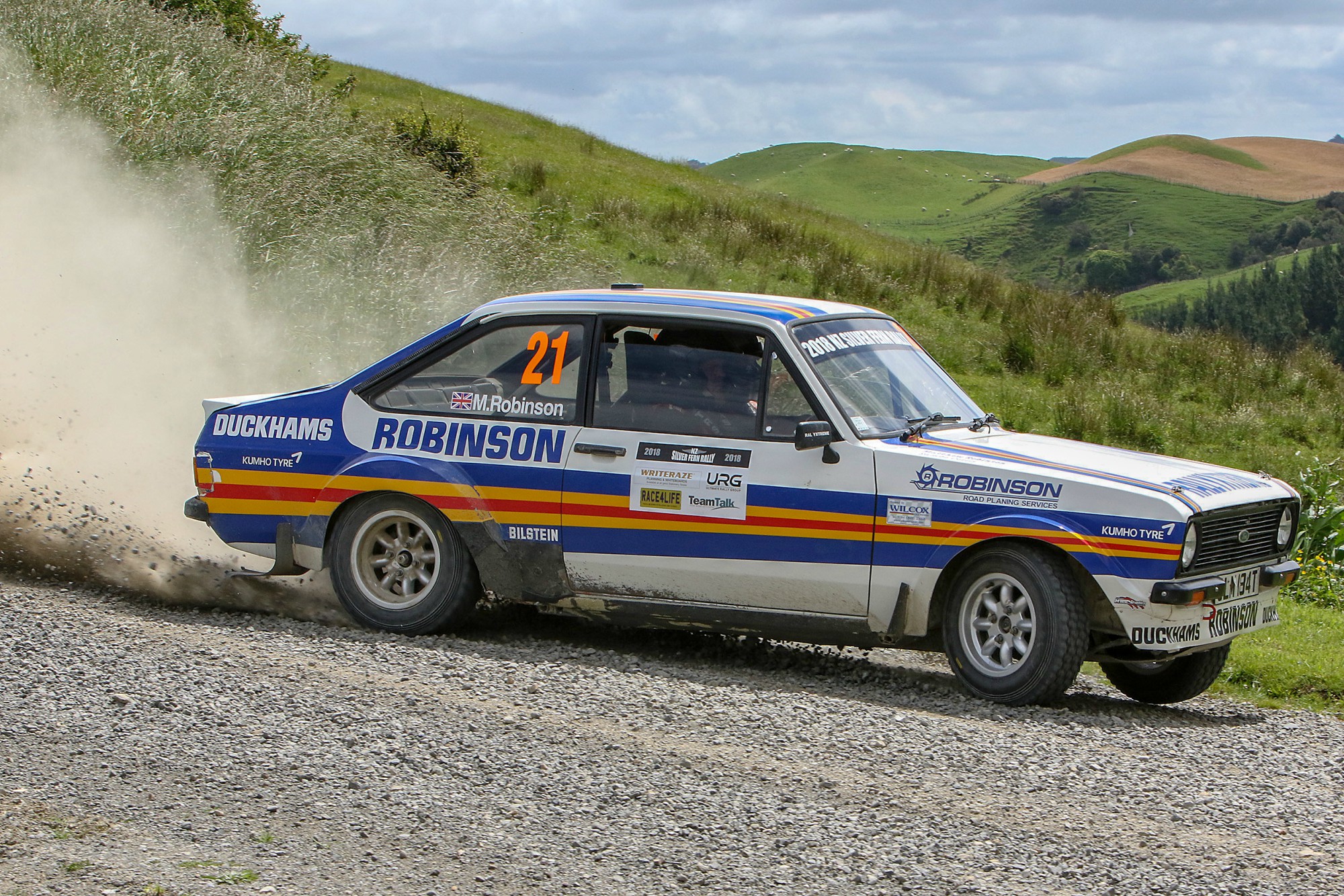 SILVER FERN RALLY'S SHORTEST DAY PACKS HEAVY PUNCH
Day five of this year's NZ Silver Fern Rally might have been the shortest in terms of special stages – three – and stage kilometres – just 84 – but it packed a serous punch.
For a start, overnight leader Roger Chilman and co-driver Max Freeman (Ford Escort RS1800) from Great Britain broke an axle in the first stage – the 38.81km Beaconsfield Valley Road  – and had to be towed out, handing their hard-won and very short-term lead back to compatriots Matthew Robinson and Sam Colllis in their Ford Escort RS 1800.
That was by no means the only bad news for the front-running group to come out of the stage either.
2016 Silver Fern Rally winner, and the top seed for the 2018 event, Meirion Evans and co-driver Lestyn Williams from Wales, hit a culvert in their Ford Escort, the sister car to Chilman's,  putting the pair out for the remaining stages and placing a question mark against their ability to be back in the event tomorrow.
With teammates Chilman and Evans both out of contention early, it was left to one of the other visiting UK Ford Escort Mk2 drivers, Simon Tysoe and co-driver Paul Morris to step up and take the stage win.
With a new axle in his Escort though, Roger Chilman was not only back in the running after the first stage, he went on to win the other two from Tysoe and Morris, and Matthew Robinson and Sam Collis.
Rather than starting to drive conservatively to protect what at parc ferme back in Palmerston North this evening was a lead of over 10 minutes, however, Robinson said he was simply struggling as the first car on the road with the thickest gravel he reckoned he had ever seen in a rally, here or back home in the UK.
First Kiwis in the event pecking order after another quick clean day today were son Brad and father Stuart McFarlane in third place in their Porsche 911. Tysoe and Morris are looming closer and closer however, the margin the Kiwi pair enjoyed at the end of the day this evening just six seconds.
Fellow Kiwis Brent Rawstron and Ian McKee also remain a distinct threat to the McFarlane's prospects of a podium, as the Rawstron/McKee Mk 2 Escort ended the day in fifth place but only another 14.5 seconds back from Tysoe and Morris.
Sadly the eight day event has seen the last of two other Kiwi Ford Escort Mk2 pairings, Christchurch classic rally specialist Jeff Judd and Belgian co-driver Stephane Prevot suffering a serious engine problem on Tuesday and officially pulling out of the event today.
Locals Brian Green and co-driver Fleur Pedersen were also forced to call it quits today with a blown motor in Green's car.
Despite an early scare today when he clipped Meirion Evans' prone Ford Escort in the fateful first stage the story of the Challenge category today was about how Brent Taylor and co-driver Dave Neill in Taylor's contemporary Toyota GT86 were chipping away at the lead event rookies Mike Goldsbury and Dan Wallis have built up in their circa 1982 Toyota Corolla DX!
At the end of the fourth day the lead was just over four minutes, at the end of today it was just over three……
Tomorrow (Thursday Nov 30) sees the NZ Silver Fern Rally field back into a full day of stages (135 kms over six) between Ekatahuna in the west and parc ferme in Havelock North in the east.
2018 NZ Silver Fern Rally Hamilton-Rotorua Sat-Sat Nov 24-Dec 01
RESULTS Day 5
HISTORIC & OVERALL
Matthew Robinson Sam Collis (UK/UK) Ford Escort Mk2 9:21:48.8
Roger Chilman/Max Freeman (UK/UK) Ford Escort Mk2 +10:20.6
Brad & Stuart McFarlane (NZ/NZ) Porsche 911 +15:50.7
Simon Tysoe/Paul Morris (UK/UK) Ford Escort Mk2 +15:57.1 +0:06.4
Brent Rawstron/Ian McKee (NZ/NZ) Ford Escort Mk2 +16:11.6 +0:14.5
Andrew Siddall/Alexander Lee (UK/UK) Ford Escort Mk1 +19:48.7 +3:37.1
Keith Stewart/Jason Sutherland (NZ/NZ) Ford Escort Mk1 +36:05.9 +16:17.2
David Hills/Ben Richards (Aus/Aus) Ford Escort Mk2 +59:56.3  +23:50.4
Geoff Bell/Ed Bentley (SA/SA) Ford Escort Mk 2 +1:00:09.5 +0:13.2
Kevin Blackley/Rodney Christensen (NZ/NZ) Ford Escort +1:10:42.3 +10:32.8
Challenge
Mike Goldsbury/Dan Wallis (NZ/NZ) Toyota Corolla DX 9:36:45.2
Brent Taylor/Dave Neill (NZ/NZ) Toyota GT86 +3:05.4
Dave Strong/Rob Scott (NZ/NZ) Honda Civic Type R +6:54.5 +3:49.1
Chris Ramsay/Mike Vincent (NZ/NZ) Toyota AE86 +21:07.0 +14:12.5
Charlie Evans/Andrew Hooker (NZ/NZ) Mazda RX7 +4:03:46.4 +3:42:39.4
CAPTIONS
Back leading the 2018 NZ Silver Fern Rally are Yorkshiremen Matthew Robinson and Sam Collis  in their Ford Escort RS1800.  Photo credits: Fast Company/ProShotz
Prepared by FAST COMPANY on behalf of the Ultimate Rally Group.