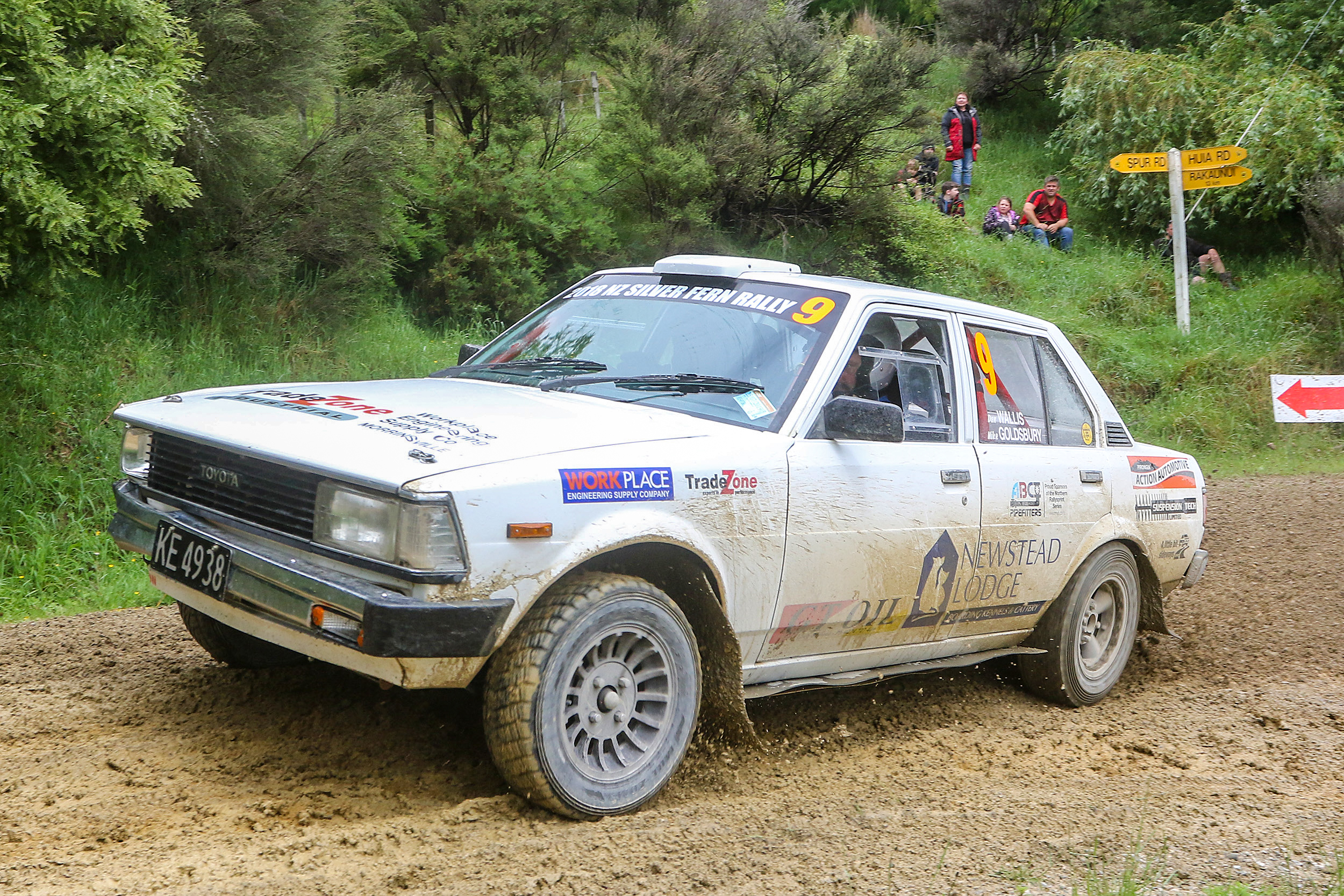 EMPHATIC SILVER FERN RALLY WIN COMPLETES 'UNFINISHED BUSINESS' FOR ROBINSON AND COLLIS
Winning this year's NZ Silver Fern Rally – and doing so in such emphatic style – was like completing unfinished business for top British Historic rally driver Matthew Robinson and co-driver Sam Collis.
The pair crossed the official finish line of the eight-day 3,571km marathon from Hamilton to Rotorua this afternoon (Sat Dec 01) just over four minutes ahead of fellow Ford Escort Mk2 pair Roger Chilman and Max Freeman with a third British par, Roger Tysoe and co-driver Paul Morris, locking out the podium for Ford in third place.
Robinson and Collis started the last Silver Fern Rally (held in the South Island in 2016) in a freshly-built Fiat 131R replica. When it was going they had the pace of eventual Historic category winner Meirion Evans and co-driver Lestyn Williams in a Mk2 Ford Escort. But the unsorted car lacked the reliability of all the Escorts in the event. So this time around Robinson decided that if he couldn't beat the Ford hordes he would join them.
:It's such a long way to come for an event and for something to go wrong," he said." So after the last one I decided that if I was to come back and do another it would be in car that was going to get me to the end." He was not alone this year, either, as nine of the first 10 cars home were Escorts, the exception the Porsche 911 of local son/father combination Brad and Stuart McFarlane in sixth place.
First Kiwi crew home, meanwhile, was Brent Rawstron and Ian McKee in the first locally-built and prepared Mk 2 Ford Escort in fourth place, while Mike Goldsbury and Dan Wallis (Toyota Corolla DX) managed to successfully hold on to the lead of their class, winning the Challenge section by just over a minute from Dave Strong and Rob Scott in Strong's late model Honda Civic Type R.
Brent Taylor and Dave Neill (Toyota GT86) were again the quickest through all but one of the stages on the final day. However they could only close but not completely bridge the time gap to Goldsbury and Wallis in first and Strong and Scott in second thanks to engine issues costing then time early in the event and two off-road excursions doing the same later on.
2018 NZ Silver Fern Rally Hamilton-Rotorua Sat-Sat Nov 24-Dec 01
Event results – Historic & overall
1. Matthew Robinson/Sam Collis (UK/UK) Ford Escort Mk2 15:09:14.3
2. Roger Chilman/Max Freeman (UK/UK) Ford Escort Mk2 +4:17.9
3. Simon Tysoe/Paul Morris (UK/UK) Ford Escort Mk2 +28:18.0 +24:00.1
4. Brent Rawstron/Ian McKee (NZ/NZ) Ford Escort Mk2 +33:13.6 +4:55.6
5. Andrew Siddall/Alexander Lee (UK/UK) Ford Escort Mk1 +43:52.9 +10.39.3
6. Brad McFarlane & Stuart McFarlane (NZ/NZ) Porsche 911 +52:55.5 +9:02.6
7. Phil Squires/Nigel Hutchinson (UK/UK) Ford Escort +1:32:40.6 +39:45.1
8. Geoff Bell/Ed Bentley (SA/SA) Ford Escort Mk2 +1:59:11.1 +26:30.5
9. Kevin Blackley/Rodney Christensen (NZ/NZ) Ford Escort Mk2 +2:03:56.8+4:45.7
10. Frank Tundo/Tash Tundo (Ken/Ken) Ford Escort Mk2 RS1800 +2:29:41.5 +25:44.7
Challenge
1. Mike Goldsbury/Dan Wallis (NZ/NZ) Toyota Corolla DX 15:36:57.2
2. Dave Strong/Rob Scott (NZ/NZ) Honda Civic Type R +1:19.6
3. Brent Taylor/Dave Neill (NZ/NZ) Toyota GT86 +8:27.5 +7:07.9
4. Chris Ramsay/Mike Vincent (NZ/NZ) Toyota AE86 +38:59.9 +30:32.4
5. Charlie Evans/Andrew Hooker (NZ/NZ) Mazda RX7 +10:17:46.3 +9:38:46.4
Caption: The Challenge category was won by Mike Goldsbury and Dan Wallis in Goldsbury's Toyota Corolla DX.
Photo credit: Fast Company/ProShotz
Prepared by FAST COMPANY on behalf of the Ultimate Rally Group.