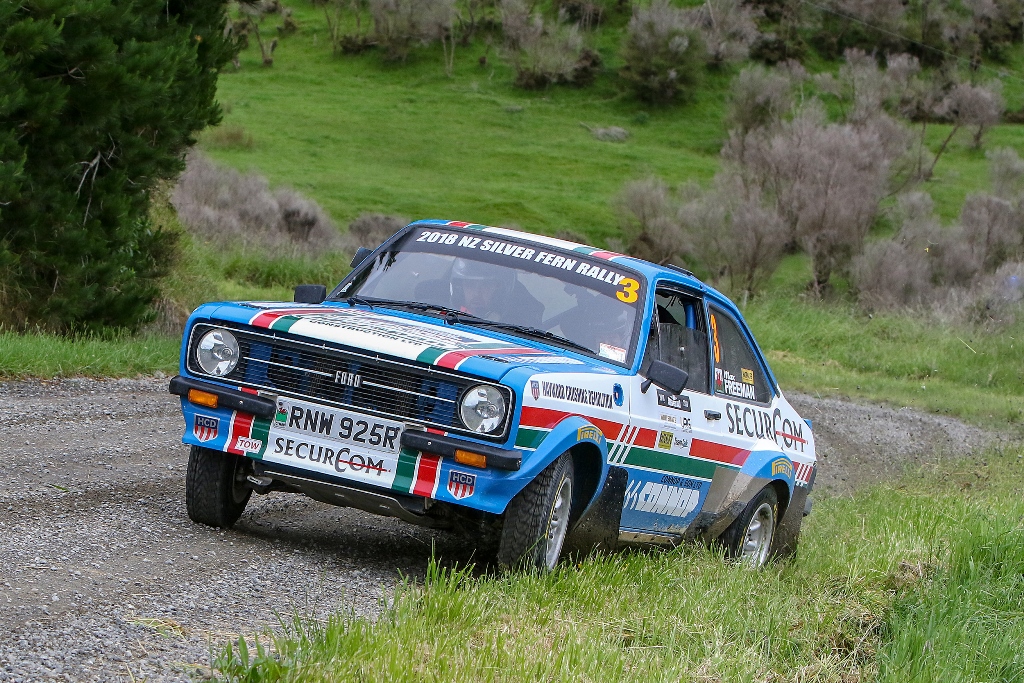 CHILMAN WINS THE DAY BUT CAN'T WREST RALLY LEAD OFF ROBINSON
A hard-charging Roger Chilman and co-driver Max Freeman (Ford Escort Mk 2) dominated the sixth day of 2018 NZ Silver Fern Rally action in the northern Wairarapa and southern Hawke's Bay today.
Yet, after topping the time sheets in five of the six stages, the pair managed to take less than two minutes out of the handsome 10 minute-plus lead compatriots – and fellow Ford Escort pair – Matthew Robinson and his co-driver Sam Collis enjoyed at the start of the day.
Harrogate, Yorkshire, pair Robinson and Collis, won the day's first stage – the 13.9km Mangaoranga Rd one west of Eketahuna, by just 1.9 seconds but then conceded the other five to Chilman and Freeman.
Conceded is perhaps too strong a word for the result, however, 'shadowed' being a better one.
On the next stage, the 15.9km Daggs Rd, the Robinson/Collis Escort took just 5.8 seconds longer to get to the finish line. The margin was even closer -an incredible 0.1 second – in the short (6.3km) sprint through SS34 along Te Para Rd and after 'ballooning out' to 19 seconds through the 21km Alfredto-Tinui stage before lunch went back to single figures – just 6.5 seconds after 36kms of prime Hawke's Bay gravel through Waihoki Valley.
Even through the longest stage of the day, the 41.6km finale south of Pongaroa on the 'Bay's remote south-east coast Chilman and Freeman could not shake Robinson and Collis, though this time the margin was close to a minute (58.8 seconds).
The result was that after  135kms of Special Stage gravel and 400km of transport stages in between the two Escorts were split by just  1 minute and 23 seconds, with Robinson and Collis still holding a tidy margin – 8 minutes and 52 seconds – over Chilman and Freeman, and an 18 minute buffer over fellow Brits Simon Tysoe and Paul Morris in (yet) another Mk 2 Ford Escort.
A conservative start strategy continues to pay dividends for Silver Fern event veterans Brent Rawstron and Ian McKee, who inherited third place and leading Kiwi status after the final (Manukara Rd) stage when swash-buckling son and father pair Brad and Stuart McFarlane finally ran out of luck in what up until that point of the event had been a 100 % reliable and undamaged Porsche 911.
Heading into the stage they were already experiencing gearbox issues and in the stage they not only lost all drive, oil from the gearbox started a fire in the car's engine bay.
The Manukara Road stage also took a toll on the previous paces-setters in the Challenge category for modern or upgraded older ones. Early event category leader Charlie Evans and Andrew Hooker were back to their stage-winning best in Evans' Mazda RX7,  (after taking time out of the event to properly sort a diff issue), topping the category time sheets in four of today's six stages only to roll and fail to finish the final one.
Brent Taylor and his co-driver Dave Neill (Toyota GT86) won the other stage in their quest to chase down long-time leader Mike Goldsbury and co-driver Dan Wallis in Goldsbury's 1980s era Toyota Corolla. But they too ended up off the road in in the final stage, their maximum time penalty sending them back down the category running order for a second time in this year's event.
That left Goldsbury with a lead of over seven minutes, this time though over Honda Civic Type R pair Dave Strong and Rob Scott who were quickest through the final stage.
After overnighting in Havelock North tonight the Silver Fern field heads to Gisborne tomorrow (Friday Nov 30) for a penultimate day of five stages. After a final overnight parc ferme in Gisborne on Friday night Saturday sees a final run to the finish line in Rotorua via six stages including a 45 km marathon final through the famous Motu Road.
2018 NZ Silver Fern Rally Hamilton-Rotorua Sat-Sat Nov 24-Dec 01
RESULTS Day 6
Historic and overall
Matthew Robinson/Sam Collis (UK/UK) Ford Escort Mk2 11:05:43.5
Roger Chilman/Max Freeman (UK/UK) Ford Escort Mk 2 +8:52.3
Simon Tysoe/Paul Morris (UK/UK) Ford Escort Mk 2 +18:43.4 +9:51.1
Brent Rawstron/Ian McKee (NZ/NZ) Ford Escort Mk 2 +20:17.9 +1:34.5
Andrew Siddall/Alexander Lee (UK/UK) Ford Escort Mk1 +27:21.1 +7:03.2
Brad McFarlane/Stuart McFarlane (NZ/NZ) Porsche 911 +35:03.6 +7:42.5
Keith Stewart/Jason Sutherland (NZ/NZ) Ford Escort Mk 1 +44:47.2 +9:43.6
David Hills/Ben Richards (Aus./Aus.) Ford Escort Mk 2 +1:05:26.6 +20:39.4
Phil Squires/Nigel Hutchinson (UK/UK) Ford Escort MK 2 +1:23:51.1 +18:24.5
Kevin Blackley/Rodney Christensen (NZ/NZ) Ford Escort +1:31:29.6 +7:38
Challenge
Mike Goldsbury/Dan Wallis (NZ/NZ) Toyota Corolla DX 11:23:54.9
Dave Strong/Rob Scott (NZ/NZ) Honda Civic Type R +7:15.7
Brent Taylor/Dave Neill (NZ/NZ) Toyota GT86 +18:26.6 +11:10.9
Chris Ramsay/Mike Vincent (NZ/NZ) Toyota AE86 +33:03.1 +14:36.5
Charlie Evans/Andrew Hooker (Mazda RX7) +4:18:38.7 +3:45:35.6
CAPTION: Day winners on the 6th of 8 days of the 2018 NZ Silver Fern Rally today were UK pair Roger Chilman and Max Freeman in Chilman's Mk 2 Ford Escort.
Photo credit: Fast Company/ProShotz
Prepared by FAST COMPANY on behalf of the Ultimate Rally Group.