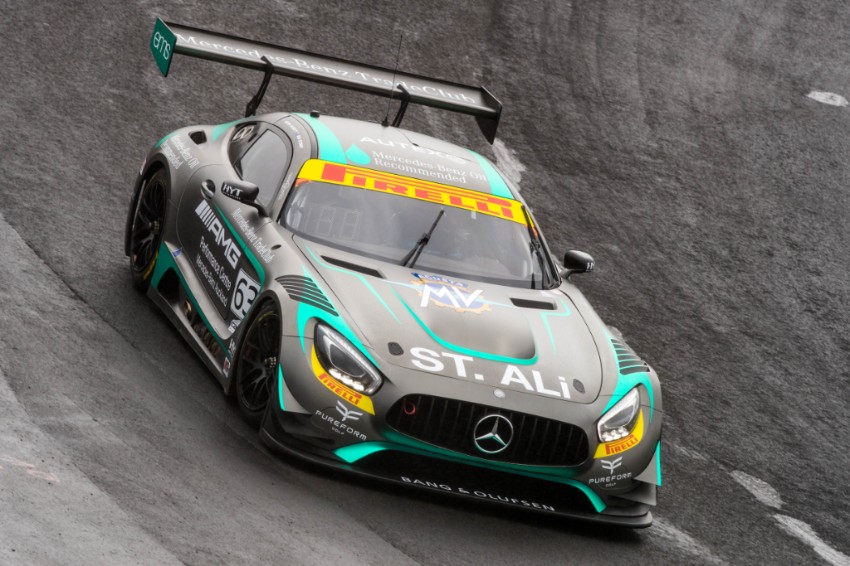 Storey quickest in practice at Hampton Downs 500
Kiwi driver Dom Storey set a blistering pace in practice at this afternoon's Laser Plumbing & Electrical Hampton Downs 500. Storey and his co-driver Peter Hackett are looking to go back-to-back at Hampton Downs after their impressive victory last year.
Storey clocked a 1:32.401 in practice in the Mercedes AMG GT3 ahead of Liam Talbot/John Martin (1:32.568) in the Porsche 911 GT3 R and Adrian Deitz/Cameron McConville (1:33.007) in the Lamborghini Huracan GT3. Jonny Reid, the former A1 Grand Prix driver, recorded an identical time to Deitz and McConville in the Audi R8 LMS run by Auckland team, International Motorsport.
Fraser Ross, who currently leads the Australian GT Championship in the McLaren 650S GT3 finished in the middle of the pack. Ross holds a 16-point advantage over second-placed Hackett, but with 320 points up for grabs, none of the top eight can be ruled out.
It was a frustrating session for Australian-based Kiwi, Steve Richards went from winning the Bathurst 1000 with Craig Lowndes last weekend to struggling with technical problems with his BMW M6 GT3. Richards is just 35 points off the championship lead going into the last race of the season. Last year's championship winner, Geoff Emery, is also still firmly in contention along with Tony Bates who teams up with Kiwi driver Daniel Gaunt.
The Australian Endurance Championship is also balanced on a knife-edge with four driving pairings in with a realistic shot at claiming the crown. Max Twigg and Tony D'Alberto lead the pack while chasing them hard are Richards and Michael Almond and Tony Bates and Daniel Gaunt.
Tony Quinn has shown some pace in the Aston Martin Vantage GT3 in the South Island Endurance Series in recent weeks and he'll team up with Highlands professional driver Andrew Waite for this weekend's main event.
With nine of the 11 cars on the starting grid for the Hampton Downs 500 still in with a mathematical possibility of winning either the Australian GT Championship or Australian Endurance Championship, it promises to be a thrilling weekend of racing.
"Obviously the small grid is a little disappointing but it's a sign of the times," says Josie Spillane, the chief operating officer of Hampton Downs and Highlands. "There's been a lot of upheaval in GT racing in Australian motorsport this year with the sale of the Australian GT Championship to Trofeo Motorsport mid-season. Then there's the new GT-1 series which launched this year under the AMRS banner. It's created a lot of uncertainty and has had the knock-on effect of splitting the field. Unfortunately, the number of cars coming to Hampton Downs is down on previous years as a result, a situation completely out of our control.
"In saying that, we'd like to acknowledge the commitment of the drivers that have made the trip across the Tasman who will put on a great show for motorsport fans. From a New Zealand perspective, the Central Muscle Cars will have almost 30 cars on the starting grid and we've also got big numbers for the Pirelli Porsche Championship and the BMW Race Driver Series."
Gates open at 8am on Saturday and Sunday with the Hampton Downs 500 scheduled for Sunday afternoon at 1.55pm.