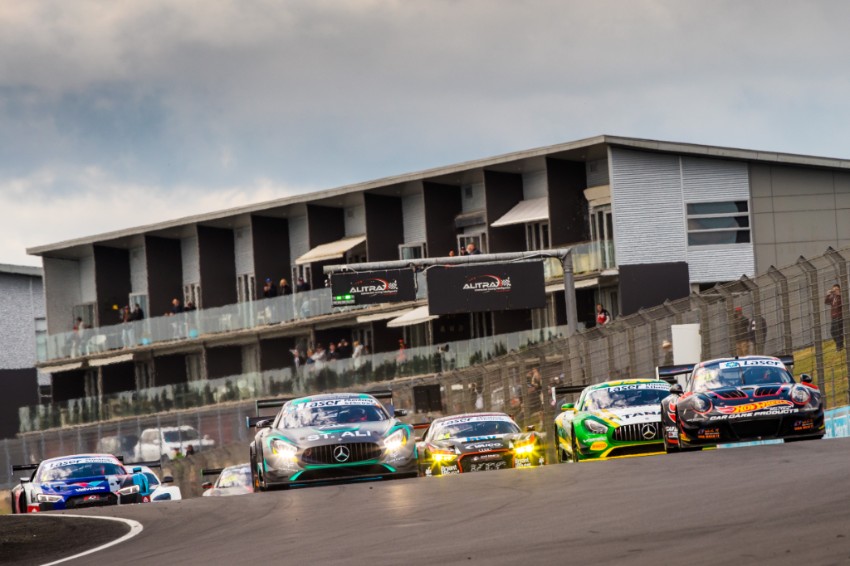 Hackett and Storey dominate qualifying for Hampton Downs 500
New Zealand driver Dom Storey and Peter Hackett continued to dominate at the Laser Plumbing & Electrical Hampton Downs 500 with the pair winning this afternoon's 30-lap qualifying race to claim pole position for Sunday's feature race. As an added bonus, the Australian GT Championship points up for grabs in qualifying helped Hackett close the gap to the championship leader Fraser Ross who finished third.
"I think I've finished second six or seven times in the championship so that's the big one for me this weekend," says the Australian veteran. "We closed the gap to Fraser today but we haven't sat down yet and worked out how many points we need tomorrow to win the championship. We just have to keep pushing hard and we'll see where we end up but this is just part one."
Hackett started from pole and held off the early challenge of Liam Talbot, Steve Richards and Duvashen Padayachee with little separating the top four. Tony Bates and Daniel Gaunt were ruled out of the race early when their Audi R8 LMS crawled back to the pits with a driveshaft problem after contact at turn two on the opening lap that also involved Scott Taylor and Tony Quinn.
Hackett was the first to enter pitlane for a compulsory timed pit stop and driver change midway through the race, handing over to Storey on lap 14. Padayachee pitted a lap later to swap driving duties with Ross who re-emerged from pit lane with a couple of seconds advantage over Storey. The Kiwi driver wasted no time in closing the gap and on lap 20 Ross went from first to third in half a lap with both Storey and John Martin overtaking him. Storey cruised to the finish once he got past Ross and crossed the line three seconds ahead of Martin.
Steve Richards and Michael Almond's chances of a place on the front row of the grid tomorrow were dashed when Richards was pinged with a five-second penalty for an infringement at the start which was added to the compulsory pitstop and cost the pair at least two places. They had to settle for sixth behind Geoff Emery/Garth Tander and Max Twigg/Tony D'Alberto with the International Motorsport pairing of Jonny Reid and Andrew Fawcett in seventh.
In the support categories, Dean Perkins won the opening Enzed Central Muscle Cars race of the weekend leading home the father and son pairing of Andrew and Bruce Anderson in second and third.
Andrew was driving a brand new XE Ford Falcon, a tribute to his father's car that was driven by the great Dick Johnson in the inaugural Wellington Street Race in 1985. "As a 13-year-old that's what got me hooked on sport," says Andrew. "All these years later to drive a replica of it is pretty special. And to get the chance to race against my Dad at this stage of his career is pretty special. I just want to beat him. I'm after family bragging rights!"
Clarke Hopkins won the second Central Muscle Cars race of the afternoon while Warwick Mortimer won the BMW Race Drivers Series 1-hour endurance race after the leader Kent Baigent spun on the last lap. Michael Neville won the Pirelli Porsche Race Series opener while 14-year-old Callum Hedge led the field home in the SsangYong Racing Series.
There's a full schedule of racing tomorrow at Hampton Downs with the gates open at 8am and the first race at 9am. The feature race, the Hampton Downs 500 gets underway at 1.55pm.
Results
1. Dom Storey/Peter Hackett (Mercedes-AMG)
2. John Martin/Liam Talbot (Porsche)
3. Fraser Ross/Duvashen Padayachee (McLaren)
4. Geoff Emery/Garth Tander (Audi)
5. Max Twigg/Tony D'Alberto (Mercedes-AMG)
6. Steve Richards/Michael Almond (Mercedes-AMG)
7. Andrew Fawcett/Jonny Reid (Audi)
8. Adrian Deitz/Cameron McConville (Lamborghini)
9. Scott Taylor/Craig Baird (Mercedes-AMG)
10. Tony Quinn/Andrew Waite (Aston Martin)
11. Tony Bates/Daniel Gaunt (Audi)
Media release: Hampton Downs
Caption: Peter Hackett leads the field around Pirelli Corner at Hampton Downs.
Photo: Dirk Klynsmith