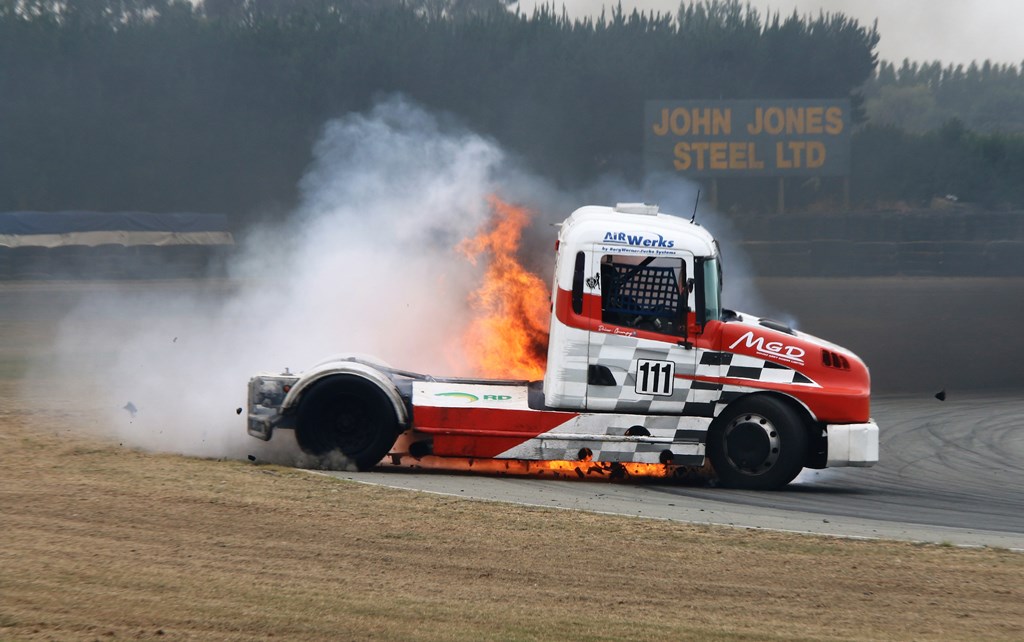 SOUTHERNER RETURNS HOME FOR SUPER TRUCK ROUND
A former Southlander will return home to compete in the NZ Super Truck races at Teretonga Park next weekend (23/24 March) after a fiery debut at Timaru International Motor Raceway recently.
Glenn Johnstone was competing in his first event at Round 1 of the NZ Super Truck Championship in late January when his Scania spectacularly burst into flames. Johnstone, now resident in Canterbury, emerged unscathed and since that time he has been working on being ready to line up at the second round of the championship at Teretonga Park in Invercargill over the weekend of 23/24 March.
Johnstone grew up in Invercargill and worked for GWD's, where he did an apprenticeship in the panel shop, before moving to Canterbury. After a short time he was on the move again, this time to Australia where he drove Road Trains before returning to Christchurch where he started his own business. He spent time racing drag bikes where he twice collected NZ1 and that was the full extent of his motorsport career until established Southland truck racer Garry Price rang him and said "your race truck is in my yard. I've known Pricey for 20 years and that is how I got into the sport – he told me I was going to do it!"
His first event was at Timaru and in just the second race of his career disaster struck. "I have a new nickname – Fireballs," jokes Johnstone. However, two months and around $30,000 later the truck is on its way to Teretonga Park. "It doesn't look as though we will get any testing in before we come south but hopefully we will get a run on the Friday before the race meeting," says Johnstone.
The action at the event presented by Downer starts at 10am on both Saturday and Sunday (23/24 March) and tickets are available from Auto Centre in Tweed Street, Invercargill and E Hayes & Sons, Dee Street, Invercargill. A pre-sale weekend pass is $25 per adult while children 14 & under are free if accompanied by an adult.
As well as the NZ Super Trucks the event will also include Mainland Muscle Cars, NZ 6 Saloons, Sports & Racing Cars, Noel McIntyre Drainage Clubmans Saloons and the A1 Auto Services One Hour Race.
Media release: Lindsay Beer, Southland Sports Car Club
Photo: Tony Knights
Caption: The moment the Scania of former Southlander Glenn Johnstone burst into flames at Timaru International Motor Raceway in January.