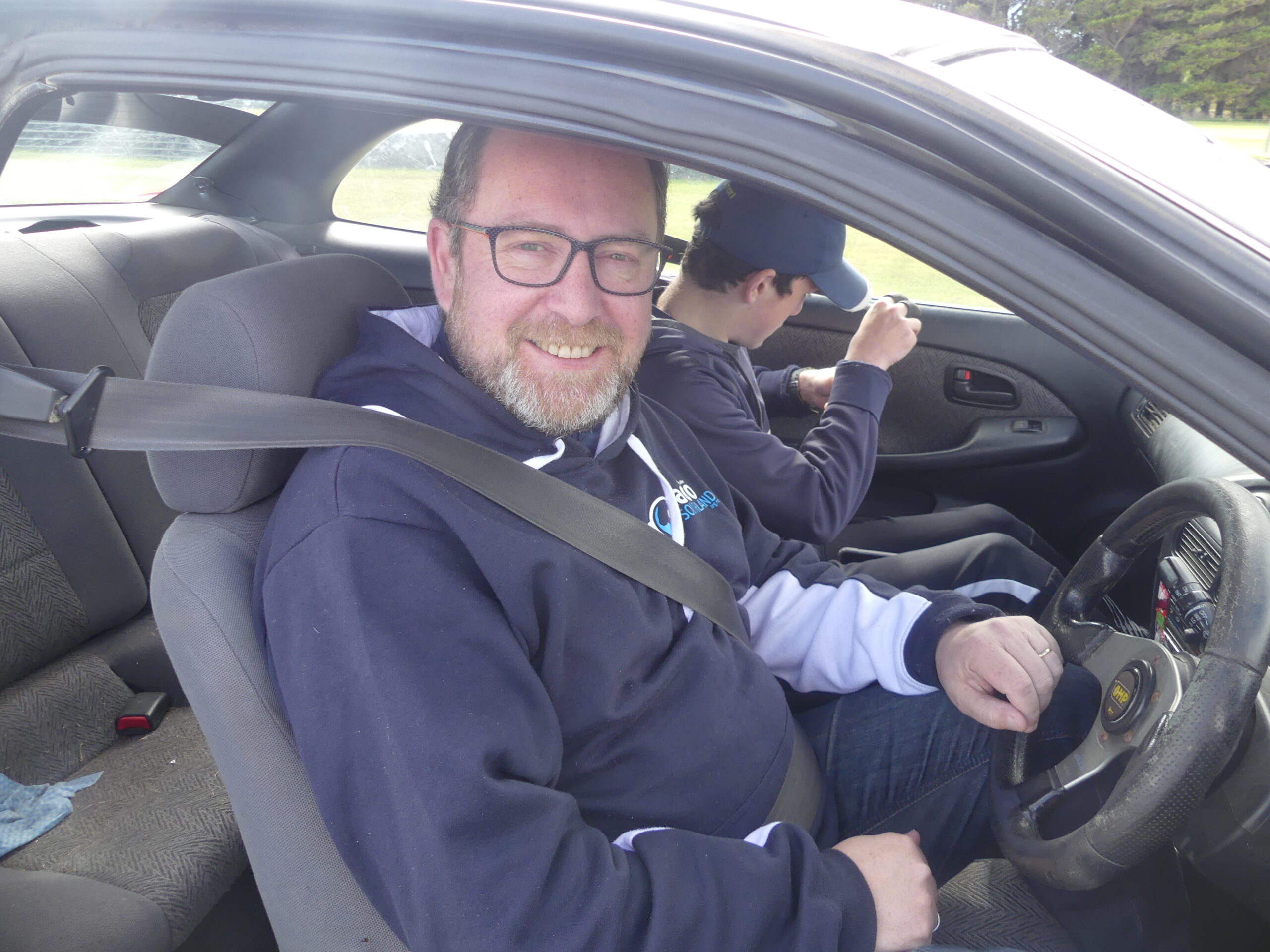 City Councillor enjoys ClubSport outing
Invercargill City Councillor Darren Ludlow was the guest driver at the Southland Sports Car Club's motorkhana at the latest round of the Evolution Motorsport Clubsport Championship at Teretonga Park on Sunday and he thoroughly enjoyed the experience.
Ludlow was at the wheel of the Evolution Motorsport Toyota Levin at the event which comprised three timed tests around coned courses on both seal and grass and rated the experience "tremendous fun." "It is affordable and it was what I expected from a personal point of view but my skills were a bit more blunt from my body than my mind." Contesting his first motorkhana he noted the welcome from fellow competitors, "there was a really supportive camaraderie surrounding you."
"The main value as a parent of a 14-year-old was that my son Hugo came with me and got to see what it was like and saw that there were others his age and even younger competing. It has enabled us to have a powerful conversation about cars and responsibility versus fun. Already he is nagging me to go to the next one!"
Ludlow acquitted himself very well on debut in an event in which the provisional results showed Liam MacDonald the winner in his Nissan NX Coupe ahead of Andrew Kennedy (Toyota Starlet) and Gregg Cooper (Toyota Levin).
In the afternoon's Autocross event Andrew Lawrie took top honours provisionally in his Mitsubishi EVO by 2 seconds from Liam MacDonald (Nissan NX Coupe) with Lawrie's wife Rachel third in her Mitsubishi Mirage.
The next round of the Evolution Motorsport Clubsport Championship takes place in the New Year with a twilight Motorkhana on Thursday 30 January and Autocross on Sunday 2 February.
Anyone keen to compete or learn more about Clubsport can contact the Southland Sports Car Club's Clubsport Co-ordinator Malcolm Mitchell at 021 666 956 or malcolm.mitchell67@gmail.com)