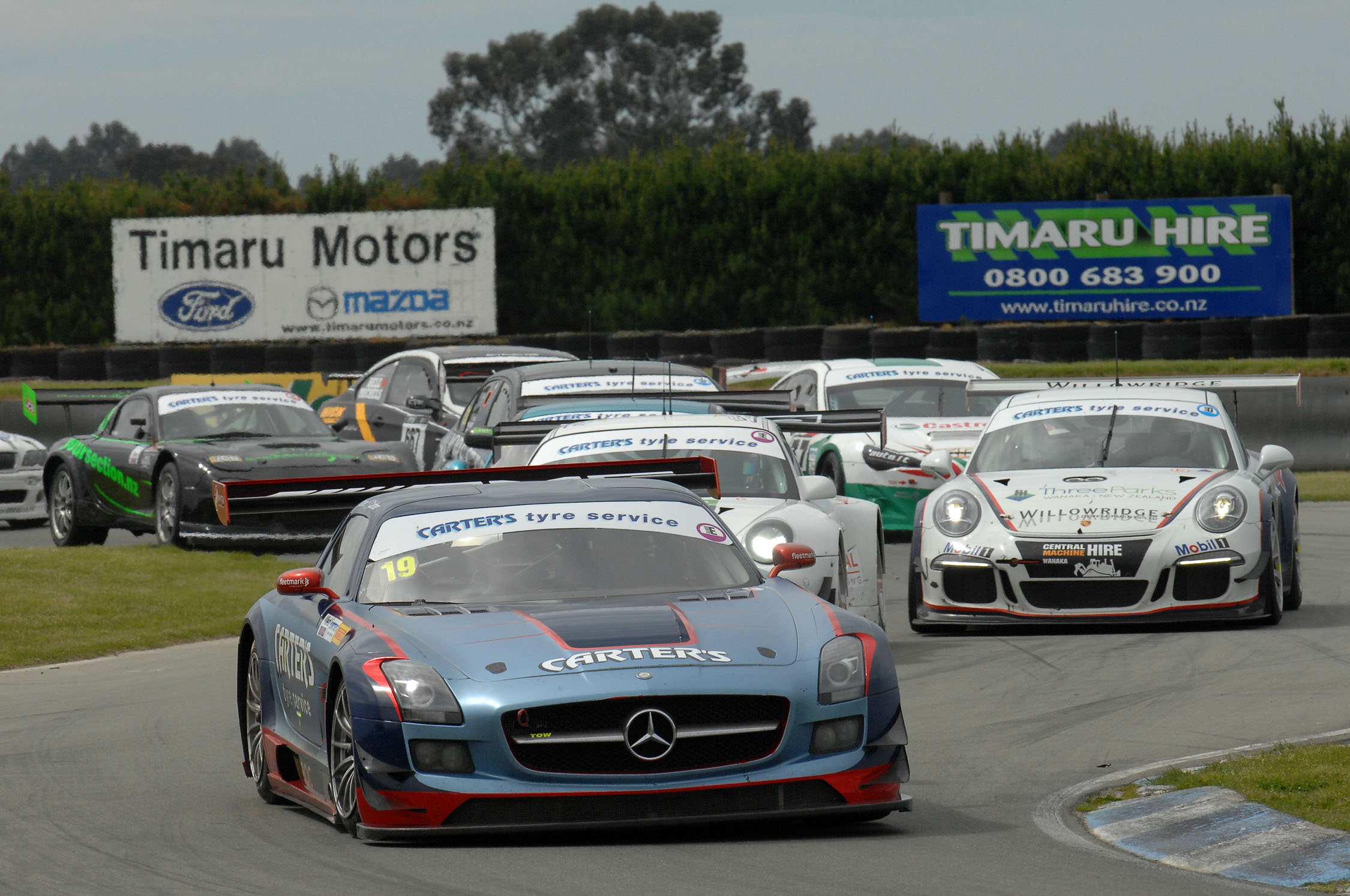 South Island Endurance Series set for big year
With little more than a month to go until the South Island Endurance Series bursts into life, the popular series is set for another big year with some exciting entries set to line up and duke it out for the silverware. The series continues to enjoy the support of expanding Kiwi Tyre retailer Carters Tyre Service and will again be known as the Carters Tyres South Island Endurance Series. With the Series rules remaining largely unchanged from 2017 and again aligned closely with the sister North Island Endurance Series, there has already been significant interest from both new and existing competitors.
Series secretary Chris Dunn is excited by the prospect of another big series. "We already have paid-up series entries from over 50 one hour cars and over 30 three hour cars so things are looking bloody amazing," he said. "Plus for the three hour, quite a few of the big guns haven't put all their cards on the table yet. With every single one of the top 15 teams from 2017 returning, these are set to be joined by some more very exciting teams & cars."
Defending Series champions Carters Tyres Motorsport will have a change in drivers for the 2018 season, with current NZ One Hour Endurance Champion Shane Hodgson set to take the wheel of their Mercedes AMG SLS GT3 alongside Dwayne Carter, while Matt Carter will team up with young gun Jordan Baldwin behind the wheel of the Carters Tyres Falcon V8 Supercar.
There will be a second AMG SLS GT3 in 2018 with confirmation that Mike Racing will also be heading south, with the Dayle ITM Mercedes GT3 for Brendan Leitch and Christina Orr-West, and rumors of a possible multi car assault from Mike Racing. Leitch especially will be amping to get moving on his home circuit at Teretonga Park in the beautiful AMG GT3.
Reigning Toyota 86 champion Jack Milligan will be swapping teams for the Carters Tyres Series. Having driven for Mike Racing in the North Island series, including a win in the Pukekohe Round, he will be lining up in a different GT3 spec car in the South Island with his eyes firmly fixed on the title.
A rookie to the series will be Aussie based Kiwi young gun Jaxon Evans who is currently leading the highly competitive Porsche Carrera Cup Australia championship. Jaxon has attended some of the SI Endurance meetings previously as a mentor & driver trainer but for 2018 will line up for a full assault in a recently purchased South Island based Audi R8 LMS GT3 car.
Recently crowned North Island Series champions Simon Gilbertson and Johnny McIntyre will return and are making a play for the north/south double, the team returning to a GT3 car for their South Island campaign with the ex-Glenn Smith SaReNi Camaro GT3 replacing their Manthey spec Porsche 991.
Slick outfit International Motorsport will bring at least one of their latest spec Audi R8 LMS GT3 Ultra's south for the series and are working on further entries and there is also an expected entry from the SBT Motorsport team of Glenn Smith and John DeVeth who are looking to bring the fabulous McLaren 650S GT3 down for a round or two of the series.
There has also been an entry received from Highlands Motorsport Park owner Tony Quinn. Although he hasn't specified the car he will use for 2018, it is well known that Tony never brings a knife to a gun fight!
"And that's only the battle for the 3-hour honours," says Dunn. "The 1-hour will be equally as hard fought!"
With the series enjoying the generous support from Carters Tyre Services, there will again be a hefty prize money pool for 2018. However, as per 2017, the $10,000 winner's purse has been canned and has been replaced by two $5000 spot prizes. The series also has class prize money that is paid out across all nine classes in both the 1hr & 3hr races as well as a scholarship award which includes free entries in to the 2019 series for the first rookie team home in 2018.
"We have $30,000 that we will pay as prize money and we will now distribute a good portion of it by way of cash spot prizes on top of the silverware and Michelin Tyres, ENDLESS brakes and other prizes we are very kindly donated," Dunn says.
The 2018 Carters Tyres South Island Endurance Series will again be run over 3 exciting rounds, with a round held at each of the three traditional South Island race circuits. The series starts at Teretonga Park, Invercargill on Saturday 15th September, then to Mike Pero Ruapuna, Christchurch for round two on Saturday 29th September and the grand finale at Levels Raceway, Timaru on 13th October 2018. The series is then followed by the 2018/19 New Zealand Endurance Championship event at the magnificent Highlands Motorsport Park on Saturday 24th November.
The Carters Tyres Series is the final chance for both one hour and three hour teams to qualify for the NZ Endurance Championships, where the top 20 cars from the recently completed Eneos NI Endurance Series, will be joined by the top 20 cars from the upcoming Carters Tyres SI Endurance Series for a winner takes all NZ Endurance Championship race.  "The champs being held at Highlands has really upped the ante. We have guys being very strategic with their entries in an attempt to ensure they get into the elusive top 20, and receive an invite to race at Highlands. Plus with the NZ Championships relatively close to the end of the Carters Tyres Series, there are a few teams heading south to compete with us and then leaving their cars down for the NZ Champs in November."
Although excited about the entries to date there are still spots available on the grid, and dollar for dollar endurance racing represents the best value for money motorsport available. Competitors can still register their interest by contacting Series Secretary, Chris Dunn, via e-mail at sierdc@xtra.co.nz or phone 021-107-9293.  Any potential competitors, crews and supporters are welcome to be added to the club's e-mailing list by simply sending an e-mail to the above address, or via the club's Facebook page at www.facebook.com/sierdcnz. Information on the series sponsor can be found at www.carterstyres.co.nz.
Photo: Euan Cameron
Caption: Dwayne Carter/Matt Carter (Mercedes AMG SLS GT3) lead the pack on the way to taking series' honours during the final round on the 2017 Carters Tyres Three Hour Race Series at Levels Raceway Timaru October 2017. 
Media release: South Island Endurance Racing Drivers Club Inc