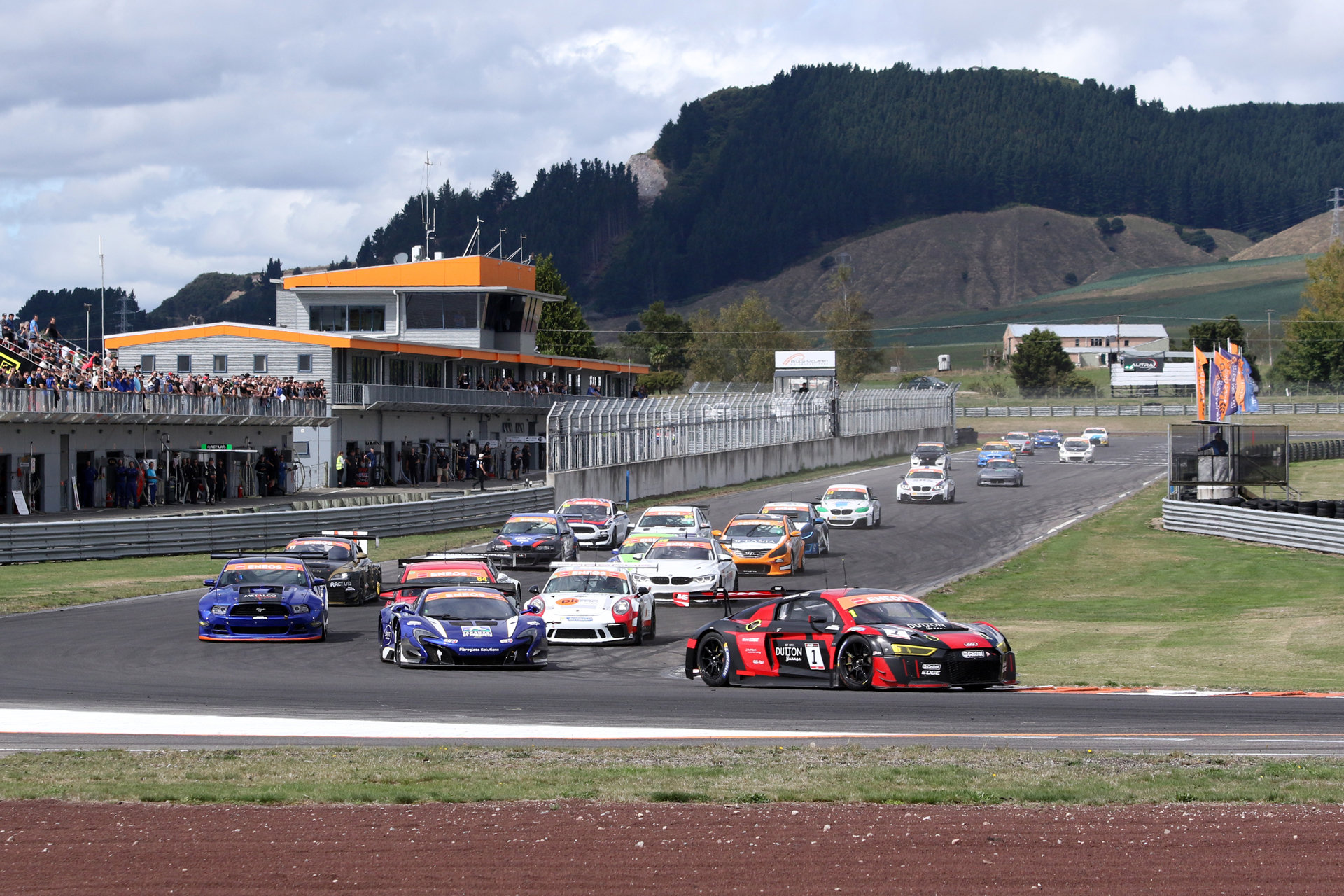 TWO FROM TWO FOR INTERNATIONAL MOTORSPORT
ENEOS NIES THREE HOUR RACE
It was a case of two wins from two races for International Motorsport after the team secured back-to-back wins in the ENEOS North Island Endurance Series season opener.
After an impressive performance by Matt Whittaker in the morning's ENEOS One Hour encounter, a dominant performance by Jonny Reid and Neil Foster in their Audi R8 LMS GT3 rounded out an almost perfect day for the team.
The spectacular McLaren 650S GT3 of Glenn Smith and John De Veth came home in second, the crew doing what they could to contain the Audi and clawing some time back in the latter stages of the race before the Audi pitted and Reid returned to the track, stamping his authority on the race and winning by nearly a minute. De Veth had grabbed the lead for a few laps after Foster stopped to hand over to Reid, but once was back in the saddle Jonny made light work of the ten second deficit to De Veth and was on his tail within three laps.
A mistake by De Veth where he ran wide and out into the marbles allowed Reid up the inside and he duly took the lead from which point he simply sprinted away from the McLaren to extend the lead to 56 seconds at the flag.
"We had plenty of pace and it all turned out ideal," said Reid afterwards. "To take the win here is sensational, it's what we came to do. The car performed faultlessly in the last stint. We were working on the balance of the car through the whole race with tyre pressures and everything went in the right direction. That last stint was just phenomenal. It was such a pleasure to drive. I'm elated right now. It's good to do it with Neil too."
Foster's stint was challenging as he struggled – like most racing on the track on Saturday – with elevated tyre degradation. "I was a bit tired there towards the end when the tyres started to go off," he said. "It was a sensible drive and I think and we just kept it clean and concentrated on our own pace."
Foster and Reid were top of the charts in the GT-A class and overall with De Veth and Smith second in class. Third in class was the Porsche of Conal Dempsey and Andrew Fawcet – they finished fourth overall.
Third overall and first in GT-B was the Holden TLX of V8 Supercar ace Andre Heimgartner and Lance Hughes. Both drove exceptional stints, Heimgartner particularly impressing with his full on attack style in the second half of the race.
Class 1 victory – and a mightily impressive fifth overall – went to Shane Helms and Rob Bolland in their Audi TT RS VLN, arguably one of the fastest front wheel drive racing cars in the world today and a fantastic addition to the New Zealand motorsport scene.
Another new to NZ machine locked out Class 2 – this time the John McIntyre and Lochlainn Fitzgerald-Symes TCR Honda Civic Type R FK2. Class 3 went to Stefan Calcott and Robert Young in their familiar Spoon coloured Honda Integra Type R DC5.
Two time world touring car champion Paul Radisich was out racing again, this time guesting alongside Ken Baigent in his V8 BMW. They made the finish in tenth overall after a solid run.
Media release: Richard Gee
Photo: Matt Smith
ENEOS North Island Endurance Championship – Three Hour – Round 1 Taupo Result
| | | | |
| --- | --- | --- | --- |
| 1 | Neil Foster/Jonny Reid | Audi R8 GT3 LMS | Class GT A |
| 2 | Glenn Smith/John De Veth | McLaren 650 GT3 | Class GT A |
| 3 | Lance Hughes/Andre Heimgartner | Holden Commodore | Class GT B |
| 4 | Conal Dempsey/Andrew Fawcet | Porsche 991 Manthey | Class GT A |
| 5 | Shane Helms/Rob Bolland | Audi TT RS VLM | Class 1 |
| 6 | Anthony Leighs/Paul Kelly | Porsche 991.2 | Class GT B |
| 7 | Rob Williams/Phil Blythe | Porsche 997 Cup | Class GT B |
| 8 | Andy Duffin/Todd Murphy | Hyundai Chev V8ST | Class GT B |
| 9 | J. McIntyre/L. Fitzgerald-Symes | Honda Civic TCR | Class 2 |
| 10 | Kent Baigent/Paul Radisich | BMW M4 GT4 | Class GT B |
| 11 | Deon Cooper/Rick Cooper | Ford Mustang GT4 | Class GT B |
| 12 | Wayne Leach/Paul Burborough | BMW 235i | Class 1 |
| 13 | Todd Bawden/Rhys Bawden | BMW 235i | Class 1 |
| 14 | Stefan Calcott/Robert Young | Honda Integra DC5 | Class 3 |
| 15 | Trevor Strong/Noel Anderson | Honda Civic FD2 | Class 3 |
| 16 | Geoff Manks/Martin Brown | Toyota 86 | Class 3 |
| 17 | Greg Brinck/Stephen Harrison | Audi S3 | Class 2 |
| 18 | Robert Drum/Jeff Drum | Subaru BRZ | Class 3 |
| | | | |
| N/C | Shane Holland/Thomas Sutton | Mazda RX7 Series 1 | Class 2 |
| | | | |
| DNF: | Rodney Gimblett/Cameron Jones | Holden Commodore | Class GT B |
| DNF: | David Grigor/Gavin Yort | Honda Civic FD2 | Class 3 |
| DNF: | Warwick Mortimer/Andre Mortimer | BMW M6 | Class 1 |
| DNF: | Stephen Farmer/Tim Martin | Nissan GTR | Class 1 |
| DNF: | Nick Ross/Sam Collins | Ford Mustang | Class 1 |