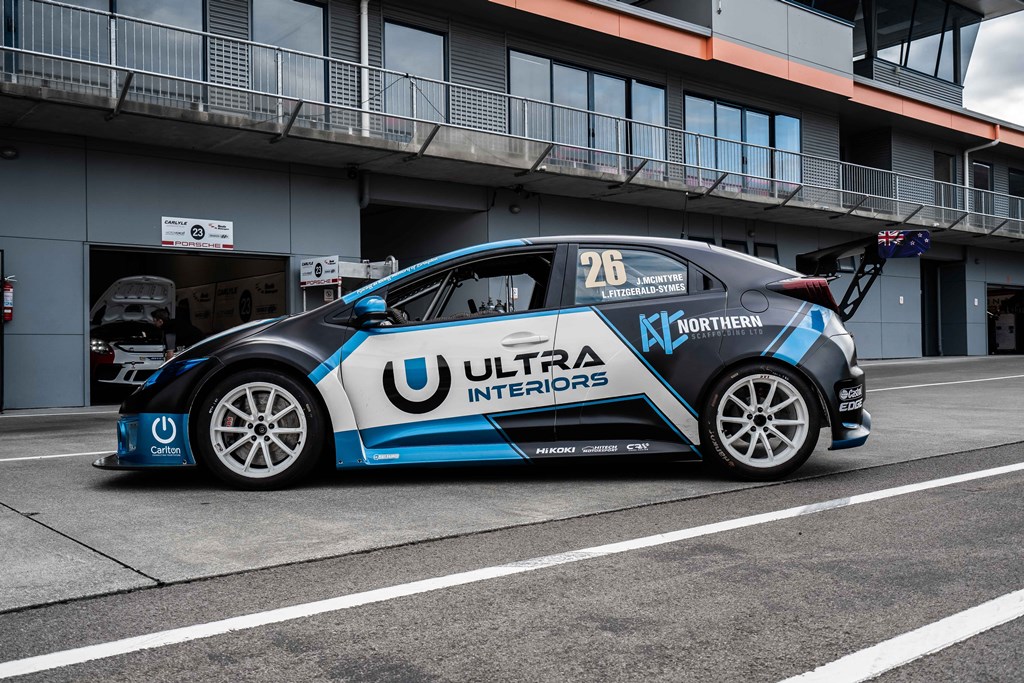 Capri Racing to debut TCR Honda in North Island Endurance Series
Family Endurance Racing Team Capri Racing will debut a Honda Civic FK2 in the up coming North Island Endurance Series opener at Bruce McLaren Motorsport Park at Taupo this weekend.
The Class 2 North Island Series Champions have also added multiple Touring Car and North Island Series Champion, John McIntyre.
McIntyre (42) will guide young (21) Lochlainn Fitzgerald-Symes in the North Island Series at Taupo, Pukekohe and Hampton Downs.
The burgeoning team from Karaka in Auckland have imported a 2016 Honda Civic from Dubai based Team Lap 57. The car built for the International TCR (Touring Car Racing) Series has been successful in its few races becoming Middle East TCR Championship winner taking out 5 of the 6 races.
Now on NZ soil the car will compete in Class 2 for cars with engine sizes between 2000cc and 3500cc. The Turbo charged 2,000cc Honda produces approx 340hp and is front wheel drive.
Fitzgerald-Symes has two seasons driving front wheel drive SEAT Leon Supacopa, McIntyre has not raced a front wheel drive since the 24-hour race at the Nurburgring in 2007, also in a front wheel drive Honda.
"It's going to be a bit of a shock to the system after all of these years in high powered V8's and laterally a Porsche to this front wheel drive Touring Car with no ABS or Traction control. I am really excited to team up with young Lochie and Capri Racing. It's going to be a great challenge. We enjoyed 100 trouble free laps at Taupo last week and I can now understand why TCR is a World-Wide phenomenon. The Honda moves around a lot and without ABS and Traction control that has become common in racing it requires a different driving style and some respect." Commented McIntyre
Fitzgerald-Symes is eager to expand his skill set in the new to NZ TCR Honda. With several Motocross seasons under his belt the young Aucklander had adapted quickly to the front wheel Seat, comfortably winning Class 2 in 2018 with father Bryan Symes.
Now with Touring Car Champion John McIntyre as his co-driver, he has a great opportunity to learn from McIntyre to get the most out of his driving and the Honda itself.
"Having Johnny as part of the team has really lifted the game to a different level, the things we were doing and changes we were making in testing last week were just unreal, god gave me two ears and one mouth for a reason, I intend to listen hard and take everything out of the experience" said Lochlainn
Capri Racing completed 100 trouble free laps testing at Bruce McLaren Park on Thursday. Both drivers were ecstatic with the performance of the TCR Honda and hope that come next weekend they will have a chance to mix it in the top 10 overall.
Capri Racing is very grateful to be supported by Ultra Interiors, Northern Scaffolding, Carlton Electrical, HiKOKI Tools, Capri Construction, Castrol Edge and Talley's.
2019 North Island Endurance Series dates are;
ROUND ONE:
29th & 30th March
Taupo
ROUND TWO:
10th & 11th May
Pukekohe
ROUND THREE:
7th & 8th June
Hampton Downs
Images Credit; Capri Racing