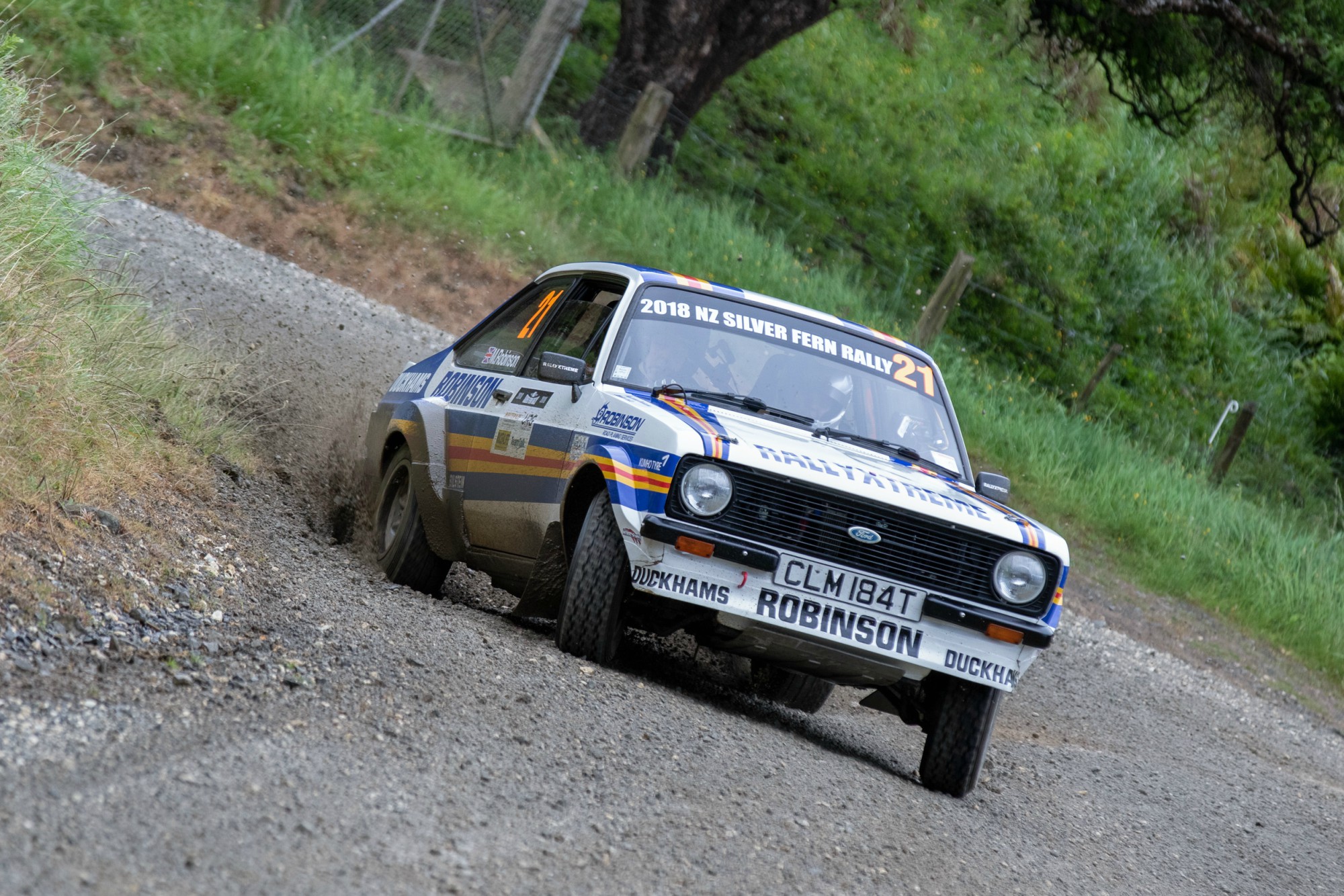 ROBINSON & COLLIS HEAD SILVER FERN RALLY LEADERBOARD AFTER EVENTFUL FIRST DAY
British pair Matthew Robinson and Sam Collis (Ford Escort Mk 2) have taken an early lead in this year's NZ Silver Fern Rally after an eventful – and for Robinson very tiring – first day in the Waikato today.
"I've never been through stages so twisty in my life," said the man who won four of the six stages and finished second in the two others. "I thought we had twisty stages back in the UK. But here? One slip and you'd be off (the road)."
Robinson ran his own rare Fiat 131R historic rally car in the 2016 Silver Fern Rally in the South Island. But reliability issues with that car meant he decided to lease one of the more popular Mk 2 Ford Escorts for his return this year.
"We had teething troubles with that car last time, so decided that we couldn't come all this way back out here this time without giving it our best shot. So that's why we're in the Escort."
Today was very much an Ford benefit with the winners of the Historic category in the 2016 event, Welsh pair Meirion Evans and co-driver  Lestyn Williams, winning the first completed stage of the day (Stage 2) and Wellington duo Shane Murland and John Benton winning the fourth, in Mk 2 Escorts of their own.
It was Robinson and Collis who led from the front, however, the pair heading into the second day of the eight day biennial event tomorrow (Sunday Nov 25) with a lead of a minute and 19 seconds over Murland and Benton, and fellow Kiwi rally veteran Jeff Judd and his Belgian co-driver Stephane Prevot.
Judd's crew was kept busy with a clutch issue early on but at day's end the Christchurch ace was just 0:00.2 of a second behind Murland in third.
Fourth was highly-rated UK pair Roger Chilman and co-driver Max Freeman in the car Meirion Evans and Lestyn Williams used to win the Historic title at the NZ Silver Fern Rally in 2016.
Evans and Williams fought back, meanwhile, after losing time with an off-road excursion on the day's second timed stage, to make it back up the order to fifth in the car preparation specialist Evans built to replace the one he sold to Chilman.
In sixth place after the first day is the first non-Ford, the Porsche 911 of Kiwi pair Brad and Stuart McFarlane.
The Challenge category for modern or older cars using non-period parts proved a battle between new and old.
Brent Taylor and  Dave Neill topped the class in three stages and finished second in the three others in Taylor's contemporary Toyota GT86. However, at day's end he had a buffer of just two seconds over former New Zealand rally champ Brian Stokes and co-driving wife Anne in………………Stokes' modified Mk 2 Ford Escort!
Sunday sees the NZ Silver Fern Rally head south-west with an overnight in New Plymouth.
2018 NZ Silver Fern Rally Hamilton-Rotorua Sat-Sat Nov 24-Dec 01
RESULTS
Day 1
Matthew Robinson/Sam Collis (UK/UK) Ford Escort Mk 2 2:04:26.5
Shane Murland/John Benton (NZ/NZ) Ford Escort Mk 2 +1:19.5
Jeff Judd/Stephane Prevot (NZ/Belg) Ford Escort Mk 2 +1:19.7
Roger Chilman/Max Freeman (UK/UK) Ford Escort Mk 2 +3:38.7
Meirion Evans/Lestyn Williams (UK/UK) Ford Escort Mk 2 +4:49.6
Brad & Stuart McFarlane (NZ/NZ) Porsche 911 +5:21.8
Brent Rawstron/Ian McKee (NZ/NZ) Ford Escort Mk 2 +6:09.8
Geoff Bell/Ed Bentley (SA/SA) Ford Escort +6:28.6
Andrew Siddall/Gary McEllhinney (UK/UK) Ford Escort Mk2 +6:42.0
Simon Tysoe/Paul Morris (UK/UK) Ford Escort Mk 2 +8:12.6

Challenge class
Brent Taylor/Dave Neill (NZ/NZ) Toyota GT86 2:05:00.9
Brian & Anne Stokes(NZ/NZ) Ford Escort Mk2 +0:02.8
Charlie Evans/Andrew Hooker (NZ/NZ) Mazda RX7 2:24.4
CAPTION: Leading the 2018 NZ Silver Fern Rally after the first of eight days are UK pair Matthew Robinson and Sam Collis (Mk 2 Ford Escort RS1800).
Photo credits: Fast Company/ProShotz
Prepared by FAST COMPANY on behalf of the Ultimate Rally Group.