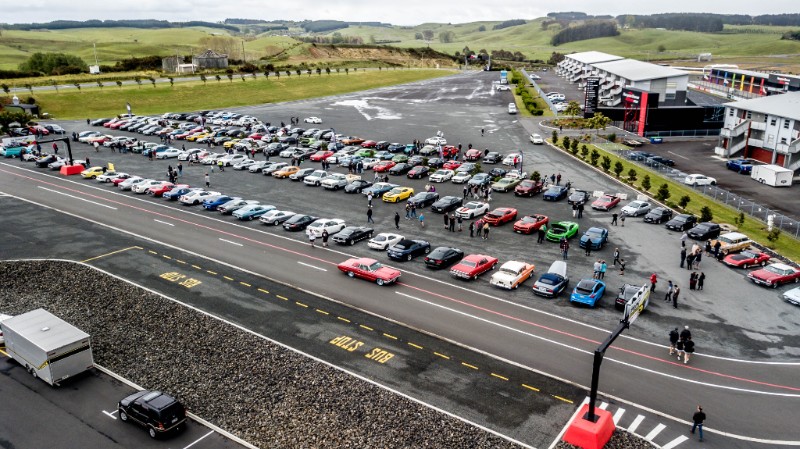 Petrolhead heaven at Hampton Downs
Hampton Downs is taking motoring meetups to a whole new level with Caffeine & Gasoline, a new event to be held on the last Sunday of every month at Hampton Downs. The first event at the end of October was a huge success and big crowds are expected this Sunday, November 25.
Not only does Caffeine & Gasoline offer passionate petrolheads a stage to show off their pride and joy and mix with like-minded enthusiasts, they can also take advantage of the other motorsport events and activities at Hampton Downs including go-karting, hot laps, and U-Drive experiences.
Caffeine & Gasoline is a spinoff from the hugely successful Caffeine & Classics which has been held at Smales Farm on Auckland's North Shore for the last five years. The event proved so popular that organisers were forced to limit entry to cars that were at least 30 years old, built from scratch or were obscure or exotic models.
And so Caffeine & Gasoline was born, a meet up for all types of vehicles, from bikes to hot rods, muscle cars to JDM (Japanese Domestic Market) cars, classic cars to classy convertibles and everything in between. It's a great chance to check out some cool vehicles or you can get involved in some of the optional activities including getting your car sideways with the Skid Pan experience.
One of the unique attractions at Hampton Downs is the opportunity to experience the thrill of motor racing for yourself. The go-kart track is fast gaining a reputation as one of the best in the country, and if you fancy yourself as the next Shane van Gisbergen or Scott McLaughlin, the Repco V8 Muscle Car U-Drive is a must.
If you don't trust yourself behind the wheel, you're in safe hands with one of Hampton Downs professional drivers who can take you for a Supercar Fast Dash in a Lamborghini Huracan, the Ultimate V8 Hot Lap or the Lexus High Speed Safety Car experience.
At the first Caffeine & Gasoline, the Track Cruise gave drivers an opportunity to take their car onto the track for a couple of laps. Unfortunately, this weekend Caffeine & Gasoline clashes with an HRC Events race meeting so the Track Cruise won't be an option. But as an added bonus, anyone who attends Caffeine & Gasoline will get a discounted entry to the event.
Classes that are competing at Hampton Downs this Sunday include: ITL TranzAm Challenge featuring NZ and USA Muscle Cars, built to SCCA specifications,  ProWear Superlaps (Time Attack cars raced against the clock), the Street Class for all road-legal cars on road tyres, the Pro Street Class for all road-legal cars on semi-slick tyres, the Pro Open Class for race cars on semi-slick tyres, Improved Production Cars (everyday road cars that have been modified within strict boundaries) and the New Zealand Superkart National Races.
Caffeine & Gasoline runs from 10 am to 2 pm on the last Sunday of every month and entry is free with plenty of parking. You can also check out the new café and information site with racing simulators and famous race cars on display.
Hampton i & Aoraki Coffee Roasters & Cafe is the perfect pit stop along State Highway 1 and provides international and domestic tourists with an information centre and booking service for those heading in and out of Auckland. Owned by award-winning barista Ken Shi, the cafe roasts its own coffee beans and also offers a full breakfast and lunch menu.
The on-track experiences are only available when there are no other events on track so make sure to book online on the Hampton Downs website before you make the trip.
For more information visit www.hamptondowns.com.
Caption: The first Caffeine & Gasoline event at Hampton Downs at the end of October. Picture: Chris Dillon