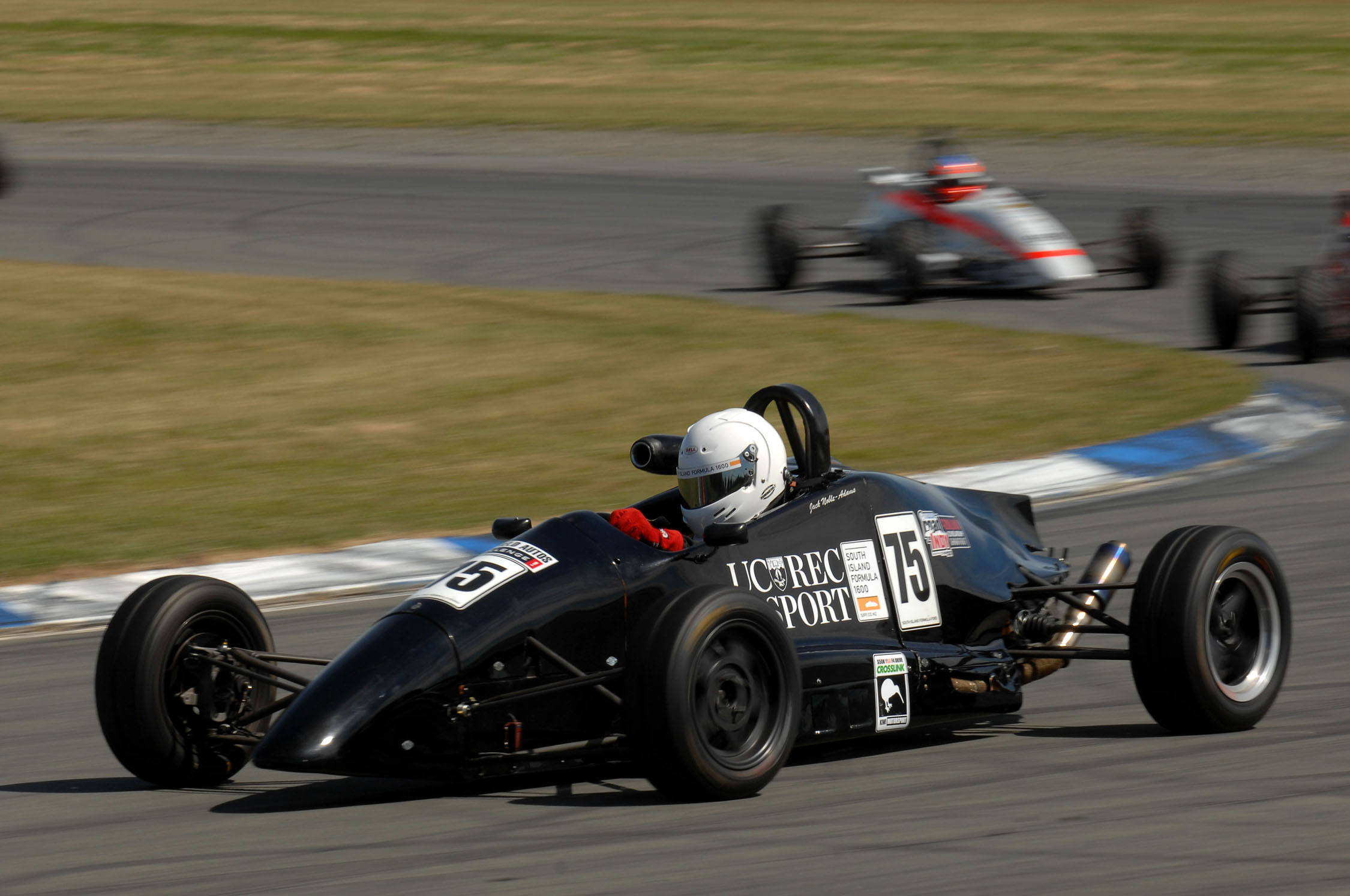 Noble-Adams takes first win, Paterson extends lead in South Island F1600 Champs
Christchurch's Bailey Paterson has extended his lead in the South Island Formula 1600 Championship at the second round in Timaru on Saturday. Paterson (Van Diemen Stealth) took two wins and a second-place and is now 43-points ahead of nearest rival Cameron Freeman (Van Diemen RF92) from Dunedin.
"Pretty good weekend," said Paterson. "We struggled initially with the car but two wins and a second was great. Sorry for Jack (Noble-Adams) with his problems. I always knew he would be fast as he was here last year."
Paterson initially didn't have it his own way with Jack Noble-Adams (Van Diemen Stealth) grabbing pole position and winning the opening 10-lap race. His first pole and race win in the category. However, Noble-Adams winning momentum came to a halt with an oil line leak that required a part that was unavailable at the meeting. This saw him sitting out the remaining two races and dropping down the overall standings to sixth overall.
"We started off very well," said Noble Adams. "We did enough to secure pole in qualifying. I had an average start but got ahead of Bailey (Paterson) and was able to hold him off for the rest of the race.
"We'd thought the oil leak was fixed but in the warm-up to race 2 realised it was leaking more, so didn't start. We found a crack in an aluminium tube coming out of the oil pump and didn't have a spare part. We know the car has got pace. We're very happy with the win, would have loved to have done all three but this is how racing goes. We've got the confidence going forward."
Cameron Freeman continues to hold second overall with two second placings and a fourth. He lies 19-points ahead of rookie driver Zac Christensen (Van Diemen RF92). At the opening round in Christchurch in October, Christensen took his first podium and continued his form with more third placings in Timaru.
Dyson Freeman (Van Diemen RF92) showed promise in the opening race finishing third but then ran into electrical problems which curtailed his continuing in the final two races.
Showing consistency is Christchurch's Anna Collins (Van Diemen Stealth). Returning to the championship this season Collins has been rewarded with fourth overall.
Grant Campbell (Van Diemen RF03) has moved into the lead of Class 1 (Post 2000 manufacture). Paterson leads Class 2 (1990-1999 manufacture) from Cameron Freeman, Christensen, Collins and Steve Donaldson (VD RF90). Noel Atley (Crossle 55F) has taken the lead back from rookie Ryan Low (VD RF88) in the Historic Class 3 (pre-1990 manufacture).
The third round gets underway in a fortnights time back in Christchurch at the Mike Pero Motorsport Park with a large entry expected to compete for the Wigram Cup.