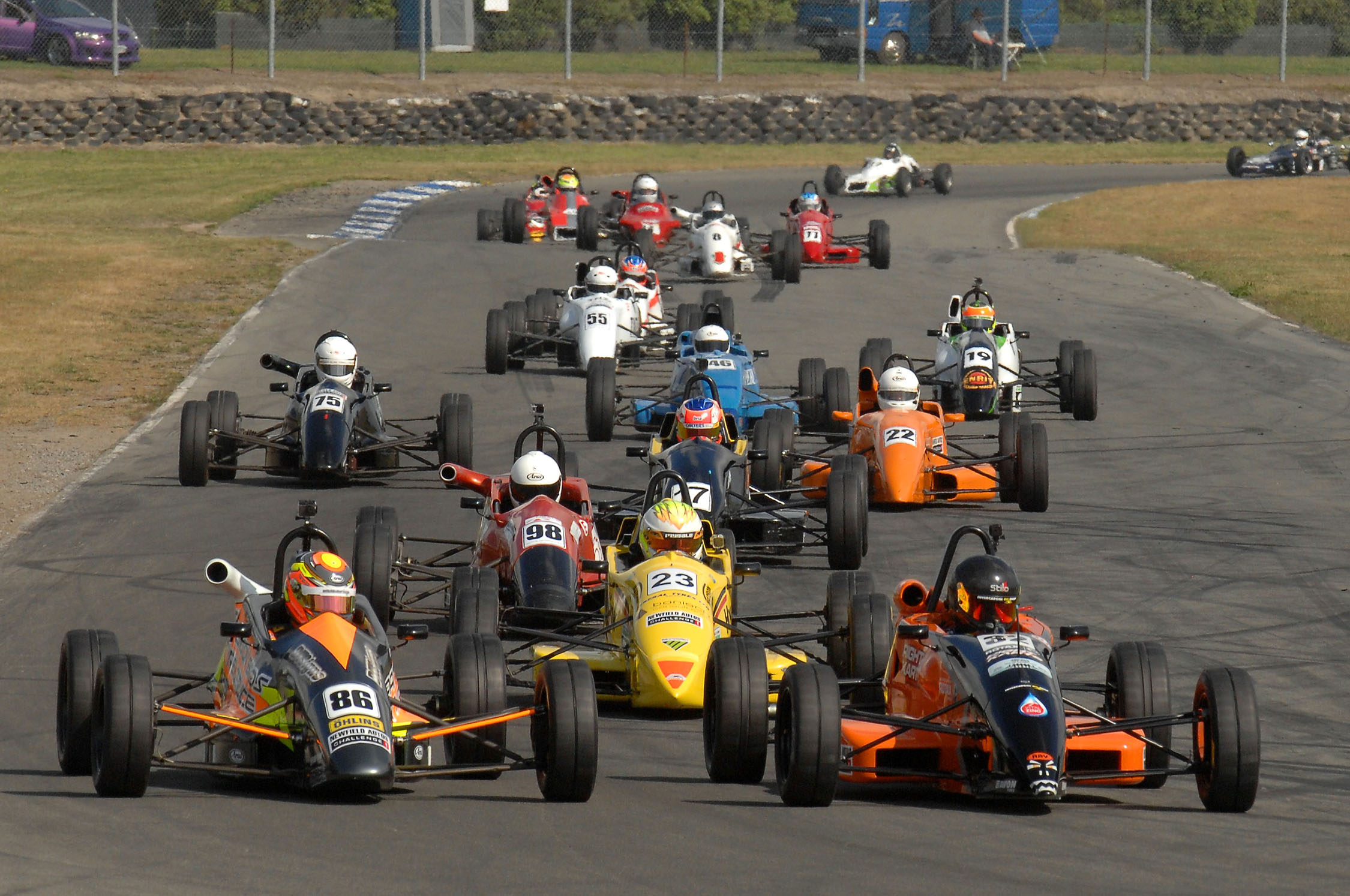 National F1600 title fight underway at Timaru this weekend
Twenty-four cars will line up on the grid in Timaru on Saturday for the opening round of the New Zealand Formula 1600 Championship. Also doubling as the second round of the South Island F1600 Champs, the one-day event will see more young drivers joining the field, making it one of the best line-ups for several seasons.
It was Auckland's Josh Bethune that won the opening SI round in Christchurch a fortnight ago, an important three race meeting that many use to prepare for the NZ title fight. It proved to be an 'arm-wrestle' between three returning drivers, Bethune from Auckland, Southland's Jordan Michels, Christchurch's Bailey Paterson and rookie James Penrose from Rangiora. With Bethune, Michels and Paterson each claiming a race win, it was Bethune's two second placings that sealed the round win in his favour.
Bethune comes into the season with the aim of retaining his 2017/18 South Island title and winning the national championship. Paterson expects a close fight, "Everyone will be fast, it (Timaru) should be a good round."
Also showing potential at the Christhcurch round were Jack Noble-Adams from Canterbury and Zac Stichbury from Hastings. Noble-Adams returns for another season while Stichbury steps up from kartsport.
Now joining the grid are Rotorua's Blake Evans in the ex-Michael Scott Mygale SJ11, Auckland's Tom Alexander in the brand new Career Racing Spectrum 015 and Callum Crawley from Fielding driving the ex-Russell Ingall Van Dieman RF92.
Alexander has extensive F1600 experience having competed over five years ago, since then gaining experience in the BNT V8s, TR86 and more recently in the ECB SuperUtes Series in Australia. Both Evans and Crawley come with successful experience in the NZ Formula First category. While Crawley won the 2017/18 NZ Formula First Championship, Evans recently won their Winter Series.
Such is the closeness of the competition that both the national and South Island series are categories where drivers cannot afford to falter. Finishing is a priority, not finishing means a loss of a points scoring opportunity that will see rivals moving ahead in the title fight.
The F1600 category runs three Classes, mainly determined by date of manufacture. With a change in regulations concerning inboard suspension mountings being removed, Van Diemen Stealths' have moved from Class 1 into Class 2 unless they are racing with three-way dampers.
Bethune leads the South Island champs in Class 1 from Michels, Stichbury, and Grant Campbell while in Class 2 Paterson leads from Robert Toshach,, Jack Noble-Adams and Cameron Freeman. Seven cars are currently competing in Class 3 with Andy Downs leading from Gary Love, Roger McKenzie and Dave McKenzie.
ENDS
2018/19 New Zealand Formula 1600 Championship Calendar
Rnd 1 10 November 2018 Timaru International Motor Raceway
Rnd 2 12-13 January 2019 Mike Pero Motorsport Park, Christchurch
Rnd 3 18-20 January 2019 Teretonga Park, Invercargill
Rnd 4 23-24 February 2019 Manfeild Circuit, Manawatu
Rnd 5 3 March 2019 Pukekohe Park Raceway, Pukekohe
2018/19 South Island Formula 1600 Championship Calendar
Rnd 1: October 27-28 2018, Mike Pero Motorsport Park, Ruapuna, Christchurch
Rnd 2: November 10 2018, Timaru International Raceway, Timaru (also Rd 1 NZ Formula 1600 Championship)
Rnd 3: December 1-2 2018, Teretonga Park Raceway, Invercargill
Rnd 4: January 12-13 2019, Mike Pero Motorsport Park, Ruapuna (also Rd 2 NZ Formula Ford Championship)
Rnd 5: January 18-20 2019, Teretonga Park Raceway, Invercargill; (also Rd 3 NZ Formula Ford Championship)
Rnd 6: April 6 2019, Timaru International Raceway, Timaru
Attached images are free to use. Please credit Euan Cameron
Prepared by SB Networks on behalf of the South Island Formula Ford Club