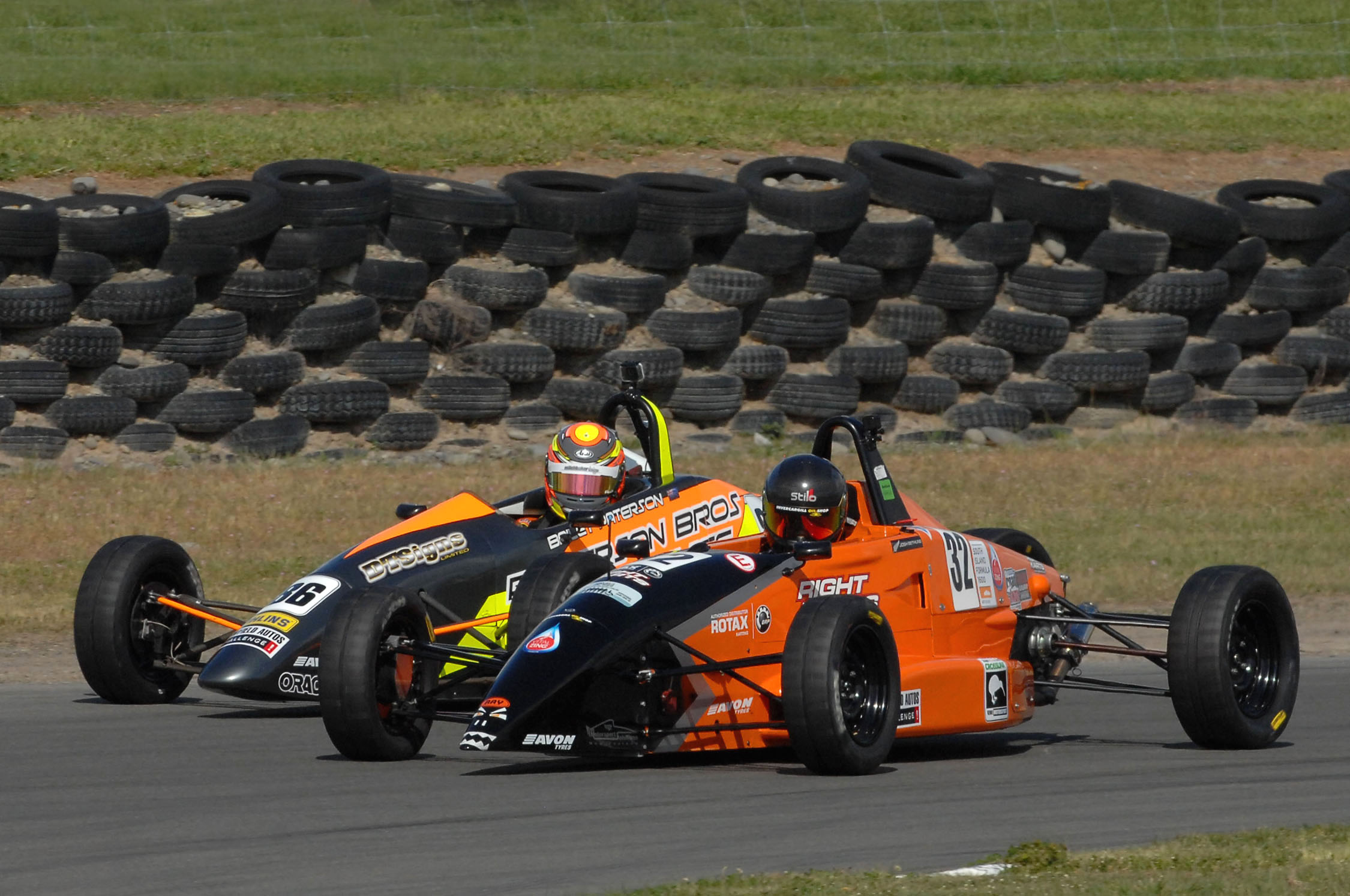 Bethune dominants opening NZ F1600 round at Timaru
Auckland's Josh Bethune has stamped his mark on the 2018/19 New Zealand Formula 1600 Championship with a dominant performance at Timaru on Saturday.  Bethune set the fastest lap in qualifying then crossed the line first in all three races. Wins were recorded for race 1 and 3 while a 5 sec penalty was given for passing under a yellow flag dropping Behtune to third in race two.
Twenty-four drivers faced qualifying and three races at the one-day meeting at the Timaru International Raceway.  Second on points was James Penrose from third placed Jordan Michel, followed by Ben Stiles, Ethan Anderson and Zac Stichbury. Penrose finished second in all three races while Michels was awarded the win in race two and finished third in races 1 and 3.
"We started the day well gaining pole and was quick all day, but the others were catching up fast," commented Bethune. "It has been a close battle, not straight forward at all."
The meeting also doubled as the second round of the South Island Formula 1600 Championship. Bethune had won the opening round in Christchurch two weeks ago and has now extended his points lead over Michels, Penrose and Paterson.
We didn't start well," commented Michels. "In practice we were quick with old tyres but with new tyres in qualifying we dropped to seventh so had to work to get through to third in the first race.
"Considering where we were after qualifying we have had an excellent weekend. It is very difficult in a one-day meeting as the turnaround between qualifying and each race is very quick so there is not much time to change anything."
The opening round has shown that the competition will be fierce this season with several new or returning drivers knocking on the door of a podium finish.
Joining the grid was Rotorua's Blake Evans in the ex-Michael Scott Mygale SJ11, Auckland's Tom Alexander in the brand-new Career Racing Spectrum 015 and Callum Crawley from Fielding driving the ex-Russell Ingall Van Dieman RF92.
Both Evans and Crawley are experienced in the Formula First category and both showed potential on Saturday. Crawley's best finish was a ninth in the final race while Evans was outside the top ten and had a mechanical issue in race 3.
Alexander returns to the category and finished fifth in the opening race.  A mechanical issue on his new Spectrum put the car into the wall in race 2 and he did not start the final race due to time constraints.
Hastings driver Zach Stichbury had two fourths before he tangled wheels with Michels in the third race. With the race red flagged, Stichbury had to start from the back finishing 17th.  It's Stichbury's first foray in single seater racing and he currently sits sixth overall in the national champs.
Southland's Ethan Anderson returned to the series but this time driving Stephen Heffernan's Van Diemen, recording an eighth, a seventh and fifth. Ben Stiles from the UK also recorded three top ten finishes and Jack Noble-Adams continued to show improvement this season with a fourth in race 3.
The F1600 category runs three Classes, mainly determined by date of manufacture. With a change in regulations concerning inboard suspension mountings being removed, Van Diemen Stealths' have moved from Class 1 into Class 2 unless they are racing with three-way dampers.
In the national champs, Bethune leads Class 1 from Michels, Stichbury, Steve Edwards and Blake Evans. In Class 2 it is James Penrose who leads from Ben Stiles, Ethan Anderson and Jack Noble-Adams. Southland's Noel Atley leads Class 3 from Gary Love and Roger McKenzie.
Drivers and teams now prepare for the third round of the South Island championship at Teretonga Park in Invercargill, 1-2 December 2018.
2018/19 New Zealand Formula 1600 Championship Points (Top 15)
1 Josh Bethune Ray GR17 113
2 James Penrose VD Stealth 105
3 Jordan Michels Mygale SJ13 102
4 Ben Stiles VD Stealth 70
5 Ethan Anderson VD Stealth 68
6 Zac Stichbury Mygale SJ08a 65
7 Jack Noble-Adams VD Stealth 63
8 Robert Toshach Spectrum 08 58
9 Cameron Freeman VD RF92 52
10 Bailey Paterson VD Stealth 50
11 Callum Crawley VD RF92 47
12 Steve Edwards Mygale SJ08a 40
13 Noel Atley Crossle 55F 36
14 Simon Spencer-Bower VD Stealth 30
15 Andy Downs Lola 642e 27
2018/19 South Island Formula 1600 Championship Points (Top 15) after 2 rounds
1 Josh Bethune Ray GR17 223
2 Jordan Michels Mygale SJ13 210
3 James Penrose VD Stealth 164
4 Bailey Paterson VD Stealth 151
5 Zac Stichbury Mygale SJ08a 146
6 Robert Toshach Spectrum 08 132
7 Jack Noble-Adams VD Stealth 128
8 Cameron Freeman VD RF92 114
9 Steve Edwards Mygale SJ08a 78
10 Grant Campbell VD RF03 73
11 Noel Atley Crossle 55F 72
12 Ben Stiles VD Stealth 72
13 Ethan Anderson VD Stealth 70
14 Gary Love VD RF88 65
15 Andy Downs Lola 642e 63
Results – Top 10
Race 1 (10 laps)
1 Josh Bethune
2 James Penrose
3 Jordan Michels
4 Zac Stichbury
5 Tom Alexander
6 Bailey Paterson
7 Ben Stiles
8 Ethan Anderson
9 Robert Toshach
10 Cameron Freeman
Race 2 (10 laps)
1 Jordan Michels
2 James Penrose
3 Josh Bethune
4 Zac Stichbury
5 Bailey Paterson
6 Ben Stiles
7 Ethan Anderson
8 Jack Noble-Adams
9 Robert Toshach
10 Cameron Freeman
Race 3 (12 laps)
1 Josh Bethune
2 James Penrose
3 Jordan Michels
4 Jack Noble-Adams
5 Ethan Anderson
6 Ben Stiles
7 Robert Toshach
8 Cameron Freeman
9 Callum Crawley
10 Dyson Freeman
2018/19 New Zealand Formula 1600 Championship Calendar
Rnd 1 10 November 2018 Timaru International Motor Raceway
Rnd 2 12-13 January 2019 Mike Pero Motorsport Park, Christchurch
Rnd 3 18-20 January 2019 Teretonga Park, Invercargill
Rnd 4 23-24 February 2019 Manfeild Circuit, Manawatu
Rnd 5 3 March 2019 Pukekohe Park Raceway, Pukekohe
2018/19 South Island Formula 1600 Championship Calendar
Rnd 1: October 27-28 2018, Mike Pero Motorsport Park, Ruapuna, Christchurch
Rnd 2: November 10 2018, Timaru International Raceway, Timaru (also Rd 1 NZ Formula 1600 Championship)
Rnd 3: December 1-2 2018, Teretonga Park Raceway, Invercargill
Rnd 4: January 12-13 2019, Mike Pero Motorsport Park, Ruapuna (also Rd 2 NZ Formula Ford Championship)
Rnd 5: January 18-20 2019, Teretonga Park Raceway, Invercargill; (also Rd 3 NZ Formula Ford Championship)
Rnd 6: April 6 2019, Timaru International Raceway, Timaru
Image: Euan Cameron
Prepared by SB Networks on behalf of the South Island Formula Ford Club