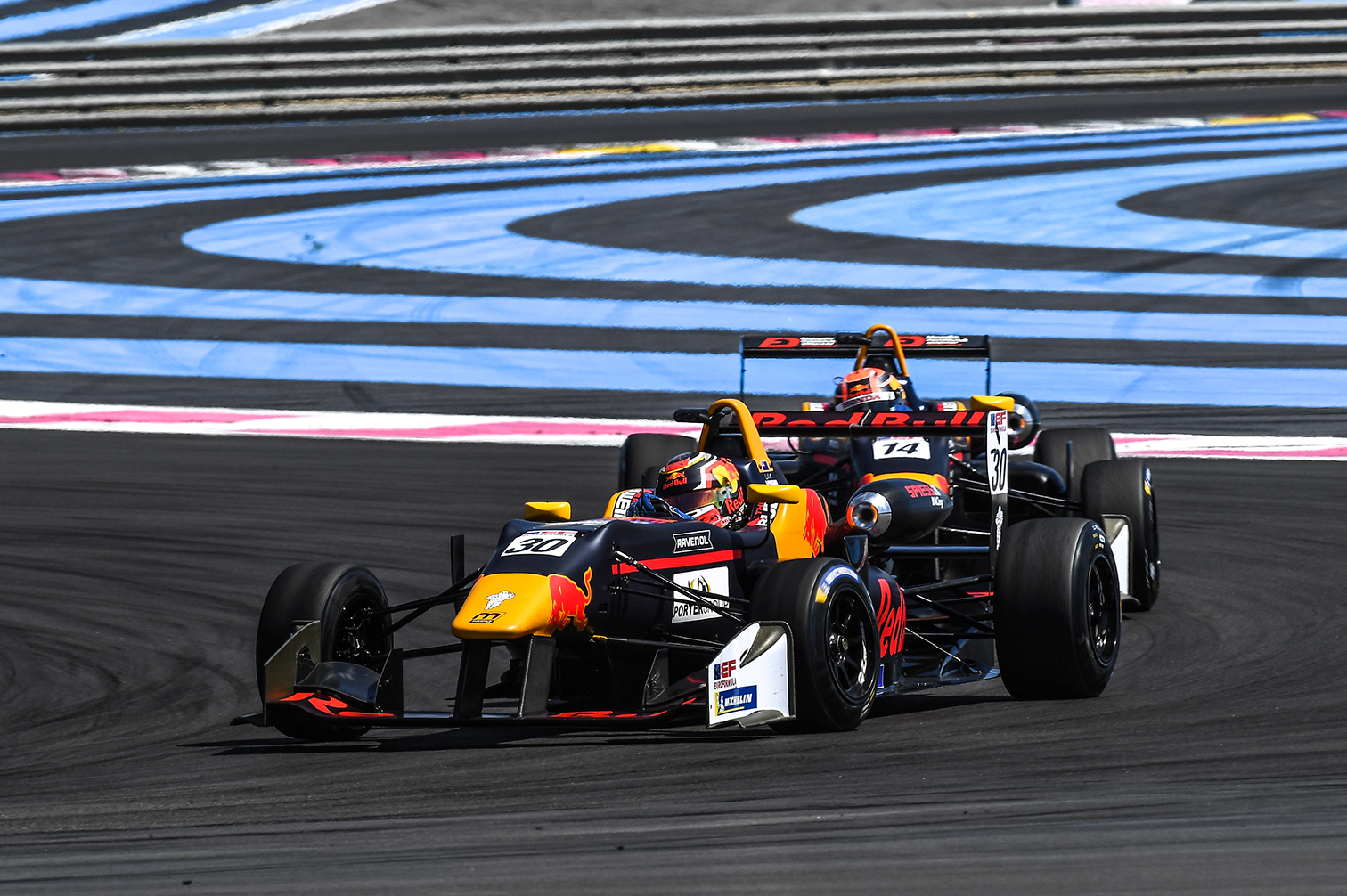 Lawson leads after first round of Euroformula Open
Liam Lawson has taken the lead of the Euroformula Open series after the first round at Paul Ricard, France. The 17-year-old Kiwi driver followed up a debut race win with another podium, but a post-race penalty saw him demoted from runner-up spot to fourth after the second race.
The Red Bull Junior driver holds a three-point lead over Motopark team-mate and race two winner Marino Sato heading into the next round at Pau.
A poor start by Lawson at the start of the second race, and a clash with team-mate Yuki Tsunoda saw the Motopark pairing cut the first corner, which led to Lawson's three-second penalty after a lengthy investigation.
"We finally got qualifying sorted today," said Lawson. "Then I didn't get a good start. Simple as that. I was trying to preload [the clutch], but it wasn't preloading. When the lights went out, nothing happened, and I had to release the clutch too quickly. Then I got wheelspin and it was just a disaster."
Lawson had taken his maiden pole after a sensational fastest qualifying lap of the weekend when he became the only driver to dip into a 1-minute 54-second lap. After only qualifying third-fastest for race one, a last lap dash saw Lawson take pole position off Sato and Tsunoda, giving Team Motopark a lock-out at the front of the grid.
"I was third on the first lap. I got to second, and the balance of the car was a lot more aggressive than yesterday. I didn't expect it, so I made a mistake and lost second. Had to take that place back again. I had really strong pace, the car was mega, but towards the end the tyres faded out. I was just really aggressive right from the start."
Lawson's car took damage to the floor and gearbox during the incident.
Sato, who's raced in Formula 3 cars for the past two seasons, took his first career victory. With Lawson's penalty applied, former Brazilian double F3 champion Guilherme Samaia rose to second and first-race pole-setter Lukas Danner (Austria) jumped to third.
Considering Lawson had never driven this car before he arrived at the French circuit on Thursday, his efforts were the talk of the weekend.
The Euroformula Open attracted 21 drivers for the opening round and the teams now head to the French city of Pau for a street race in three weeks time.
Meanwhile, Lawson will now switch his focus back to the bigger FIA F3 car which makes it's debut at the Spanish Grand Prix at Barcelona in a fortnight. The new car replaces last year's GP3 contender with 30 of the new machines to race over 8 rounds of the FIA Formula 1 championship.
Lawson's racing campaign in Europe is proudly supported by the Porter Group, Turners, and Giltrap Group.
Euroformula Open: Race 2 (17 laps) – Top 10
1. Marino Sato (Team Motopark)
2. Guilherme Samaia (Teo Martin) +4.415
3. Lukas Danner (Teo Martin) +5.850
4. Liam Lawson (Team Motopark) +6.530
5. Linus Lundqvist (Double R) +10.500.
6. Yuki Tsunoda (Team Motopark) +15.429
7. Christian Hahn (Carlin Motorsport) +20.431
8. Teppei Natori (Carlin Motorsport) +21.321
9. Jack Doohan (Double R) +21.944
10. Julian Hanses (Team Motopark) +22.116
Calendar 2019  – Euroformula Open
27-28 April, Paul Ricard, France
18-19 May, Pau, France
25-26 May, Hockenheim, Germany
8-9 June, Spa, Belguim
6-7 July, Hungaroring, Hungary
13-14 July, Red Bull Ring, Austria
7-8 September, Silverstone, England
21-22 September, Barcelona, Spain
12-13 October, Monza, Italy
Caption: Liam Lawson (#30) leads Yuki Tsunoda (#14).