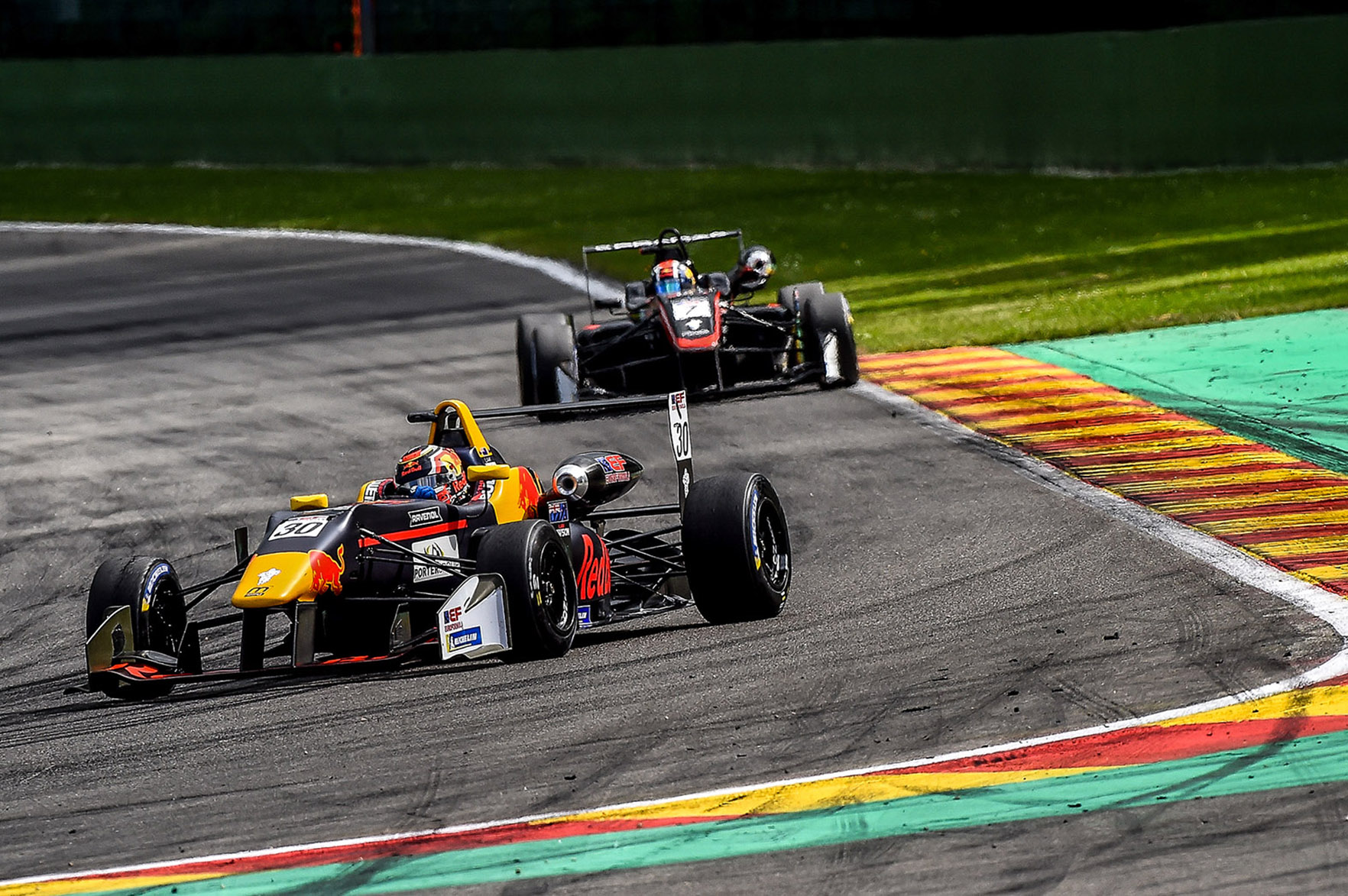 Lawson crashes out of the lead at Spa but retains 2nd in Euroformula Open championship
A lightning start in the final Euroformula Open race at Spa-Francorchamps catapulted Liam Lawson into the lead before disaster struck when the 17-year-old Kiwi clashed with his Red Bull Junior teammate Yuki Tsunoda and both drivers retired.
Lawson started from grid five and made up two places by the first corner. He then went hunting his two Motopark teammates, Tsunoda and pole-man Marino Sato. Lawson swept by both of them and into the lead before the second lap of the race was over.
Then a challenge by Tsunoda on Lawson's lead in the Les Combes corner on the third lap led to the two Red Bull cars interlocking wheels and both pirouetted into the tyre barrier and out of the race.
Lawson admitted afterwards his aggressive move to stay in the lead didn't help.
"I got a good start to get to the front but soon realised I didn't have the pace to stay there. I made an aggressive move to stay ahead, the car got stuck up on the kerb and then we touched. My mistake."
With Lawson and Tsunoda sidelined, Sato went on to an unchallenged victory, his fourth in a row. Lukas Dunner (Teo Martin) took the runner-up spot with Julian Hanses (Motopark) completing the podium.
Lawson struggled all weekend with his Porter Group/Turners/Giltrap Group backed entry and is perplexed as to why the pace is not there.
"We struggled with the balance of the car right from the start of the weekend and made big changes for the first race," added Lawson.
"We went to far and dialled it back for race 2 but it still didn't have the pace of my teammates. It's all a bit confusing to be honest."
The non-finish by Lawson didn't change his championship standing. Although Sato has stretched his lead out to 54 points, Lawson remains in second place, six points ahead of Tsunoda, with Dunner a further six points adrift in fourth.
The Euroformula Open championship takes a break for a month before returning in Hungary.
Meanwhile, Lawson's dual championship campaigns switches to the new FIA F3 category in a fortnight, with two back-to-back rounds supporting the French and Austrian Formula 1 Grand Prix meetings.
Race 2 – Top 10
1. Marino Sato (Motopark)
2. Lukas Dunner (Teo martin) +6.214s
3. Julian Hanses (Motopark) +7.875s
4. Jack Doohan (Double R) +8.829s
5. Christian Hahn (Carlin) +14.489s
6. Teppei Natori (Carlin) +16.108s
7. Linus Lundqvist (Double R) +19.335s
8. Javier Gonzalez (RP Motorsport) +24.171
9. Calan Williams (Forte Motorsports) +25.097
10. Pierre-Louis Chovet (RP Motorsport) + 26.273
Yuki Tsunoda (Motopark) dnf
Liam Lawson (Motopark) dnf
Championship Classification – Top 6
1. Marino Sato (Motopark) 154 points
2. Liam Lawson (Motopark) 104
3. Yuki Tsunoda (Motopark) 98
4. Lukas Dunner (Teo Martin) 92
5. Julian Hanses (Motopark) 74
6. Jack Doohan (Double R) 28
Caption: Liam Lawson (#30) leads Jack Doohan at Spa-Francorchamps.