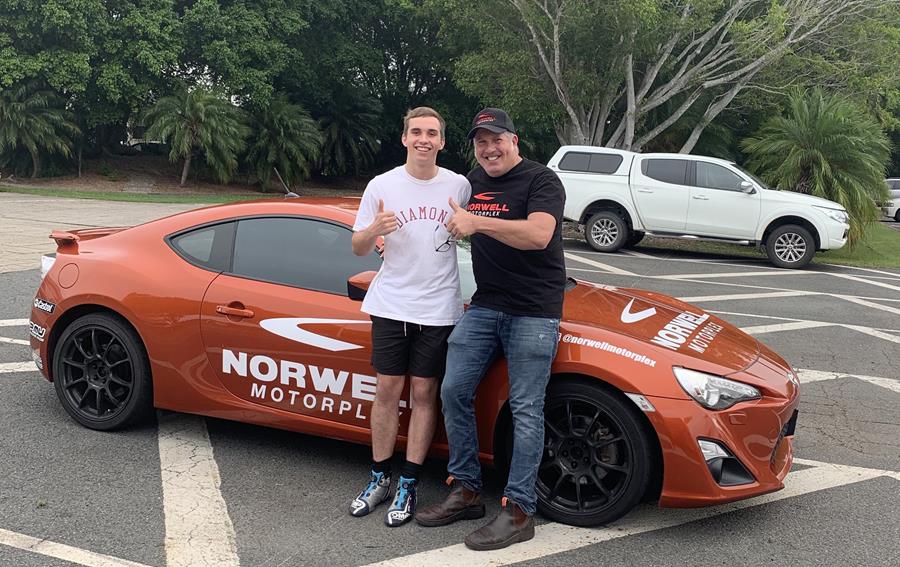 Kiwi Toyota 86 racer, Vodanovich joins Paul Morris Motorsports
18-year-old New Zealand racer, Peter Vodanovich will complete his maiden Australian Toyota 86 Racing Series season with Paul Morris Motorsports, which currently fields Declan Fraser and Luke Vanna.
Vodanovich visited the Paul Morris Racing Academy at the Norwell Motorplex on the Gold Coast after finishing the opening round at Phillip Island fifth overall. From there, he has been awarded a scholarship to the Academy by Morris and welcomed to his team.
Morris also used the announcement of Vodanovich joining PMM to outline that he'd like to attract more young New Zealand talents to the Norwell Motorplex to benefit from the Paul Morris Racing Academy.
Taking an unconventional route to circuit racing through sim racing, the Aucklander was recently presented with the Ian Snellgrove Award for winning the Elite Motorsport Academy by Motorsport New Zealand after his fourth placing in the NZ Toyota 86 Racing Series over summer. Alumni in that Academy include Porsche Junior, Jaxon Evans and USF2000 scholarship driver, Hunter McElrea.
Peter is a martial arts black belt (in the discipline of Hsou Jing Do) and is studying Engineering at the University of Auckland to improve his mechanical understanding of racing.
Vodanovich joins fellow 18-year-olds Fraser and Vanna, along with Emily Duggan under the Paul Morris Racing Academy Scholarship program in this year's Toyota 86 Racing Series and Broc Feeney in the Kumho Tyre Super3 Supercars Series. Feeney recently tested the Penrite Racing Commodore in Winton's Additional Driver Session. The Gold Coast-based Paul Morris Motorsports will prepare and transport Vodanovich's car.
He will continue to be mentored by Todd Pelham who has been a part of Peter's career since the beginning.
The Paul Morris Racing Academy runs daily by prior appointment at the Norwell Motorplex on the Gold Coast offering everything from a two hour course through to an intensive two day program.
Peter Vodanovich is supported in Australia by MacClures ITM, Creme Insurance, First Stop Electrical, Goldwise, Connex Wire and Elite Motorsport Academy.
QUOTEBOARD:
Paul Morris:
"Peter represents the next generation of New Zealand racing talent coming through and I'm happy we can provide him this opportunity," explained Morris.
"When he came to see us, he impressed me with the way he presents himself and with such little time racing, he's clearly got a good natural racing instinct.
"He was fifth overall at Phillip Island having not raced there before, which is pretty decent in a field of nearly 40 cars!
"We can see that Peter will improve with a bit more training and he'll benefit from the Paul Morris Racing Academy.
"There's a lot of great young kids racing other forms of production cars and the Toyota 86 Racing Series in NZ – and we'd love for them to come to the Paul Morris Racing Academy at Norwell Motorplex and train with us as well."
Peter Vodanovich:
"It is an absolute honour to be joining the Paul Morris Racing Academy and to be invited to be one of the scholarship drivers," said Vodanovich. "I certainly wasn't expecting that when I went there to get some training with Paul, but to be alongside guys like Shane van Gisbergen and Anton de Pasquale that go to the Academy regularly is something pretty neat.
"I really can't wait until Townsville now to be part of Paul's team and share data with the other three drivers. That is a huge part of it and Paul's experience will be beneficial. Already training with Steve Robinson and the team at Norwell Motorplex, I feel as though my skills have sharpened.
"I'm also pleased to have Todd Pelham along for the ride as well. He along with my family has been instrumental in my career to date and will continue to be part of our team, along with all our supporters that make the wheels turn.
"It's been a great year so far winning the Elite Motorsport Academy in New Zealand and coming to Australia to race, this really adds to it.
"Fifth placed overall at Phillip Island and three top 10 finishes was an awesome way to kick the season off. We didn't know what to expect coming to Australia other than a big field and some tough racing! It was certainly that and a lot more and from here we'll aim to continue building on it.
"It's only a month to Townsville, I'm certainly on the countdown and can't wait to get there and keep this adventure rolling!"
Media release: Matt Payne, Acclaim Media for Paul Morris Racing Academy