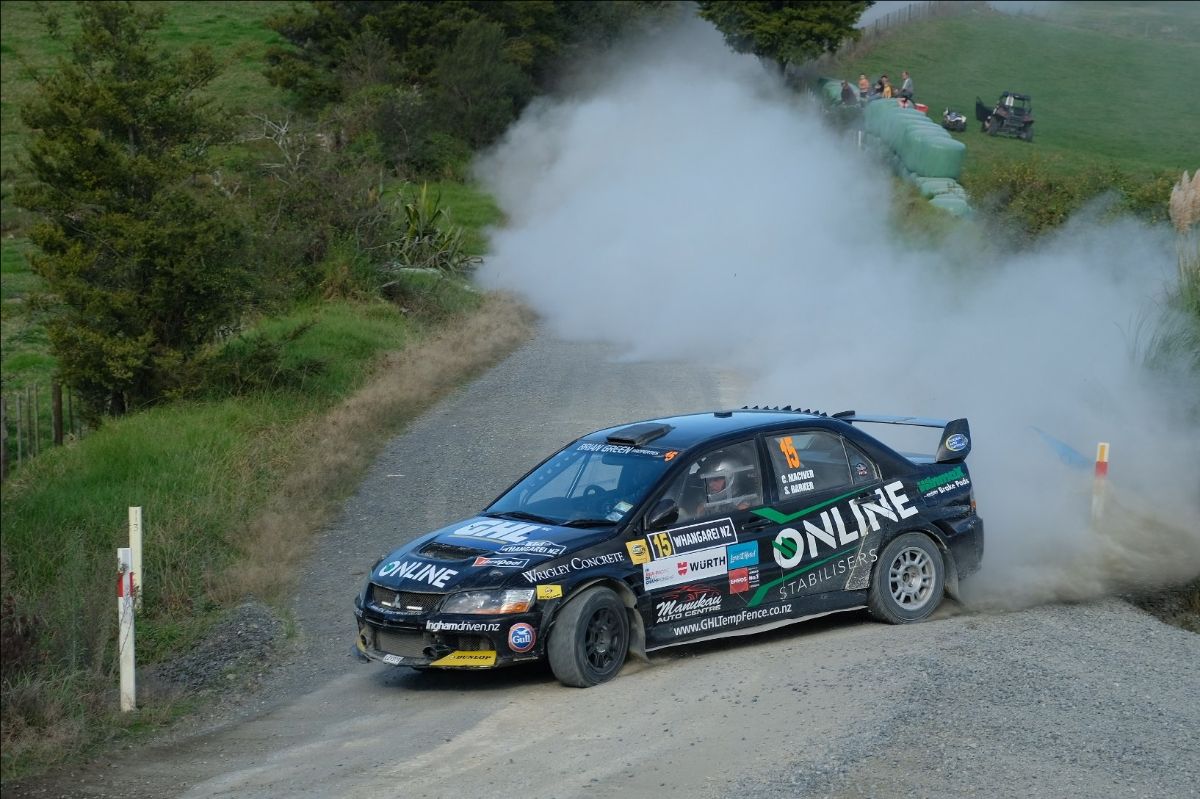 Hunt pips Barker to lead in Whangarei
Brian Green Property Group New Zealand Rally Championship leader Ben Hunt passed Stephen Barker in the penultimate stage of Saturday's action at International Rally of Whangarei to claim day honours.
The Subaru driver, and co-driver Tony Rawstorn, holds an overnight lead of 6.4 seconds from Mitsubishi Lancer EVO 9 Barker shares with Chris MacIver.
Barker impressed during the four morning stages to open up a handy lunchtime lead but Hunt bounced back in the afternoon loop, finding additional pace on the second run through the stages with the morning fog having dissipated and the racing line swept clear of loose gravel.
"Stephen drove exceptionally well today," Hunt said. "Obviously he hasn't had a lot of time in the car apart from the rally school hot seat rides he does but we all know he is a talented driver and he showed that today.
"We lost a bit of time with some simple amateur mistakes but that is motorsport."
Barker showed glimpses of promise in his return to the championship at Otago three week's ago but that ultimately ended in a DNF.
"We are over the moon really," he said. "We came up here not really know how were going to fit into the results after Otago really.
"The car is handling really well now and that gave me the confidence to drive it."
Josh Marston lies third in his Holden Barina after an impressive performance across the eight Saturday stages.
Dylan Turner is fourth in his Audi while Phil Campbell holds fifth in his Ford Fiesta AP4 and Kingsley Jones sixth in the Skoda R5.
Emma Gilmour (over-heating in her Suzuki Swift Maxi), Raana Horan (who crashed his Skoda Fabia R5) and American Gymkhana star Ken Block (power steering failure in his Ford Escort Cosworth) were the biggest casualties of the day. Andrew Hawkeswood and son Jack both had some mishaps during Saturday while Kiwi Asia Pacific star Mike Young also battled problems in his Toyota Yaris.
Former WRC star Hayden Paddon held the overall rally lead with Junior WRC entrant David Holder pipping Hunt for second by five seconds.
Anthony Jones produced a superb drive in the day's final stage to claim the overall 2WD lead from Rally Otago winner Marcus van Klink. Jones (Ford Escort), edged Van Klink's Mazda RX8 by 2.2 seconds.
He also leads Van Klink in the Open 2WD category.
Jeff Judd took a commanding win in the Historic 2WD category – taking advantage of Regan Ross's retirement earlier in the day.
Robbie Stokes bounced back from his scary accident in Otago three week's ago to take the FIA Group N 2WD class – beating the fellow Ford Fiesta of Mike Sheehan by 49 seconds.
Matt Adams claimed the Gull Rally Challenge 4WD title after coming out on top of a terrific Mitsubishi battle that included Brynley Smith, New Caledonian Eugene Creugnet and Matthew Jensen. Smith ended up second 32.1 seconds back from Adams while Leon Styles inherited third after Creugnet and Jensen ran into problems on the final two stages.
Wayne Rowberry came out on top in the battle of the Toyota Starlets to win the Gull Rally Challenge 2WD title from Daniel Alexander.
Phil Collins, who was a late entry into the event, won the Stadium Finance Group A Challenge after a strong showing on his debut at Whangarei.
A further eight special stages await competitors south of Whangarei on Sunday.
Media release: Rally New Zealand
Photo: Geoff Ridder