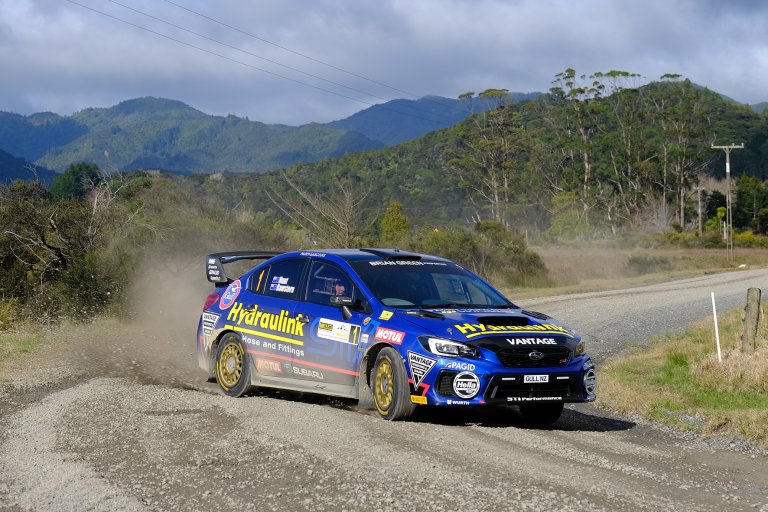 Ben Hunt pilots Subaru WRX STI to his second national rally championship title win
Subaru driver Ben Hunt is elated to have wrapped up the Brian Green Property Group New Zealand Rally Championship (NZRC) today, with a round to spare.
Hunt and his long-time co-driver Tony Rawstorn needed only to finish eighth or higher in the one-day Dayle ITM Goldrush Rally of Coromandel to secure a second career title – after achieving his first win in a Subaru Impreza WRX in 2015 – but they went ahead and won it anyway.
"It is a huge credit to the Hunt Motorsports team, Speedhub Motorsport, Subaru, all my sponsors and everyone that has helped us out. So many people put in a lot of time and effort and we don't do enough of the other things we love doing but when you get results like this, it makes it all worth it." "Hunt says.
Hunt and Rawstorn have certainly capped off a decade of rallying together in the most memorable way today.
"It's five from five so we might have to pull Waitomo out of the bag. We want to do what no other NZRC driver has been able to do before and carry off that sixth win at Waitomo next month," Hunt says.
The Auckland-based Subaru brand ambassador took a measured approach to the day – in the Subaru WRX STI that his Hunt Motorsports team built into a rally-dominating machine three years ago – determined not to derail his successful season. He didn't feel the need to win every stage of eight, held around the Mercury Bay region, although he stayed within the top two for the first seven stages, before disaster nearly struck on the brand-new final stage. During the 2.5 laps of tarmac roads in the commercial area near the Whitianga airport, Hunt experienced fuel surges on the short super special stage but managed to sneak it home.
"At that stage it was more about getting to the finish line and we were surprised to have stayed in the lead," Hunt said.
Hunt's success this season has seen him voted the championship's best driver this year – securing 83% of the votes – in the recently-completed NZRC Competitor Survey.
"Our Subaru also polled as the most competitive car in the championship, which is a real credit to the team and all our sponsors who back us and allow us to continually develop and fine tune our WRX STI into a rally-winner," Hunt says.
In repeating his 2015 title success, Hunt has boosted the ultimate Kiwi adventure brand further into the Manufacturer's Championship lead. Subaru is ahead by 19 points with one round of the NZRC remaining at Waitomo on October 19.
Subaru of New Zealand's Managing Director Wallis Dumper joins the Subaru team in congratulating Hunt and Rawstorn.
"Ben and his team's top result is a reflection of their commitment to the Subaru brand and Hunt Motorsports' NZRC campaign. Subaru have been rally supporters for decades, and to see five rallies won consecutively adds to our proud rally heritage. Ben has shown that being able to depend on Symmetrical All-Wheel Drive is the way to finish rallies and to finish them first," Mr Dumper says.
In winning his fifth consecutive rally in the 2019 NZRC, Hunt joins just three other drivers to have achieved this feat in a season. He is in illustrious company with rallying greats Joe Mc Andrew (2014), Richard Mason (2014) and Hayden Paddon (2018) the only competitors in the championship's 44-year history to notch up five wins.
Hunt Motorsports is grateful for support in the 2019 Brian Green Property Group New Zealand Rally Championship from: Subaru of New Zealand, Hydraulink, Motul Oil, Vantage Windows and Doors, Speedhub Motorsport, Gull NZ Fuel, Winger Subaru, Hella NZ, Reiger suspension, Bluebridge, MTF Finance, Wurth, Mean Machine Engines, Vernon Developments, TCC Solutions, Hitech Motorsport, Hunt Diesel, Make Architects, Pirelli, Pagid Racing Brake Pads, Nuzest, SOS and Hammer King.
2019 Brian Green Property Group New Zealand Rally Championship calendar
Round 1 Drivesouth Rally of Otago April 13 to 14 (Dunedin)
Round2 International Rally of Whangarei May 4 to 5 (Whangarei)
Round 3 Lone Star Canterbury Rally June 2 (Christchurch)
Round 4 South Canterbury Rally June 22 (Timaru)
Round 5 Hyundai NZ Gold Rush Rally of Coromandel August 16 to 17 (Whitianga)
Round 6 Hamilton Car Club Waitomo Rally October 19 (Hamilton)
Media release: Catherine Pattison, Subaru of New Zealand
Photo: Geoff Ridder