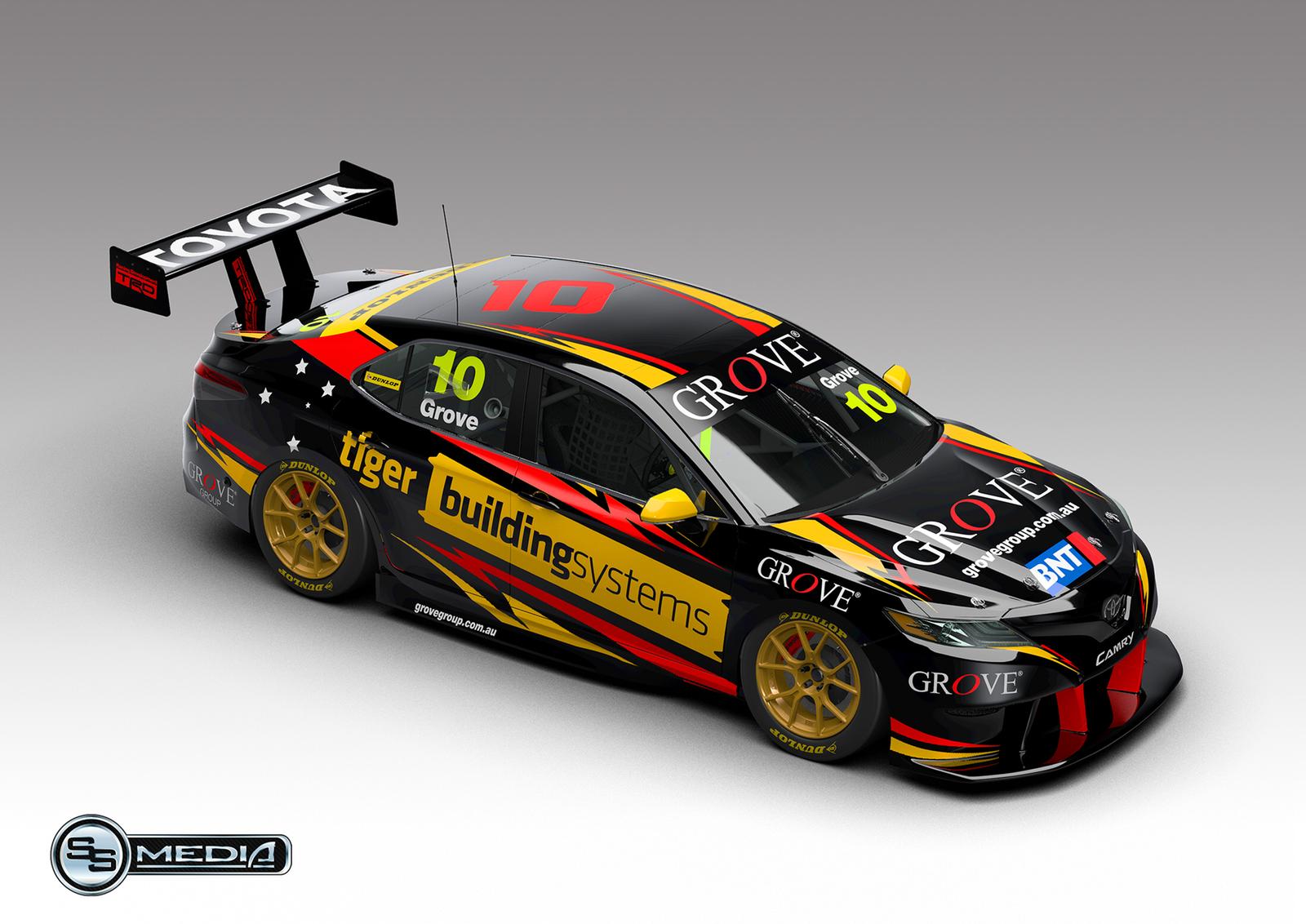 Grove Reveals Striking Look for Toyota Camry
Brenton Grove has revealed the Toyota Camry he will race with Richards Team Motorsport when the BNT V8s Championship gets underway this weekend at Pukekohe.
The 21-year-old from Australia will enjoy backing from Tiger Building Systems and Grove Group during the six round BNT V8 Championship.
Grove will be part of a three car effort with Richards Team Motorsport, joining 19-year-old New Zealand driver Chelsea Herbert and fellow Australian Scott Taylor.
With one test in the car carried out at Pukekohe earlier this month, Grove says he enjoyed getting acclimatised to his new car is looking forward to round one and the season ahead.
"It was a great experience jumping into the car and seeing what all the fuss is about. They are a really nice car to drive, quite similar to my Dunlop Super2 car in many respects. I was impressed with it, that's for sure," says Grove.
"For me I was quite impressed with the grip it was able to generate. I would definitely say it's along the lines of my car in Australia, so the mid corner speed was quite high and something I was a little surprised about. But it makes driving the car really fun because you can definitely trust the grip.
"Given that the car is running on the same rubber as we utilise in Australia, most of the feelings were the same. The engine power was quite good too."
His first experience on the fast Pukekohe circuit, Grove says he is eager to get into the season and wasn't bothered by the 'Pukekohe bumps'.
"I'm really excited heading into round one this weekend. The car is fun, the team is great to work with an the track at Pukekohe is mega. I'm really excited to get stuck into the season and have a crack.
"The speed at Pukekohe was more than I imagined it to be. Turn one is really quite fast and it took me a while to realise just how much grip the car had. The bumps weren't actually something I noticed, it seems to be one of those things that always get built up bigger than it really is."
The BNT V8s Championship has six rounds starting at Pukekohe, November 2-4 and finishing at Hampton Downs in March.
Caption: The Toyota Camry Brenton Grove will race in the BNT V8s this season.
Release: Freddy Foote