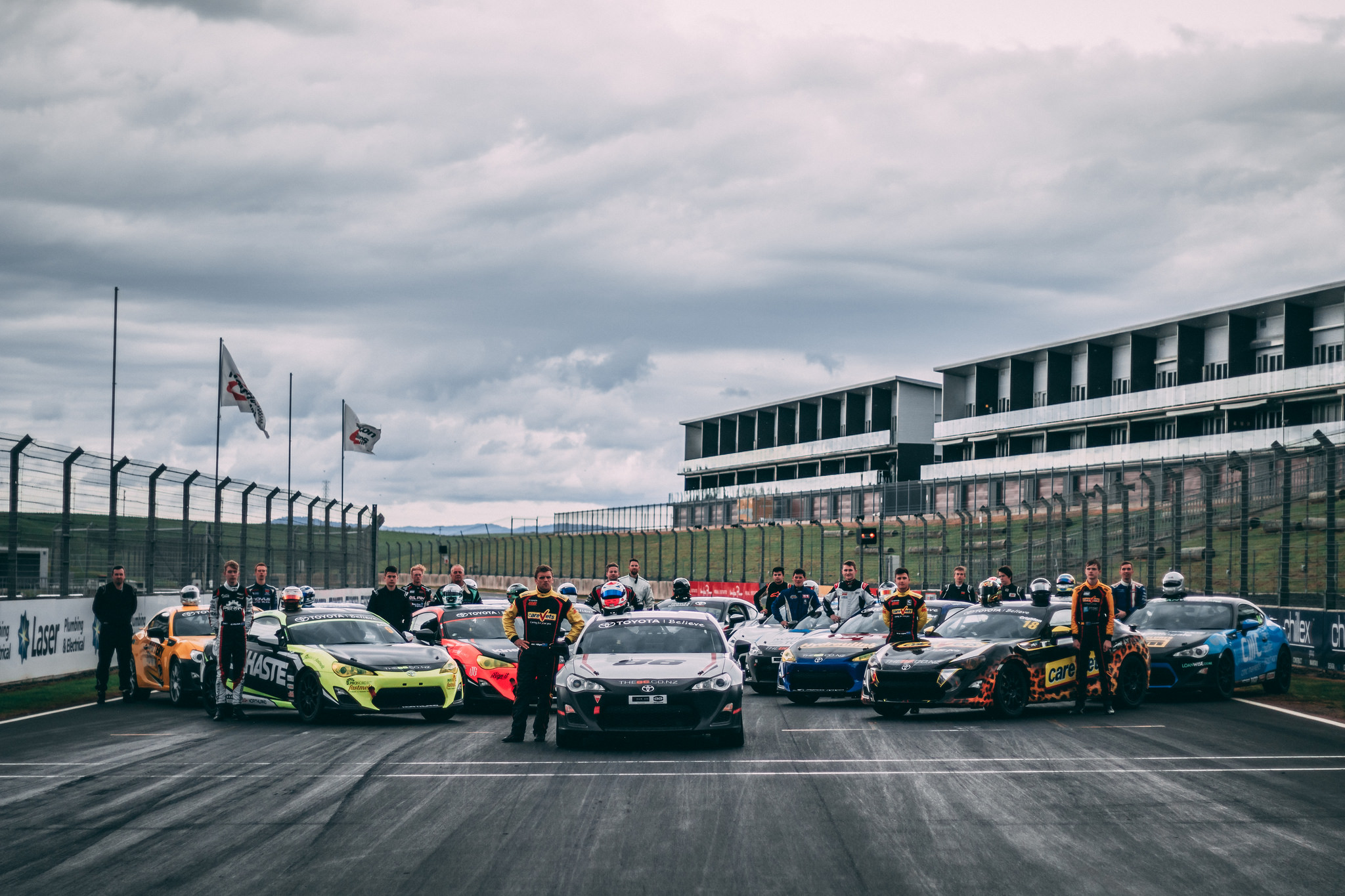 Best ever field in Toyota 86 Championship set to thrill Supercars crowd
One of the most open New Zealand motorsport championships for years will blast off this coming weekend at the ITM Auckland SuperSprint at Pukekohe Park Raceway and a full grid of up and coming racers are aiming to make their mark early in the Toyota 86 Championship.
Now in its fifth season, the forthcoming Toyota 86 Championship will also be the biggest so far and a key part of celebrations in the 15th year of Toyota Racing in New Zealand.
Who will ultimately be crowned champion after the six rounds of the 2018-2019 series is literally anyone's guess and even experienced personnel within the category will go no further than saying it could be one of ten or may be even 12 drivers who could succeed and that the title could go down to a five or six-way fight when the final race sets off at Hampton Downs in March.
"First and foremost you would look at the experienced Toyota 86 racers in the category like Connor Adam, Jaden Ransley and Jordan Baldwin as potential favourites," explained Toyota 86 category manager Geoff Short. "But that would be too easy and would be underestimating the huge depth of talent within the category as a whole and that's a level of talent we have not seen so far in the Toyota 86 Championship.
"Callum Hedge and Arran Crighton in the CareVets Scholarship team are also obvious candidates for success and you would never write off any driver running with International Motorsport and they have three young guns in Connor Adam, Campbell Stewart and Brock Gilchrist. There's also been plenty of interest in Connor Davison who is young, but incredibly talented. Peter Vodanovich and Jacob Cranston are also two other very promising drivers. And then you have Kaleb Ngatoa running under the wing of icons Kenny Smith and Greg Murphy.
"There are probably four or five other drivers on top of those guys who could be championship contenders and then any of the rest could be front runners. This championship has always been about consistency and that won't change this time around either. Finish high up in the points on a regular basis and you will be a contender for the championship or for the Rookie of the Year title.
"The racing has always been close and everyone involved in the series is relishing what's to come this time around. The fans will pick up on how close and competitive it's going to be too and really beyond that all we can say is don't miss any race, because every winner is going to have to show outstanding pace and race craft to bag a win or even a podium. The Supercars event is a fabulous way to start too and will showcase both the class and the massive pool of talent in it."
Late entries to the big field include Australian ace Jake Klein, another proven winner and future talent who brings a record of three wins, six podiums and two fastest laps form this year's Aussie Toyota 86 series to Pukekohe.
This year's championship prize pool offers the chance for two drivers not only to make a big step forward in their racing careers but also to catch the eye of the Supercars Championship teams. Top prize for the NZ series winner will be the opportunity to compete in all rounds of the 2019 Australian Toyota 86 Racing Series. On offer to the top rookie in New Zealand will be the opportunity to be part of Toyota Racing Australia's Invited Driver Program at the iconic Bathurst 1000 event.
The full schedule for the Toyota 86 Championship is as follows:
November 2-4 – Pukekohe (with Supercars)
December 7-9 – Pukekohe short track (no back straight chicane)
January 11-13 – Highlands Motorsport Park, Cromwell (with Castrol Toyota Racing Series)
January 18-20 – Teretonga Park, Invercargill (with Castrol Toyota Racing Series)
February 8-10 – NZ Grand Prix at Manfeild, Manawatu (with Castrol Toyota Racing Series)
March 9-10 – Hampton Downs Motorsport Park, North Waikato
Caption:  Anticipation is high for the 2018-2019 Toyota 86 Championship. Picture Bruce Jenkins.
Release: Toyota Racing