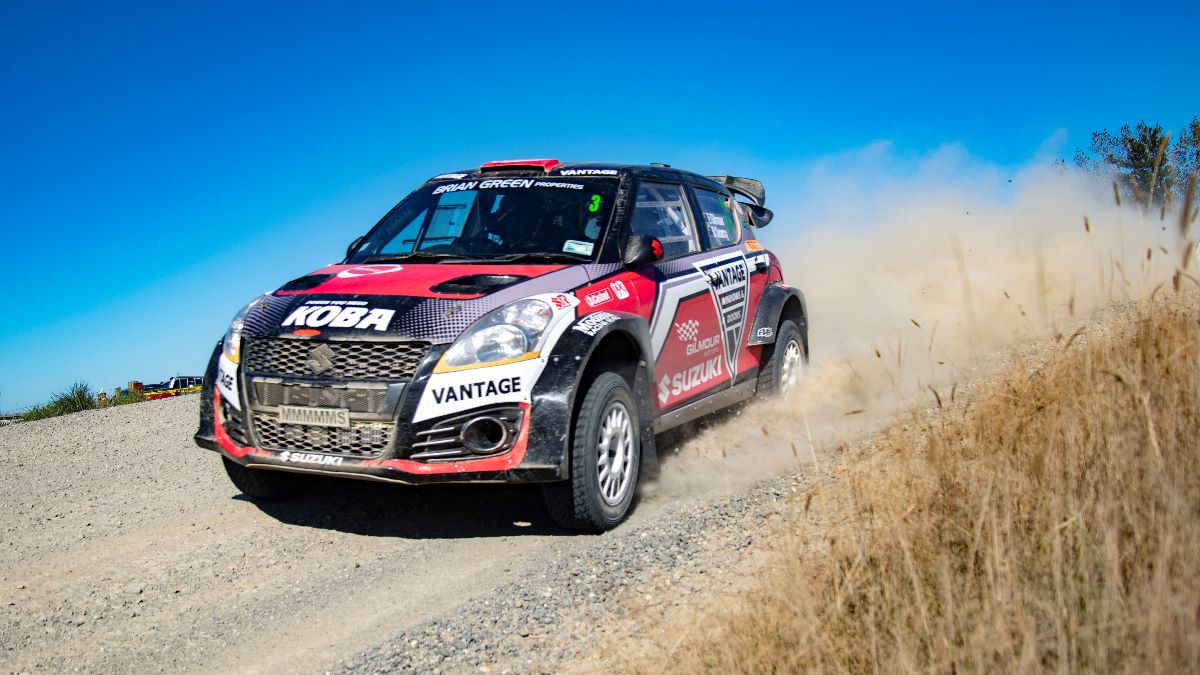 Gilmour to debut rebuilt Suzuki at the Rally of Otago
Next weekend Dunedin rally driver Emma Gilmour will start the 2019 Brian Green Property Group New Zealand Rally Championship (NZRC) at the Drivesouth Rally of Otago with a fully-refurbished Vantage Windows and Doors Suzuki Swift AP4.
With Suzuki New Zealand's support, the six-season old rally car nicknamed MMMMMs, has had an extreme make-over – being stripped to a bare shell and rebuilt into a virtually new machine.
Driving her Suzuki, Emma became the first woman to ever win a national rally championship round in 2016. While she has also achieved a number of podium results in it over the years, she felt it was time for a change.
"It's been challenging over the past six years to build the car on the go, as budget has allowed. It's like trying to renovate your home while you are still living in it. We decided to change that this year and even considered building a brand-new car, but it wouldn't have been cost effective. Option two was to 'move out' completely and start again with the Suzuki, which is what we have done, and I'm thrilled with how it has turned out," Emma says.
The team entrusted Team Ralliart New Zealand, in Pukekohe, with the rebuild project under the guidance of regular team engineer Lane Heenan in Perth.
On Saturday Emma had a chance to test the car's new aerodynamic wings and flares, plus the refurbished Suzuki 1600cc engine, at the Eastern Southland Car Club's Popotunoa Rallysprint.
"It was a great shakedown at the weekend, capped off by a win to start the year. With the changes we've made over the off-season, the Suzuki is feeling the best it ever has."
Emma is now counting down the days to Rally Otago on April 13 and 14, which she describes as her "favourite event with some of the best roads in the world."
This year, there will be a different face on the passenger side, starting with the Thursday and Friday recce of the stages to the north and south of Dunedin, before the event-proper. Emma wishes her long-term co-driver Anthony McLoughlin all the best with his new opportunity this year in the Australian Rally Championship (ARC). Fellow Australian Ben Searcy replaces him.
An experienced navigator, Ben won the ARC last year with his compatriot Eli Evans and was runner-up the previous two years with Nathan Quinn and Simon Evans respectively. This year the lure of New Zealand's rally roads was too appealing and he will cross The Ditch to co-drive for Emma.
"I've always wanted to do the NZRC. And to have the opportunity to do the championship in a competitive car, and team, plus with Emma as a highly experienced driver, it's going to be a great opportunity. I'm honoured to be there and can't wait to get over for Otago next week," Ben says.
While he is looking forward to the whole championship, Ben is particularly excited about the opening round.
"The Otago roads are like nothing else in the world. The roads in the NZRC are magic, but Otago takes the cake without a doubt, from what I have seen so far. Emma's experience and speed – especially at Otago – her home event, will be a great start for us to get used to each other.  We are both professionals and I have no doubt that we can get the job done," he adds.
Emma and Ben will be among a record-breaking 132 cars starting the 17-stage Otago Rally, which tops the previous highest entry number set in 2017. There are 55 competitors registered for the national championship, 37 in the classic rally field, and 15 in the fast-growing 4WD classic field.
Because Otago is also the opening round of the Asia Pacific Rally Championship, there are eight different countries represented among the competitors. Sixteen Australians are heading across the Tasman, with crews also coming from Japan, New Caledonia, Philippines, Norway, Ireland, Germany, and even an expat Kiwi from Burkina Faso, in West Africa.
Emma's local fans can catch her, MMMMMS and Ben at the ceremonial start in Dunedin's Octagon on Friday evening from 5pm.
CAPTIONS: Emma Gilmour gives her rebuilt Suzuki Swift AP4 a shakedown LAST SATURDAY at the Eastern Southland Car Club's Popotunoa Rallysprint, where she clocked the fastest time.  PHOTOS: Becky Ladbrook – Fast Exposure Photography
Emma would like to thank her sponsors Suzuki NZ, Vantage Windows and Doors, Gilmour Motors Suzuki, Koba Batteries, Rothbury Insurance Brokers, PPG Paint, Castrol, Hella, Uniform NZ, Provident, NGK Spark Plugs, Custom Signs, Modena Race Gears, Pure Sports Nutrition and Webdesign for supporting the team.
Media release: Catherine Pattison