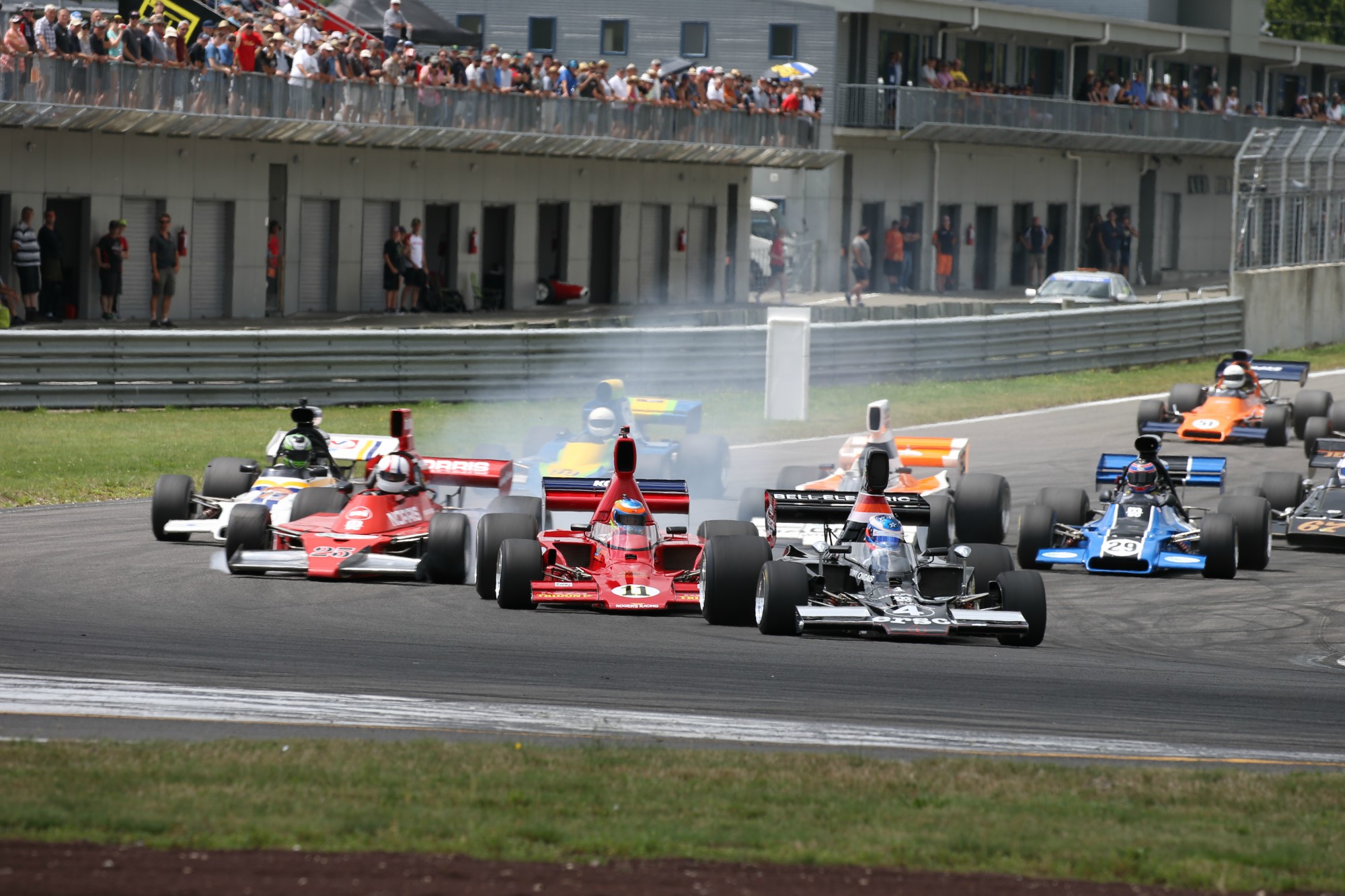 F5000 CELEBRATIONS TO CONTINUE AT TAUPO HISTORIC GP MEETING THIS WEEKEND
This weekend's Taupō Historic GP motor racing meeting at Bruce McLaren Motorsport Park will see New Zealand's world-leading Formula 5000 Association continue the good work its members have been doing for the past year here, across the Tasman and in the United States celebrating the 50th anniversary season of their iconic stock-block V8 single-seater category.
The popular Historic GP meeting again hosts a round of the NZ-based SAS Autoparts MSC NZ F5000 Tasman Cup Revival Series with 12 of the beautifully restored and race-prepared F5000 single-seaters set to thunder round the full 3.4km International Circuit on Saturday and Sunday.
In 2018 the 50th anniversary celebrations spanned races in New Zealand and Australia with the highlight – for several of the SAS Autoparts MSC Series regulars, at least – being the 44th annual Rolex Monterey Motorsports Reunion meeting at Laguna Seca in the United States in August. Long-time series supporter, international shipping company MSC then had just two months to get the cars back here for the first of the 2018/19 SAS Autoparts MSC Series rounds at the annual ITM SuperSprint Virgin Australia Supercar Championship round at Pukekohe Park over the first weekend of November.
The link between meetings here, Australia and the United States is particularly appropriate. The Sports Car Club of America (SCCA) was the first sanctioning body to accommodate cars powered by production-based 5-litre V8 engines (known as Formula A or Formula 5000) and New Zealand was one of the first countries outside the United States to run a race for the cars.
That race, won by American Ron Grable driving the Spectre HR1, was at the now-closed Bay Park circuit at Mount Maunganui on December 28 1968 and its success prompted the Motorsport Association of New Zealand to adopt Formula 5000 as the country's national formula in 1969.
That group and Australia's Confederation of Australian MotorSport (CAMS) then adopted F5000 for the annual Tasman Series championship in 1970 and in its heyday – between 1970 and 1976 – Formula 5000 was the premier national single-seater formula in the United States, Australia, New Zealand and South Africa, as well as one of the main domestic single-seater categories in the UK.
More recently, the New Zealand Formula 5000 Association spearheaded what is now a truly global move to locate, restore and re-commission cars built for the various F5000 series around the world in the late 1960s and early 1970s.
77 year old Kiwi super-veteran Ken Smith MBE (1976 Lola T332) made it three wins from three starts in first round of the 2018/2019 SAS Autoparts MSC NZ F5000 Tasman Cup Revival Series race at Pukekoke in November.
Smith was pipped to the first Taupō Historic GP title in January 2017 by the narrowest of margins, however,  by Englishman, Michael Lyons (McLaren M26 Ford-Cosworth) in a GP title race in which the F5000s took-on pre-1978 Formula 1 cars in a revival of the challenge races held in Europe in the 1970s.
Four-time SAS Autoparts MSC Series title holder Smith also had victory within his grasp at last year's Historic GP meeting only for a failed gear-linkage bearing to force him to back-off the pace enough to allow Andy Higgins (Lola T332) to slip past for the win.
The Taupō Historic GP in 2019 therefore represents somewhat unfinished business for Smith whose enthusiasm for racing and racing cars shows no sign of waning even after some 60 years of near-uninterrupted racing.
Young gun Michael Collins (Leda LT27) and former series champ Brett Willis (Lola T330) shadowed Smith at Pukekohe and will be hoping to go one better this weekend.
Series regulars Glenn Richards (Lola T400), Tony Galbraith (Lola T332), Aaron Burson (McRae GM1) and 1982/1983 Formula Ford Champion Kevin Ingram, who returns to racing in his 1976 Lola T332, will also be close to the front.
The other races over the Historic GP weekend, all to be held on the 3.4km International Circuit, the only FIA Grade 2 track in the country, are for;
Historic Muscle Cars and Historic Saloon Cars, the FIA Group 2 and Group 5 touring cars that contested the New Zealand Saloon Car Championships in the late 1960s and early 1970s;
Formula Juniors, Formula 3 and Sports Racing Cars from 1958 to the late 1960s
Historic Formula Ford 1600s from 1967 to 1987;
The wild "Allcomer" Sports Sedans that entertained New Zealand crowds from the 1960s, 1970s and 1980s;  and
Motorcycles contesting the Carl Cox Motorsport Hyosung & Ninja Cups.
All-up, a field of 96 cars and drivers, 11 of them from overseas (Australia, UK, Netherlands, Sweden, Denmark, Ireland, Switzerland and France) and 40 riders will contest a total of 25 races over the two days.
Included among the overseas drivers this year are returning visitors to Taupō, Greg Thornton (UK, 1973 Chevron B24 F5000) and James Hagan (1978 Crosslé 32F Formula Ford).
Hagan shared what must surely have been a world record at the 2017 Taupō Historic GP meeting, an Irish one-two-three in the pre-1978 Formula 1 race when he beat fellow countrymen Frank Lyons (McLaren M26) and Tommy Dreelan (March 761) to the top step of the podium in his 1974 ex-James Hunt Hesketh 308 Ford-Cosworth.
Qualifying for this year's Taupō Historic GP meeting starts at 09:30 on Saturday 19th with preliminary races for all categories from 12:30 that afternoon. The racing re-commences at 10:30 Sunday morning with the Historic GP race for Formula 5000s scheduled to start at around 3:00 p.m.
General Admission adult prices are $15.00 Saturday, $20.00 Sunday and $30.00 for a weekend pass. The souvenir programme featuring comprehensive histories of the categories racing, costs $5.00. Included in General Admission is car-parking (including to the Main Straight embankment) and access to the Pit Lane Complex First Floor Tauhara Suite and rooftop viewing areas, the pit/paddock, and all usual GA spectator areas.
Saloon Car and Sports Sedan drivers from the 1960s, '70s and '80s will be attending the race meeting to chat to spectators and autograph souvenir programmes and posters in the Tauhara Suite.
CAPTIONThe start of last year's Taupō Historic GP race. Ken Smith #11 Lola T332 (centre) will be hoping to get his hands on the trophy for the first time next weekend at Taupō's Bruce McLaren Motorsport Park.  Photo credit: Jim Lester of TWINCAMera Photography.
Prepared by FAST COMPANY of behalf of the New Zealand Formula 5000 Association