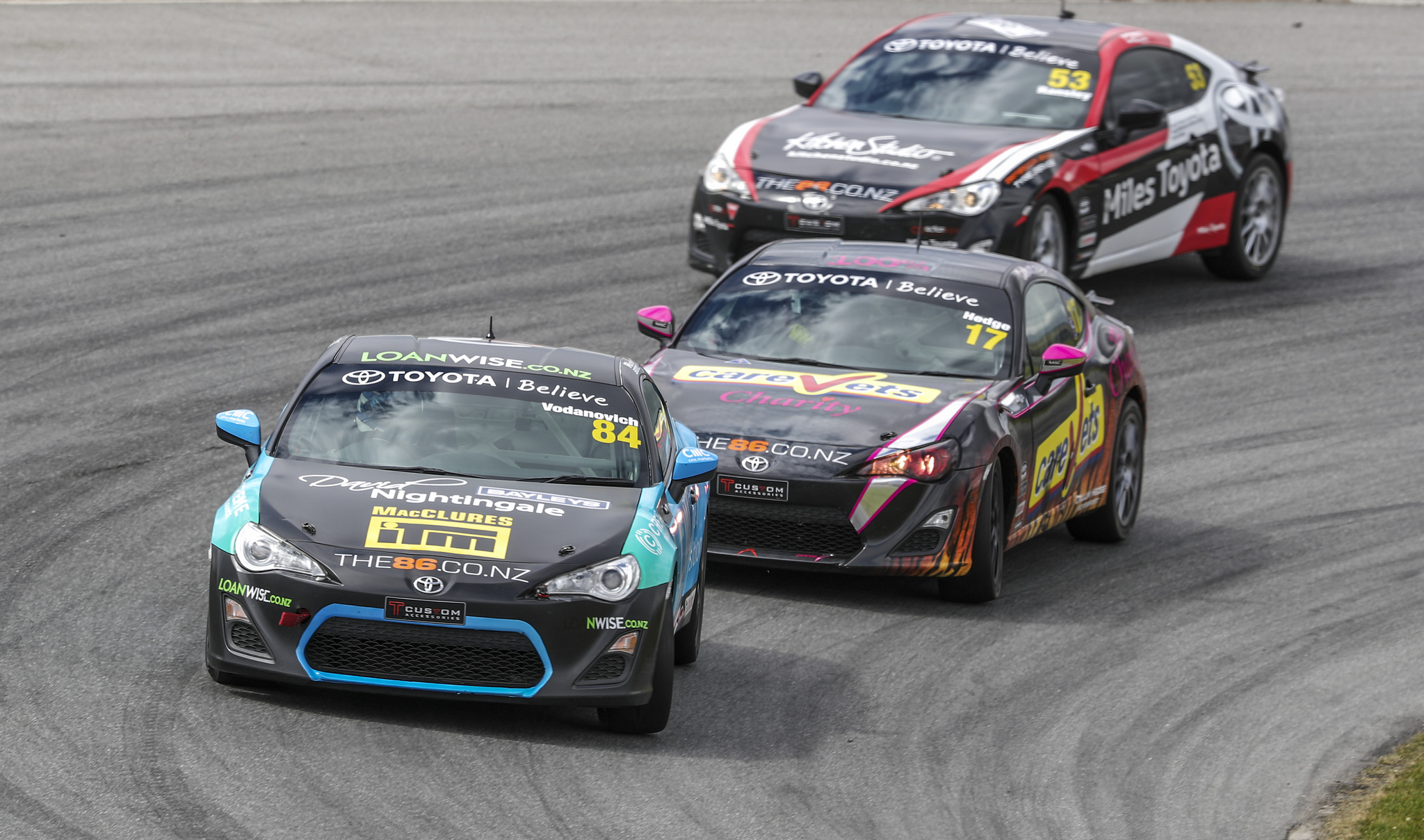 Hedge ahead as Toyota 86 Championship hots up
The Toyota 86 Championship heads to Teretonga Park in Invercargill this weekend four Round 4 after three incredibly hard fought rounds – two at Pukekohe Park on different circuit configurations and last weekend at Highlands Motorsport Park in Cromwell.
Fans will recall young Callum Hedge for his daring passes and speed in the F1600 class at the circuit last year and Hedge has continued to impress in the Toyota 86 Championship this season, arriving in Invercargill with a handy lead in the series points aboard his distinctive CareVets Scholarship racer.
Last weekend wasn't the best for the young gun however, as he incurred a Race 2 penalty that cost him the win in that race, and almost certainly the win in Race 3 later on in the day as a result of a lower starting position on the 15 car grid.
A rookie in the championship, he should continue to be a pace setter in Invercargill this weekend but it's a cast iron guarantee that he is going to come under an awful lot of pressure from a good number of drivers in the field, undoubtedly one of the most competitive in New Zealand motorsport with most of the grid covered by tenths of seconds.
Principal amongst those rivals could be race winners this season such as Jaden Ransley – who sits second in the championship points for Miles Toyota, Jordan Baldwin in the eye-catching Intermach sponsored car who sits third overall and is overdue a race win, rookie Peter Vodanovich who took his first series win last weekend in the blue CMC Markets-backed car or Round 1 winner Connor Adam in the Post Haste car run by experienced team International Motorsport.
Slightly off the pace and not blessed with the best fortune in the last two rounds, Connor has nevertheless remained a front runner and can be expected to be right back at the sharp end this weekend at Teretonga.
There's a host of other drivers behind that big five who could well spring a surprise or two on the challenging turns of this most southerly of race tracks. Arran Crighton in the other CareVets Scholarship car has shown prodigious speed on occasion and it seems only a matter of time before he – like Vodanovich – puts it all together and secures that all-important first race win.
Brock Gilchrist made a superb start to the series over the first two rounds at Pukekohe but fell back a fraction at Highlands. Learning all the time, he'll be super keen to move up the field this weekend in the NEXUS Logistics car, another fielded by International Motorsport. Watch out for some form too from Kaleb Ngatoa, Campbell Stewart, Connor Davison and Justin Allen, who turned a few heads at Highlands with a jump up the pecking order in the yellow Battery Town supported car. Sam Wright and Jacob Cranston are quietly getting quicker too, and cannot be discounted.
Andrew Jackson returns to the driving seat this weekend too, having sat out the last two rounds with team mate Leo Bult on driving duties.
Championship positions after 3 rounds
1 Callum Hedge – CareVets NZ Ltd 574
2 Jaden Ransley – Miles Toyota/Kitchen Studio 520
3 Jordan Baldwin – Intermach NZ/Carters Tyres 518
4 Connor Adam – Post Haste/Weigh Northland 484
5 Peter Vodanovich – CMC Markets/MacClure's ITM 449
6 Arran Crighton – CareVets NZ Ltd 388
7 Brock Gilchrist – NEXUS Logistics/Giltrap Group 385
8 Kaleb Ngatoa – JJ Wallers/Capture Signs 319
9 Jacob Cranston – Best Bars/Vista Lite 297
10 Campbell Stewart – NZPGS/Hydraulink 292
11 Sam Wright – Tony Richards Toyota/Premier 278
12 Connor Davison – Hampton Downs/Highlands Park 277
13 Mitch Hughes – Gilpin Cartage Contractors 215
14 Justin Allen – Battery Town/Thunder Adventure 200
15 Leo Bult – North Shore Toyota 164
16 Jake Klein – SpeedWorks/Toyota 143
17 Andrew Jackson – North Shore Toyota 111
18 Tony Austin – Genweld 102
Caption:  Three into one just about goes – action from the top guns in the Toyota 86 Championship.
Picture Bruce Jenkins.
Release: Toyota Racing NZ