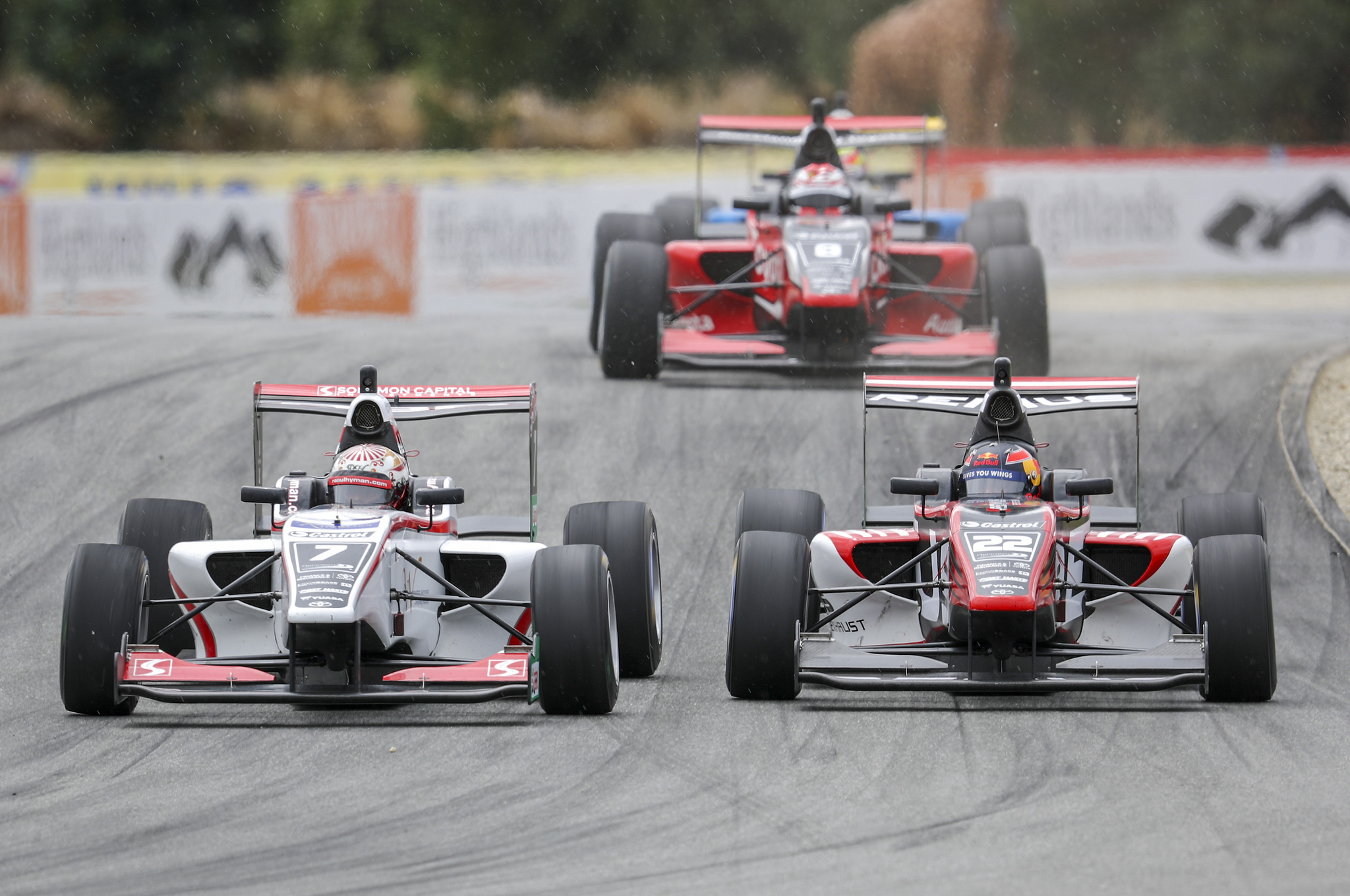 Kiwi young guns head the pack
The Castrol Toyota Racing Series got underway in style last weekend in Cromwell, with some spectacular racing from a grid of 15 high quality budding young international racers representing no fewer than ten countries.
Sixteen year old New Zealander Liam Lawson – racing for M2 Competition – wowed the crowds with two stunning race victories – one on Saturday in the dry and another in far more challenging wet/dry conditions on Sunday.
His instant form perhaps caught the more experienced racers in the field a little off-guard, but having seen the passing manoeuvres the youngster was able to deliver, they'll all be in no doubt about the threat to the championship he poses and will be keen to break his run of form when the series second round gets underway this weekend at Teretonga Park in Invercargill – the most southerly race track in the world.
Principal amongst those challengers is countryman Marcus Armstrong who sits second in the points arriving at Teretonga. Although he wasn't able to bag a win in Cromwell, he was a consistent points scorer and a constant threat at the front. After a top level campaign in Europe last season in Formula 3, he has the experience to know championships are not won in a weekend, only lost. And he has already shown enough pace to mark him out as a contender for the Castrol Toyota Racing Series championship, a title that ironically only eluded him on the last lap of the last race last season. Marcus will be determined to open his win account this weekend.
Asian Formula 3 champion Raoul Hyman impressed last weekend too, the UK racer showing great speed and even better consistency to leave the weekend third on points for Giles Motorsport. He seems to learn very quickly too and can be expected to be another on the immediate pace very quickly when the cars take to the Teretonga track in anger for the first time.
Austrian Lucas Auer is the most experienced racer in the field and is in New Zealand principally to sharpen his single seater skills for a full assault on the forthcoming Japanese Super Formula series. The New Zealand series – which comes with Super Licence points – is an ideal way for Auer to recalibrate back to single seaters from four years in the spectacular tin tops of the German DTM series as a factory Mercedes driver.
Running with M2 Competition he was quickly on the pace at the first round and showed scintillating speed to take pole position for the third and final Sunday feature race. However, a big crash in the second race and subsequent car rebuild left him struggling for pace in that final 20 lapper. The driver with experience testing contemporary Formula One machinery has undoubted class, pace and race craft and with the car back to its best for Teretonga will surely be a frontrunner.
Local Invercargill boy Brendon Leitch is in his sixth season of the TRS category and is the most experienced in the Toyota FT-50 chassis. He's done more laps around Teretonga than everyone in TRS and probably the most at the meeting. He won the second race at Highlands after on the road winner Belgian Esteban Muth was penalised for moving before the start, but was there or thereabouts in all of the races. Back in the familiar yellow car run by Victory Motorsport, Brendon seems more relaxed this season and in the right frame of mind to feel the considerable support that there will be from the local fans.
In a super-competitive field that is as close as an F1 grid – 12 cars were frequently covered by less than one second over the long Highlands lap last weekend – there are a number of other quality players to keep an eye out for this weekend.
American Cameron Das – who raced in the series last year and who has returned even quicker after a season in the F3-based EuroFormula Open series in 2018, showed he has plenty of pace this time around as well. Czech Republic racer Petr Ptacek, Russian Artem Petrov and Muth all have considerable pedigree too.
Mtec Motorsport showed well too, with both Japan's Kazuto Kotaka – a Toyota scholarship racer in his home country – and Aussie Callan Williams showing podium potential at Highlands.
Dev Gore and Parker Locke from the United States, Aussie Thomas Smith and Romania's Petru Florescu also have the talent and speed to vault up the order at Round 2 as well.
This weekend the field increases to 16, with Jackson Walls of Australia taking the Aussie contingent in this year's championship to three. He turned 16 this last week and that allowed him the requisite licence to race the Toyota FT-50 chassis in New Zealand.
2019 Castrol Toyota Racing Series – Points after Round 1
1. Liam Lawson (New Zealand) 82
2. Marcus Armstrong (New Zealand) 78
3. Raoul Hyman (United Kingdom) 69
4. Brendon Leitch (New Zealand) 56
5. Lucas Auer (Austria) 51
6. Petr Ptacek (Czech Republic) 48
7. Esteban Muth (Belgium) 44
8. Cameron Das (USA) 42
9. Calan Williams (Australia) 35
10.Artem Petrov (Russia) 32
11.Kazuto Kotaka (Japan) 28
12.Dev Gore (United States) 22
13.Parker Locke (USA) 20
14.Thomas Smith (Australia) 19
15.Petru Florescu (Romania) 15
2019 Castrol Toyota Racing Series
January 12-13 – Dorothy Smith Memorial Cup – Highlands Motorsport Park, Cromwell (completed)
January 19-20 – Spirit Of A Nation Cup – Teretonga Park, Invercargill
January 26-27 – NZ Motor Cup – Hampton Downs Motorsport Park, Waikato
February 2-3 – Denny Hulme Memorial Trophy – Bruce McLaren Motorsport Park, Taupo
February 9-10 – New Zealand Grand Prix – Manfeild Circuit Chris Amon, Feilding
Picture:  Close racing will be the stand-out feature of the Castrol Toyota Racing Series this weekend in Invercargill. Picture John Cowpland.
Release: Toyota Racing NZ