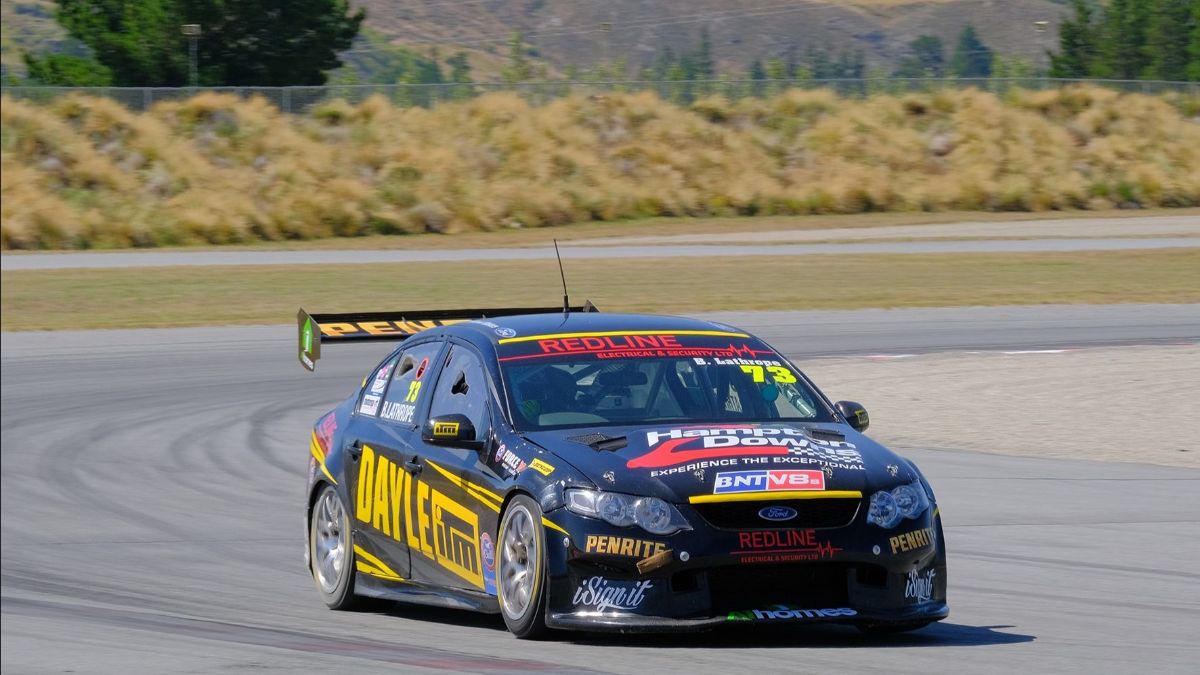 BNT V8 podium for Lathrope at Highlands
Brad Lathrope was "over the moon" with his third place on the podium for the third round of the BNT V8s at Highlands Motorsport Park yesterday.
Racing his Dayle ITM #73 Ford Falcon super tourer in the first of two South Island rounds, held over consecutive weekends, it was a stunning achievement considering that it was the first time driving at the Cromwell circuit for Auckland-based Brad.
His race results for the weekend demonstrated that his commitment to improve with each round is paying off with 5-3-4 on his score card. Instrumental to his success, was that this weekend, Brad was run by Barry Leitch and Kevin Murdoch from Leitch Motorsport and ably assisted by Carter Rinkin.
"I'm absolutely ecstatic with that result – to finish third overall for the weekend. This track is hectic. Exceptionally fun but just hectic trying to learn the circuit," he says.
Consequently, Brad spent the practise sessions on Friday and Saturday morning just circulating, trying to commit the 4.1km track's intricacies to memory. After each of the sessions he went away with aspects of his driving performance to work on, as part of his continuous effort to progress.
"As a driver, I should never be able to get out of the car and say I'm the best driver in the world."
In race one on Saturday, he was able to claim his highest finishing position for the season so far, bringing the Dayle ITM Ford home in fifth place in the Class One category.
"I got a decent start and after a couple of laps, moved up from seventh to fourth. Nearing the end of the race I made a rookie mistake trying to get past a slower driver and dropped a position."
Racing yesterday morning, Brad was gifted his first podium from the championship's eight outings despite some adverse weather conditions. Intermittent rain meant he went out on some wet tyres, which he destroyed over the course of the 12 laps.
"The car was starting to be a bit of a handful but there was a lot of attrition going on around me, so I was just trying to stay on the track."
With 512hp at the wheels of his Dayle ITM Ford at his disposal, Brad found the Highlands circuit "absolutely fun in the dry but crazy in the wet."
Although he finished fourth outright, a driver ahead off him was penalised post-race and Brad moved up to third.
In the third and final race, the entire BNT V8 field had to pit, to change from slick tyres to wets, after only two laps as the rain bucketed down. Mastering the slippery conditions over the next 14 laps, Brad finished fourth which gave him enough combined points for his first overall podium for the season.
"In my head I said 'just stay on the track' and thankfully we kept the car clean. I won't say we kept it straight, as I was sideways on every corner in the wet."
Brad's Auckland-based team will join him when the BNT V8s move further south this coming weekend, racing at Invercargill's Teretonga Park over Saturday and Sunday.
Brad Lathrope Racing thanks the following sponsors for their support: Dayle ITM, Redline Electrical and Security, A1 Homes, Penrite oil, Motorsport Communications, iSignIt, Ultimate Performance and AV8 Motorsport.
BNT V8's 2018/2019 championship 
Round 1 –  Nov 2-4 Pukekohe (Australian V8 Supercars)
Round 2 Dec 7-9  Pukekohe
Round 3 Jan11-13 Highlands Motorsport Park
Round 4 Jan 18-20  Teretonga
Round 5 Feb 8-10 Manfield (NZ Grand Prix)
Round 6  March 8-10 Hampton Downs
CAPTION: Auckland's Brad Lathrope raced his Dayle ITM #73 Ford Falcon super tourer to third overall in Class One over round three of the BNT V8s at Highlands Motorsport Park. PHOTOS CREDIT: GEOFF RIDDER.
Release: Catherine Pattison