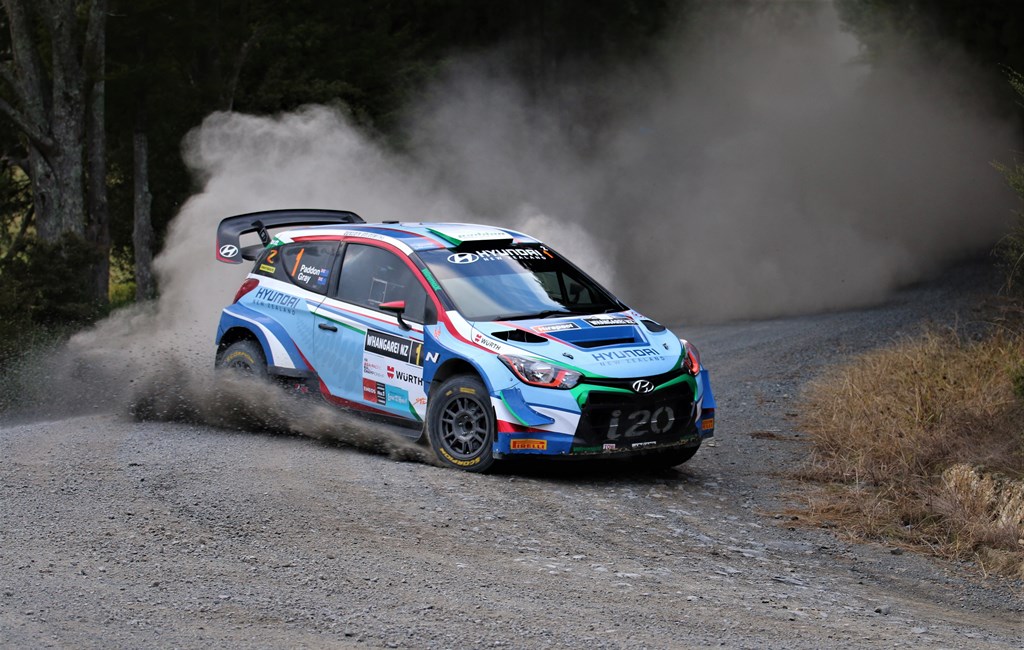 Paddon going all out at South Canterbury
Hyundai rally driver Hayden Paddon will be going all out at this Saturday's one-day South Canterbury Rally with Samantha Gray, another Timaru local, back in the co-driver's seat of the Hyundai i20 AP4.
Paddon is originally from Geraldine so this is his 'home' rally and one he enjoys a great deal. He plans to up the pace he showed last year where he and John Kennard won the event by a margin of nearly five minutes.
The event run by the South Canterbury Car Club is the fourth round of the New Zealand Rally Championship, but as Paddon has not entered the championship this year, he is entered for this rally in the all-comers category. "It's been a while since an event hasn't counted towards a championship, but it doesn't change anything about how we approach things or the overall results. The target is always to win which will be no different this weekend."
This is the last rally for the current Hyundai AP4 car before it is converted to hillclimb spec, so the Paddon Rallysport crew has made some refinements. "We have increased the power a little and changed the gear ratios for the super-fast stages around Timaru. We learnt some good things about the car there last year so have worked on improving those areas," says Paddon who's looking forward to putting on a good show for spectators and keep his high-speed driving skills sharp.
Being a one-day rally, the South Canterbury event also has only one day of reconnaissance with just one pass through each of the 12 special stages. "Having a one pass recce certainly adds to the challenge of trying to get all the info on one pass," says Paddon, "especially as half the stages are new this year compared to last year, adding extra importance to this aspect."
For Gray, writing the pace notes will be her biggest challenge for the weekend. "We will be writing notes from scratch on the majority of the stages, so I have just one chance to write down everything Hayden says. A few stages have repeated sections from last year which I have written out into my own language from John's notes so for those sections we can adjust the notes according to road conditions this year. As allowed under the regulations, we will video the stages during recce so we can go over them on Friday night to make any final adjustments."
Gray is thrilled to have the chance to get back into Paddon's Hyundai. "I am very grateful to all the team and sponsors who have given me another opportunity to co-drive for Hayden. I am looking forward to being able to use the knowledge I learnt at Whangarei, and continue to learn and improve on new skills."
The 22 June running of the Rally of South Canterbury features closed gravel roads to the south, inland and north of Timaru, including some infamous stages from years gone by. The event uses Levels Raceway as its base, with two service breaks in nearby Fairlie. The 12 special stages cover 199.7 competitive kilometres with Paddon, as the number one seed, scheduled to start the first stage at 7.25am on Saturday morning in what are expected to be frosty conditions. The rally wraps up with a mid-afternoon tarmac dash around Levels Raceway – which is always fun for competitors running on used gravel tyres. The car club then hosts prizegiving at the Caroline Bay hall in Timaru that evening.
Follow the live timing and results of the Rally of South Canterbury via https://chrissport.nz. Keep up with news from Hayden Paddon and Paddon Rallysport by joining Paddon's Pack at https://www.paddonspack.co.nz or follow them on social media: Facebook, Twitter or Instagram.
Media release: Kate Gordon-Smith/Relish Communications
Photo: Mark Walton/Rally South Photography