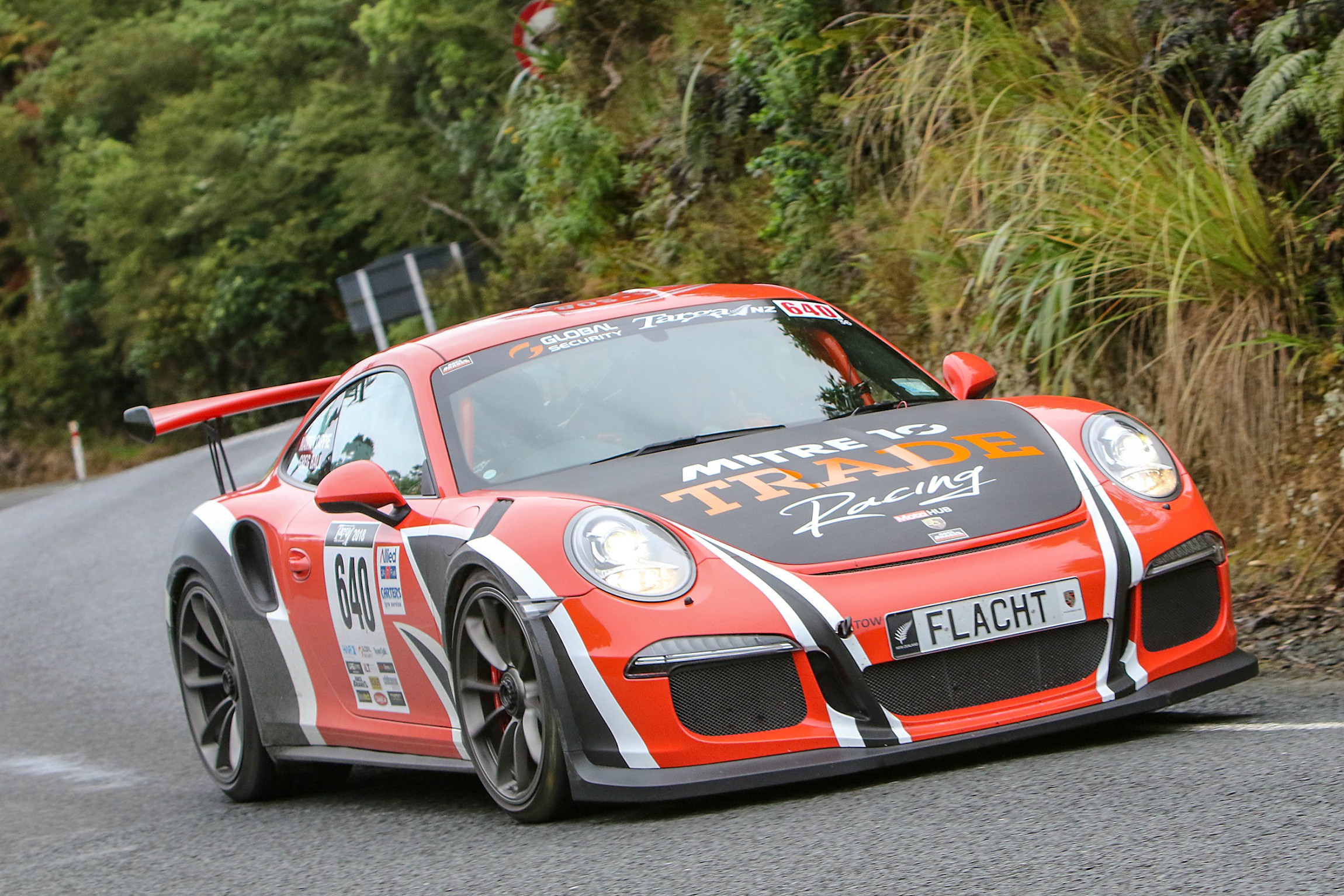 DUNEDIN DRIVERS TO THE FORE ON TARGA'S SECOND DAY IN THE SOUTH
Dunedin pair Martin Dippie and Greg Ball (Porsche GT3 RS) were battling for the lead with defending title-holders Glenn Inkster and co-driver Spencer Winn (Mitsubishi Evo 8) at the end of a dramatic second day of this year's southern South Island-based Targa New Zealand tarmac motor rally this evening.
Another local pairing, Regan Hall and Nathan Graham (Porsche 997 Turbo) were also right up there, finishing just a tenth of a second behind Dippie and Ball through the penultimate 7.2km Saddle Hill stage south of the city and heading to the final one over George King Memorial Drive in  fourth place, just 15.5 seconds behind third placed Auckland pair, David Rogers and Aidan Kelly (Mitsubishi Evo 10).
In a dramatic day, on and off the road, surprise Day 1 package Haydn Mackenzie and co-driver Matty Sayers (Mitsubishi Evo 10) held a lead of just over a minute until they crashed out of the event on the first stage after the lunch and service break in Milton, the  9.9km Finlayson Rd run from Waihola to Taieri Mouth.
That left four-time event winners Inkster and Winn holding both the overall event and AndrewSimms.co.nz  2 & 4WD Extreme class lead, however exhaust issues with their highly modified Mitsubishi meant they could only manage the 11th quickest time up through the Saddle Hill stage, and as they crossed the Taieri Plain and headed into the Maungatuas to the final stage their advantage over Dippie and Ball was just 17 seconds with just another 41 seconds back to Rogers and Kelly in third.
With their car repaired and back running at 100% Inkster and Winn not only retained their lead but built a buffer of just over a minute from Dippie and Ball through the 30km George King Memorial stage. Fourth best time, meanwhile, was enough to elevate Regan Hall and Nathan Graham to third spot overall ahead of Rogers and Kelly.
The open, fast and flowing nature of the day's stages also helped Hamilton event regular Mike Tubbs an co-driver Mike Vincent elevate themselves to fifth place overall in Tubbs' new BMW 2-seires.
As the field left Invercargill this morning the modified Class 10 Subaru Impreza WRXs of event regulars Leigh Hopper and co-driver Michael Goudie, and fellow Aucklanders Nick de Waal and Shane Reynolds, were also in the leading mix. Both cars broke down, however, either in (Hopper's) or just as they were leaving (de Waal's) the long first stage through the Catlins, putting both pairs out on the spot.
A failed engine sensor also saw highly favoured local gravel rally specialist, Derek Ayson and co-driver Gavin McDermott, both from Gore, late away from the start when Ayson's Holbay-engined Mk11 Ford Escort failed to start first pop.
Once the sensor was replaced Ayson spent the day on the charge, however, working his way quickly up the order to be within striking distance of early HWRichardson Classic 2WD class leaders, Mark and Chris Kirk-Burnnand from Wellington, who entered the day's final stage in  14th place, just 30 or so seconds and two places ahead of Ayson and McDermott but over two minutes ahead of the Mercedes-Benz 190 Cosworth of Aucklanders Mark McCaughan and Lyndsey Lyons who are currently third in class.
After the first of two overnight stops in parc ferme at the Forsyth Barr Stadium tonight the third day of this year's five-day Targa NZ marathon on Thursday sees the competition field, allied but untimed Targa Tour and Vintage Cr Club of NZ Time Trial head north for eight closed course Special Stages between  Waikouaiti and Duntroon.
Targa New Zealand events are organised by the Ultimate Rally Group with the support of sponsors AndrewSimms.co.nz, Chicane Racewear, Global Security, HW Richardson Group, Invercargill Licensing Trust, NZ Classic Car magazine, Race Brakes, Race4Life Trust, Racetech, TeamTalk, TrackIt, and Writeraze.
For more information go to www.targa.co.nz or check out the Targa NZ page on Facebook.
Caption: Dunedin pair Martin Dippie and co-driver Greg Ball (Porsche GT3 RS #640) are second overall after the first two days of this year's Targa NZ event.
Photo credits: Fast Company/ProShotz
Prepared by FAST COMPANY on behalf of the Ultimate Rally Group.