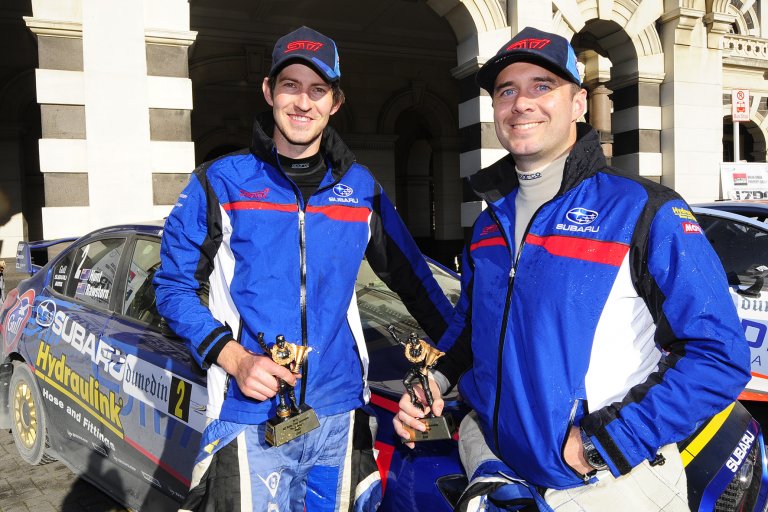 Drivesouth Rally of Otago marks tenth season of Hunt and Rawstorn rallying together
Ben Hunt and co-driver Tony Rawstorn will enter their tenth season of rallying together when they fire up Hunt's Subaru WRX STI on the start line of the Drivesouth Rally of Otago on Saturday.
Nine years ago, the two friends paired up for the first time, after Hunt had decided to form his own rally team – Hunt Motorsports for that 2010 season. After several national 2WD victories, the duo moved into a Group N All-Wheel Drive Subaru Impreza WRX in 2013 and three seasons later would celebrate becoming the New Zealand Rally Champions. In 2016 Subaru of New Zealand offered Hunt the use of a brand-new production model Subaru WRX STI, which he had converted to a rally car.
"It only feels like the other day I started rallying with Tony. It's awesome to have him in the Subaru with me. We get on really well and its cool having a mate sitting next to me calling my pace notes," Hunt says.
The Kiwi All-Wheel Drive car company recently gifted the Subaru to Hunt – handing him the keys in recognition of his successful three years rallying this modified performance vehicle. Subaru have been sponsoring Hunt since the end of 2015, when his rallying talent saw him taken on as a brand ambassador.
He finished runner-up in the Brian Green Property Group New Zealand Rally Championship (NZRC) to WRC driver Hayden Paddon last year and with Paddon not registering for NZRC points in 2019, the door is wide open for Hunt.
"Being competitive, I always want to win but more importantly than that, my main goal is to be consistent as well as fast. We have to finish each of the six rallies to win the championship and be right up there with the front-runners. If we can do that, then it all leads to the NZRC title," Hunt says.
His Hunt Motorsports team, along with Paul and Bryan Hayton from Speedhub Motorsport, have stripped the Subaru down to a bare shell and rebuilt it for the 2019 season.
"Thanks to the other guys in the crew that have flown up to help out with various different stages of the build. We have been meticulous with how we put the Subaru back together," Hunt says.
A shakedown test bedded in the new components and allowed Hunt to try out the changes to the gearbox ratio that the team has made. It also gave him a chance to test the Pajid Racing Brake Pads and Pirelli tyres he is using this season and find the right compounds for both of the new additions.
"Tony and I are now looking forward to the fast, scenic and iconic roads that make up the Drivesouth Rally of Otago. There are record numbers entered and some big names competing, which makes it a fantastic way to start the championship," Hunt says.
The 2019 event will be preceded by a two-pass reconnaissance on Thursday afternoon and Friday morning, and a ceremonial rally start in Dunedin's centre, The Octagon, from 5pm on Friday. The 15 gravel special stages will be held on Saturday and Sunday with the Rally of Otago's traditional mix of challenging stages awaiting competitors.
Hunt Motorsports is grateful for support in the 2019 Brian Green Property Group New Zealand Rally Championship from: Subaru of New Zealand, Hydraulink, Motul Oil, Vantage Windows and Doors, Speedhub Motorsport, Gull NZ Fuel, Winger Subaru, Hella NZ, Reiger suspension, Bluebridge, MTF Finance, Wurth, Mean Machine Engines, Vernon Developments, TCC Solutions, Hitech Motorsport, Hunt Diesel, Make Architects, Pirelli, Pajid Racing Brake Pads, Nuzest, SOS and Hammer King.
2019 Brian Green Property Group New Zealand Rally Championship calendar
Round 1 Drivesouth Rally of Otago April 13 to 14 (Dunedin)
Round2 International Rally of Whangarei May 4 to 5 (Whangarei)
Round 3 Lone Star Canterbury Rally June 2 (Christchurch)
Round 4 South Canterbury Rally June 22 (Timaru)
Round 5 Hyundai NZ Gold Rush Rally of Coromandel August 16 to 17 (Whitianga)
Round 6 Hamilton Car Club Waitomo Rally October 19 (Hamilton)
Media release: Catherine Pattison, Subaru of New Zealand
Photo: Geoff Ridder