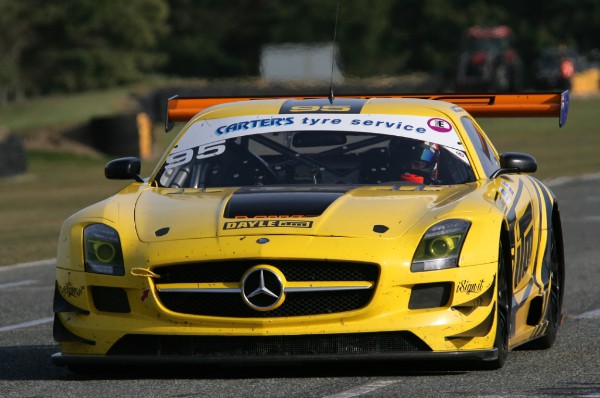 Dayle ITM Mike Racing has reset for the South Island Endurance Series' round two
After the high of a third place, followed by the low of a disqualification for external help on the Teretonga Park track a fortnight ago, the Dayle ITM Mike Racing team are determined to focus on the positive heading into this Saturday's second round of the Carter's Tyres South Island Endurance Series.
Team drivers Christina Orr-West and Brendon Leitch have proved they have the pace in the Dayle ITM Mercedes SLS AMG GT3 to hot-foot it with the front-runners and will be applying the pressure on their rivals in the three-hour race at Mike Pero Motorsport Park at Ruapuna.
Leitch was philosophical about the opening round's outcome after he was given the ultimate gift in terms of sibling shunts, when the Dayle ITM Mike Racing Mercedes ran out of petrol on the final lap. Big brother Damon, who was on his warm-down lap after winning the race, used his car to push Brendon towards the finish line – leaving him to finish under his own steam – after receiving the go-ahead to do so from his Aston Martin's owner Tony Quinn.
"At the end of the day there are lots of keyboard warriors having their say but Damon and I sat down and had a laugh about it," Leith says.
Orr-West says that reflecting on the first round, they have gained more knowledge about the Mercedes' fuel consumption, although the patchy radio communication they experienced throughout the race made it difficult to communicate the information back to the team.
"Obviously I was a little bit disappointed with the final result. We made the decision to push right to the ragged edge and it didn't pay off. The car used a lot more fuel than we predicted."
In between rounds both drivers have concentrated on maintaining and improving their fitness. Orr-West fits in two to three sessions a week with her personal trainer around her two children and helping out on the 180-cow dairy farm she shares with her husband in Edgecumbe.
Leitch splits his workouts into 50% cardio and 50% weights.
"Trying to keep your strength up as much as possible but keeping the weight down," he explains.
While the Dayle ITM Mike Racing Mercedes is fairly easy to drive, the G-force loadings as they hurtle around a circuit at high speeds for up to 90 minutes are what take their toll.
"It's quite tiring. You become mentally-fatigued, your heart rate is right up and you are sweating like crazy," Leitch says, providing an insight into what it is like for the endurance drivers inside the cars on race day.
After taking the past two weeks to refocus, Orr-West and Leitch believe another podium finish is certainly within the Dayle ITM Mike Racing team's capabilities on Saturday. They are not concerned about the addition of several new fast teams to this round, as the tight, technical nature of the Christchurch circuit will act as a leveller for all teams.
Carter's Tyres South Island Endurance Series calendar: 
Round 1: Invercargill – Tertonga Park – 14-15 September 2018
Round 2: Christchurch – Mike Pero Motorsport Park – 28-29 September 2018
Round 3: Timaru – Levels Raceway – 12-13 October 2018
Carter's Tyre Services New Zealand Endurance Championship:
Final: Cromwell – Highlands Motorsport Park – 23-24 November 2018
Media release: Catherine Pattison
Caption: The Dayle ITM Mercedes SLS AMG GT3, with drivers Brendon Leitch and Christina Orr-West, in action at the opening round of the Carter's Tyres South Island Endurance Series, at Teretonga Park, Invercargill two weeks ago.
Photo: Euan Cameron