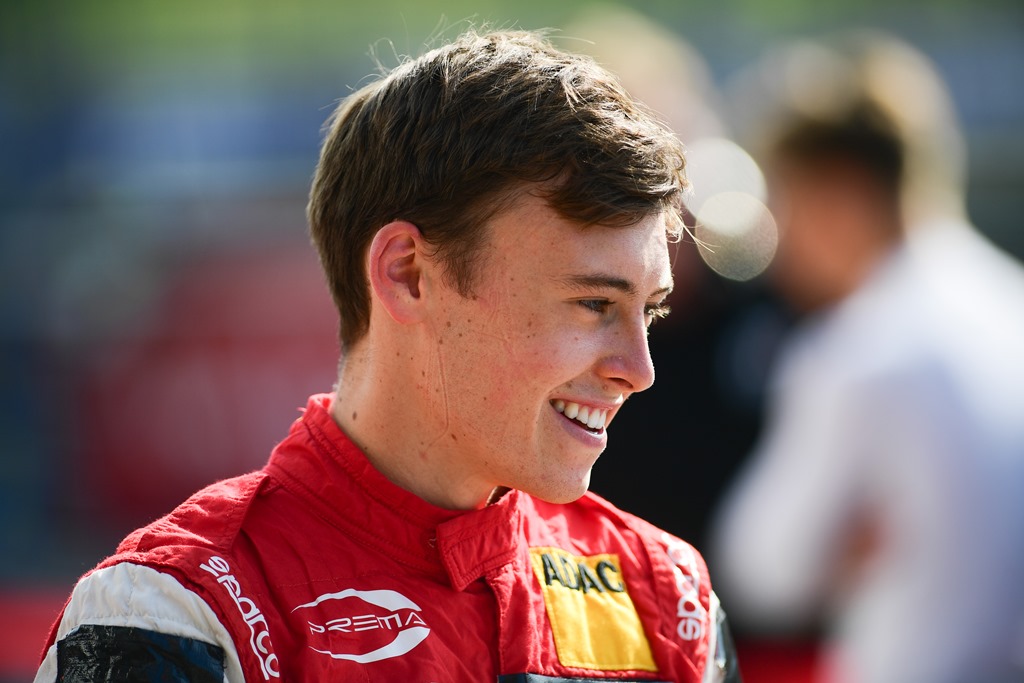 Armstrong secures pole position for Motor Cup feature
Ferrari junior Marcus Armstrong showed his class again at Hampton Downs on Sunday morning with his second blistering qualifying performance of the weekend to secure pole position for the New Zealand Motor Cup, the weekend's feature race.
Proving yet again that the Castrol Toyota Racing Series is one of the tightest junior formulae in the world, the top 14 drivers in the 16 car field were covered by just nine tenths of a second.
"I prefer starting off pole, especially here," said Armstrong. "It's a short run down to turn one and is not so easy to overtake there. Lucas is bit of an animal in the mirrors, so it's going to be interesting how it plays out in the race. It's as close as I expected, as the week progresses it's natural that everyone bunches up a wee bit. We have so many practice sessions, qualifying yesterday and a race and eventually everyone comes very close.
"I'm really happy this weekend because we had an advantage from the first practice session and we've managed to keep it until the last qualifying session which is never easy with all the telemetry, video and analysis that we do."
It was Australian Calan Williams who set the early pace in the fifteen minute session in perfect track conditions, before Brendon Leitch set the first truly representative lap of the session four minutes in. Williams responded, as did American Cameron Das and then Friday race winner Artem Petrov took a turn at the top of the timesheets.
Half way through the session, Liam Lawson put his marker down to top the times ahead of Petrov, with Saturday pace setter Marcus Armstrong in third. Armstrong then just got quicker and quicker, eclipsing Petrov for second and then becoming the first driver under the one minute mark with a lap 0.073 seconds up on his countryman.
With a minute and a half to go he went even quicker to lock out pole position, and it was Austrian Lucas Auer who ended up bagging the second fastest time for a spot on the front row alongside Armstrong. Lawson pushed hard and ended up on the second row in third with Petrov alongside him in fourth. Leitch nailed his quickest lap late on to go fifth, with Das alongside him in sixth. Raoul Hyman and Williams start from the fourth row while Kazuto Kotaka and Esteban Muth complete the top ten on the grid.
Sixteen cars will race this afternoon in the Motor Cup feature race, aiming to put their names alongside some of the greats of the sport on one of New Zealand's oldest and most coveted sporting trophies.
2019 Castrol Toyota Racing Series – Round 3 Hampton Downs Race 3 Qualifying
1. Marcus Armstrong (New Zealand)
2. Lucas Auer (Austria)
3. Liam Lawson (New Zealand)
4. Artem Petrov (Russia)
5. Brendon Leitch (New Zealand)
6. Cameron Das (United States)
7. Raoul Hyman (United Kingdom)
8. Calan Williams (Australia)
9. Kazuto Kotaka (Japan)
10. Esteban Muth (Belgium)
11. Petr Ptacek (Czech Republic)
12. Jackson Walls (Australia)
13. Dev Gore (United States)
14. Petru Florescu (Romania)
15. Parker Locke (USA)
16. Thomas Smith (Australia)
Caption:  Marcus Armstrong has secured pole position for the NZ Motor Cup race on Sunday at Hampton Downs. Picture Bruce Jenkins.
Media release: Toyota Racing NZ