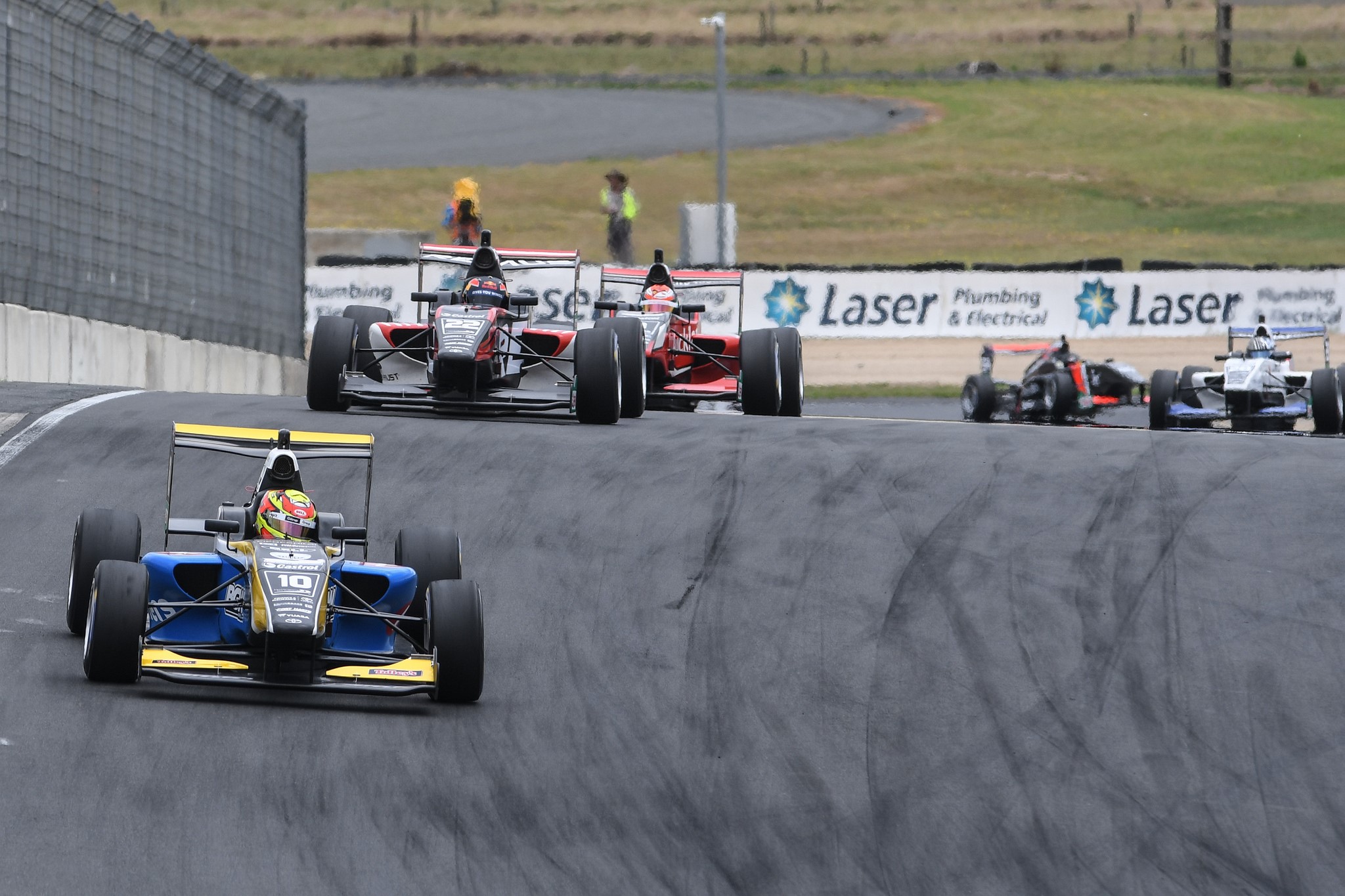 Lawson fights back with epic win
Liam Lawson grabbed the championship lead back at Hampton Downs on Sunday morning with an epic drive in an intense race in the Castrol Toyota Racing Series.
Lawson – starting fourth on a grid line up featuring the top six from the Saturday race starting in reverse order – jumped out from the start into third place and was right in the hunt as the front row runners of Esteban Muth and Jackson Walls battled it out side by side. Walls was forced into second and into the clutches of Lawson.
Sensing the opportunity, Liam was quickly into attack mode on Walls, going up his inside and passing him in turn four. There was contact and Walls spun, the move later deemed a racing incident by the stewards. After the field went by, Walls headed into the pit lane and rejoined at the back of the field. The drama allowed Auer by into second but Lawson managed to stay ahead of title rival Armstrong.
As the field crossed the line for the first time it was Muth, followed by Auer, Lawson, Armstrong, Hyman, Cameron Das, a fast starting Calan Williams, an even faster starting Thomas Smith, Kazuto Kotaka, Artem Petrov and the rest – with a fierce battle between Williams and Kotaka drawing attention momentarily away from the battle at the front.
Raoul Hyman made an error on the downhill left hand sweeper on lap three and ran very wide, bouncing across the dirt and dropping from fifth to ninth while at the front Muth looked to have everything under control and quickly established a three car length lead ahead of Auer, who had his mirrors full of the charging Lawson. The race settled into a pattern with the top four trading fastest times. Further back both Artem Petrov and Brendon Leitch were also making good progress through the field.
Lawson's massive and crowd-pleasing pressure on Auer paid off on lap eight when the very experienced former German DTM series racer locked up and slid wide on turn four.
"I was a bit quicker, he was struggling through turns two, three, four and that's where I was getting him every lap," said Lawson afterwards. "I was really good under brakes at four and managed to push him into a mistake there."
That error allowed Lawson to nip up the inside and through. It also brought Armstrong into play behind. Lawson immediately set off after Muth, the gap some three seconds.
At half way it was Muth, then Lawson, Auer, Armstrong, Das, Kotaka, Petrov, Williams, Hyman and Leitch slowly making way through the field.
All eyes were on Lawson's charge and whether he could challenge for the lead and he didn't disappoint. As the laps counted down, so did the gap. Two seconds with seven laps to go, one and a half seconds with five to go, a second with five to go and three tenths as they completed the penultimate lap. As Muth headed into the first turn, Lawson jinked right and braked a lot later. Esteban gave the sixteen year old racing room and Lawson made the pass stick, coming out of the corner in front and romping home to take a popular win.
Auer and Armstrong both launched massive attacks on Muth on the final lap, but the Belgian resisted after a great drive to come home second.
Behind the top four it was Cameron Das in fifth, Kazuto Kotaka in sixth, Petrov and Williams in seventh and eighth, Hyman ninth and Brendon Leitch rounding out the top ten.
2019 Castrol Toyota Racing Series – Round 3 Hampton Downs Race 3 Result
1. Liam Lawson (New Zealand)
2. Esteban Muth (Belgium)
3. Lucas Auer (Austria)
4. Marcus Armstrong (New Zealand)
5. Cameron Das (United States)
6. Kazuto Kotaka (Japan)
7. Artem Petrov (Russia)
8. Calan Williams (Australia)
9. Raoul Hyman (United Kingdom)
10. Brendon Leitch (New Zealand)
11. Petr Ptacek (Czech Republic)
12. Thomas Smith (Australia)
13. Petru Florescu (Romania)
14. Dev Gore (United States)
15. Parker Locke (USA)
16. Jackson Walls (Australia)
Caption: Liam Lawson won a thrilling race on Sunday morning to retake the Castrol Toyota Racing Series lead. Picture Bruce Jenkins.
Media release: Toyota Racing NZ