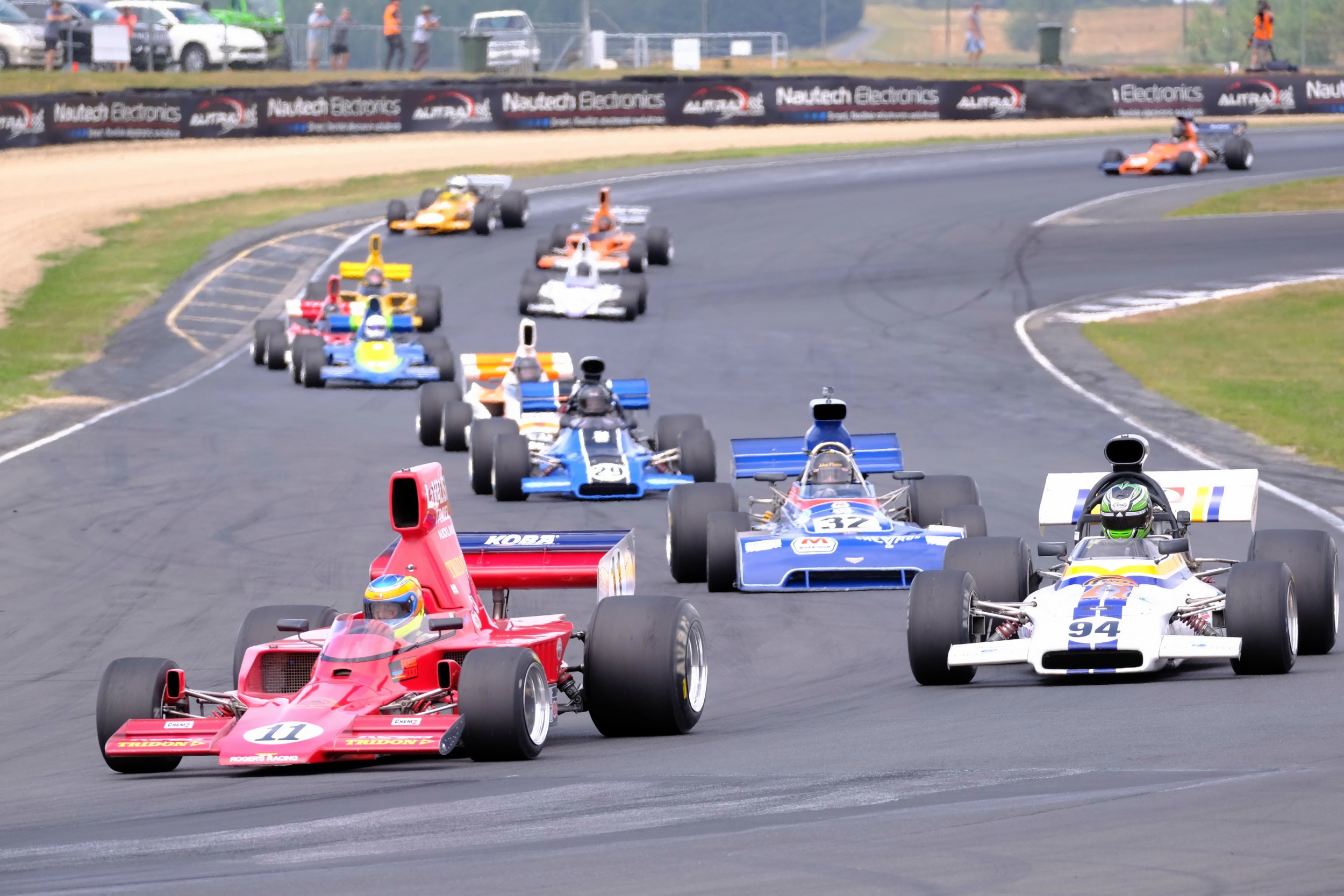 LAP RECORD IS ICING ON THE CAKE FOR F5000 SERIES SUPERVET SMITH
True to his word Kiwi F5000 category superveteran Ken Smith (Lola T332) claimed back the outright national circuit lap record on his way to another perfect three-wins-from-three-starts performance at the third round of the 2018/19 SAS Autoparts MSC NZ F5000 Tasman Cup Revival Series at the annual SpeedWorks Motorsport NZ Championship/HRC Events' NZ Motor Cup meeting at Hampton Downs today.
Heading into the meeting, the 77-year-old in his 61st season of national level motor racing in this country, reckoned there was a 58.00 second lap in him and his Lola T332. He didn't quite get that in the first SAS Autoparts MSC series race of the weekend on Saturday, his best time the second fastest at a 59.940.
However he got close enough in the second race (on Sunday morning) to make the lap record his again, his best lap – a 59.444 – just quick enough to re-take the outright track lap record – a 59.483 – set by fellow F5000 category fast man Michael Lyons (Lola T400) from the UK back in 2014.
Smith then went on to extend his winning run in this season's SAS Autoparts MSC series to nine wins from nine starts (three each at the three rounds held so far) with a runaway victory in the 12-lap feature final early on Sunday evening.
In that race Smith was again challenged by category young gun Michael Collins (McRae GM1) until Collins was forced to pull over and retire with a broken input shaft. In his absence UK-based series regular Greg Thornton (Chevron B24) drive another blinder of a race, recovering from an early spin to work his way back up past Brett Willis and Aaron Burson to claim second place.
Burson drove another strong race to cross the line third despite a fast-finishing Brett Willis (Lola T330) closing down the gap to just over half a second at the flag.
David Banks (Lola T332) was next across the line, albeit just ahead this time of the trio who again provided some of the most entertaining dicing of the weekend, former NZ Formula Ford champion Kevin Ingram form Feilding in his recently acquired ex Ian Clements Lola T332, Muscle Car series convert Tony Galbraith (Lola T332) and Shayne Windelburn (Lola T400).
Tony Roberts (Class A McLaren M10B) and Peter Burson (McRae GM1) again rounded out the field with Glenn Richards (Lola T400) a non-starter with a dropped valve.
Bar Richards not starting the two earlier SAS Autoparts MSC Series races followed a similar pattern.
After being pipped for pole position in the series' qualifying session on Saturday morning by Michael Collins (who stopped the clocks with a 59.211, 0.402 of a second quicker than Smith whose best time was a 59.613) four-times series champ Smith was obviously in a determined mood in the first race of the weekend on Saturday, using the wide line off P2 to sweep around the outside of Collins through the daunting downhill, off camber and tightening Turn 1 and into a lead he would never lose by Turn 2.
Collins was again quicker but simply could not find a way past the wily Smith. Greg Thornton did, however, manage to turn the tables on Aaron Burson for third place while Shayne Windelburn enjoyed a good start to his weekend moving up a place to finish 8th.
In betweeen Aaron Burson in 4th and Windelburn in 8th came David Banks, Glenn Richards, and Tony Galbraith, with Kevin Ingram 9th, Tony Roberts 10th and Peter Burson 11th.
Brett Willis qualified sixth but was forced out of the race on lap 5 with a broken half shaft.
The result and way it was achieved in the first race was – virtually – identical in the second race of the weekend on Sunday morning, particularly up front where Ken Smith again got the jump on Michael Collins (this time from pole) before artfully managing the gap between the two.
In doing so he went faster than he did in qualifying (a 59.613), his quickest race lap -which he set on just the second of 8 laps – at 59.444 the new outright circuit lap record. Not to be outdone Michael Collins also set his quickest race lap (a 59.987) on the second lap as he and Smith again sprinted away from third placed Greg Thornton.
He tried incredibly hard again, but Collins simply couldn't find a chink in Smith's well-polished armour.
That again left Greg Thornton to run a lonely race in third place, the Englishman eventually crossing the finish line almost 9 seconds behind Collins but 10.5 in front of Aaron Burson who in turn had a 4.1 second advantage over David Banks with Glenn Richards sixth ahead of a fast closing Brett Willis.
Enjoying one of his most competitive ever outings in the category meanwhile was Shayne Windelburn. Like Brett Willis, the Auckland-based category stalwart, again spent the best part of the race working his way forward, first finding a way past Tony Galbraith then setting his sights on Kevin Ingram.
The smile on his face afterwards said it all.
Former NZ Formula Ford champion Kevin Ingram proved a harder nut to crack but Windelburn eventually not only got past but was able to ease his way forward to cross the line 1.8 seconds in front.
"Races like that make all the hours we spend in the workshop working on our cars worthwhile," Windelburn said.
Tony Roberts and Peter Burson again completed the list of race finishers in 11th and 12th places respectively. Next stop for the SAS Autoparts MSC NZ F5000 Tasman Cup Revival Series is now Christchurch with the southern city hosting the penultimate round at the annual Skope Classic meeting at Mike Pero Motorsport Park next weekend.
CAPTION: Evergreen Kiwi motorsport veteran Ken Smith (#11 Lola T332) reclaimed the outright track lap record with a  59.444 lap at Hampton Downs – he leads young gun Michael Collins (#94 McRae GM1) who pipped Smith for pole position in qualifying on Saturday.  Photo credit: Fast Company/Geoff Ridder.
Prepared by FAST COMPANY of behalf of the New Zealand Formula 5000 Association