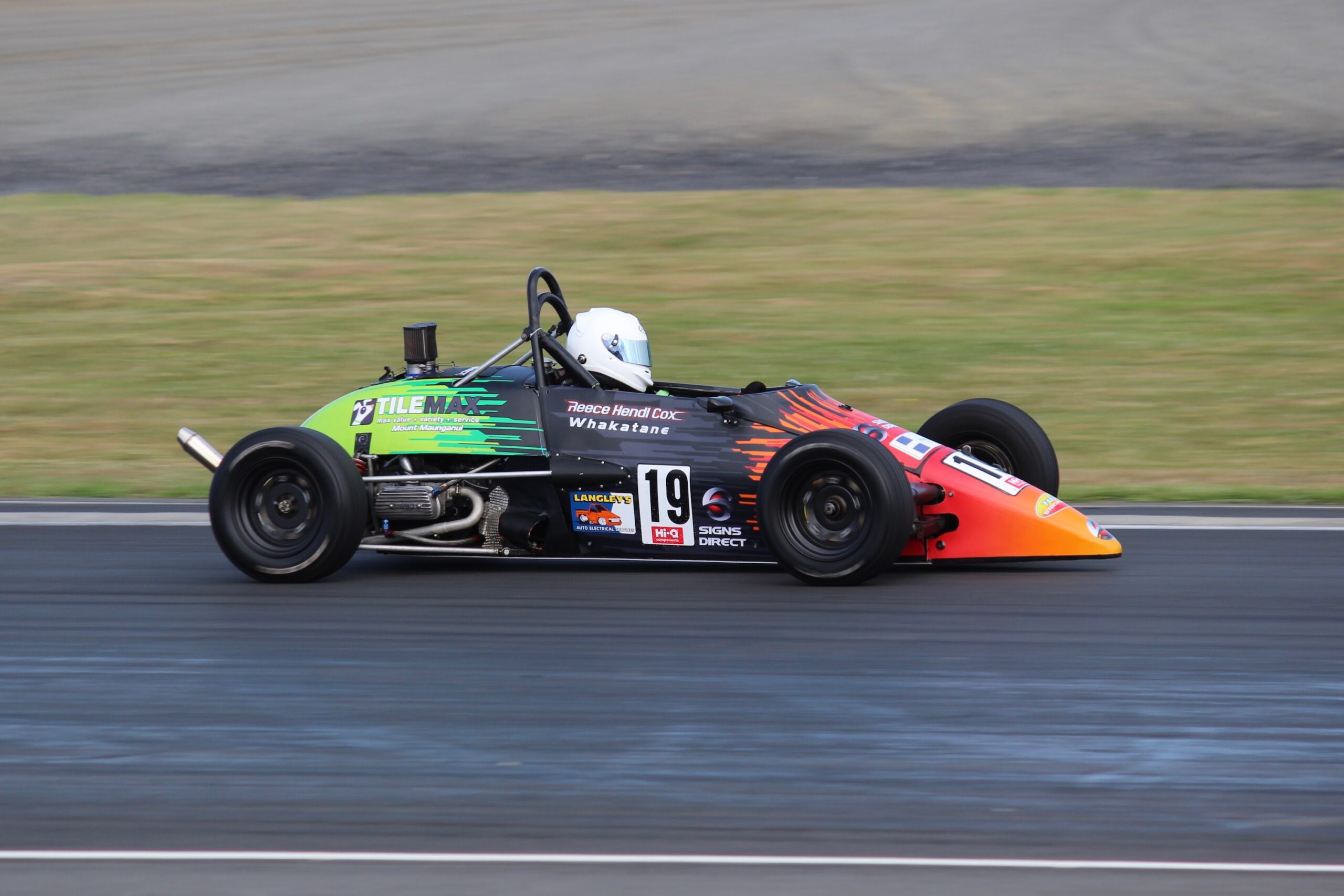 Hendl-Cox dominates to take Formula First championship lead
Hampton Downs, New Zealand, 27th January 2019 – Whakatane driver Reece Hendl-Cox, 18, has clean swept round three of the 2018/19 Hi-Q Components NZ Formula First Championship at Hampton Downs. After qualifying on pole, Hendl-Cox took all three races and subsequently the championship lead from Palmerston North's Chris Symon, 28.
Saturday morning's 15-minute qualifying session was closely contested as expected in Formula First, with Hendl-Cox taking pole over Symon by just 0.054s. The standout effort of the session was Botany student Amy Smith, 17, who set the third fastest time just a further 0.024s slower than Symon.
The first of three eight-lap races on Saturday afternoon was labelled a 'fizzer' after a lengthy safety car period for a minor incident between Auckland's Kyan Davie, 13, and Palmerston North's Dave Scammell put a stop to the typically action-packed Formula First racing. Hendl-Cox took the win over Symon and Smith who finished second and third respectively.
Sunday mornings race was a similar affair with Hendl-Cox leading home Symon for finish first and second. While the front two battled hard, the fight for the podium was fierce in the first half of the race.
Taranaki rookie Thomas Boniface 15, along with Aucklander's Liam Foster, 22, Smith, 17, and Billy Frazer, 15, fought hammer and tong to decide the final podium place. As the chequered flag fell, they crossed the line four-abreast with Frazer edging out Boniface followed by Foster and Smith.
SpeedSport Scholarship driver Ronan Murphy, 17, from Havelock North delivered a late race charge to move from outside the top ten to finish seventh in a dead-heat with Epsom's Taylor Hurst, 16.
The final race on Sunday afternoon saw Hendl-Cox take the win, this time without challenge from Symon who seemingly lacked pace compared to the new championship leader.
The battle for third heated on the final lap as suddenly four cars were vying for the position. Boniface, Foster, Frazer and Smith ran four wide over the line to finish third, fourth, fifth and sixth respectively.
Hurst and Murphy were the next battle pack, switching positions and exchanging drafts again to try to catch the fight for the podium. Hurst narrowly edged Murphy to the line by 0.097s to finish seventh and eighth respectively.
Hendl-Cox now leads Symon by 21-points in the championship. Frazer sits third, 108 points from the lead with Foster fourth and Smith fifth. Boniface's strong weekend moved him ahead of Murphy for the rookie of the year points.
"It was pretty tight up the front!" said Hendl-Cox.
"Chris and I went wheel to wheel a couple times but we managed to get away with it!
"The championship lead is great but as it showed at Pukekohe it can change so quickly, so it will be all about consistency to maintain the lead."
The next round of the NZ Formula First Championship takes place at New Zealand's headline domestic motorsport event, the New Zealand Grand Prix at Manfeild Circuit Chris Amon in Feilding on February 8-10.
2018/19 NZ Formula First Championship Standings (Top 10):
Reece Hendl-Cox (Whakatane, 19) – 582pts
Chris Symon (Palmerston North, 28) – 561pts
Billy Frazer (Auckland, 15) – 474pts
Liam Foster (Auckland, 22) – 467pts
Amy Smith (Auckland, 17) – 440pts
Thomas Boniface (Taranaki, 15) – 376
Ronan Murphy (Havelock North, 17) – 362pts
Ron Carter (Papamoa) – 326pts
Taylor Hurst (Epsom, 16) – 261pts
Nathan Sudiono (Auckland, 17) – 250pts
1st = 75pts, 2nd = 67, 3rd = 60, 4th = 54, 5th = 49
2018/19 NZ Formula First Championship Calendar:
Round 1: Manfeild Circuit Chris Amon – October 19-21
Round 2: Pukekohe Park Raceway – December 7-9
Round 3: Hampton Downs Motorsport Park – January 25-27
Round 4: Manfeild Circuit Chris Amon – February 8-10
Round 5: Manfeild Circuit Chris Amon – February 23-24
Round 6: Hampton Downs Motorsport Park – March 8-10
Round 7: Bruce McLaren Motorsport Park – March 23-24
Round 8: Bruce McLaren Motorsport Park – April 13-14
NZ Formula First Championship: The Hi-Q Components NZ Formula First Championship is an entry-level single seater category which is run as a National Championship by the sports governing body, MotorSport New Zealand. NZ Formula First has been the breeding ground for young motorsport stars such as Brendon Hartley, Scott Dixon, Shane van Gisbergen, Richie Stanaway and Nick Cassidy.
Media release and photo: Jordie Peters