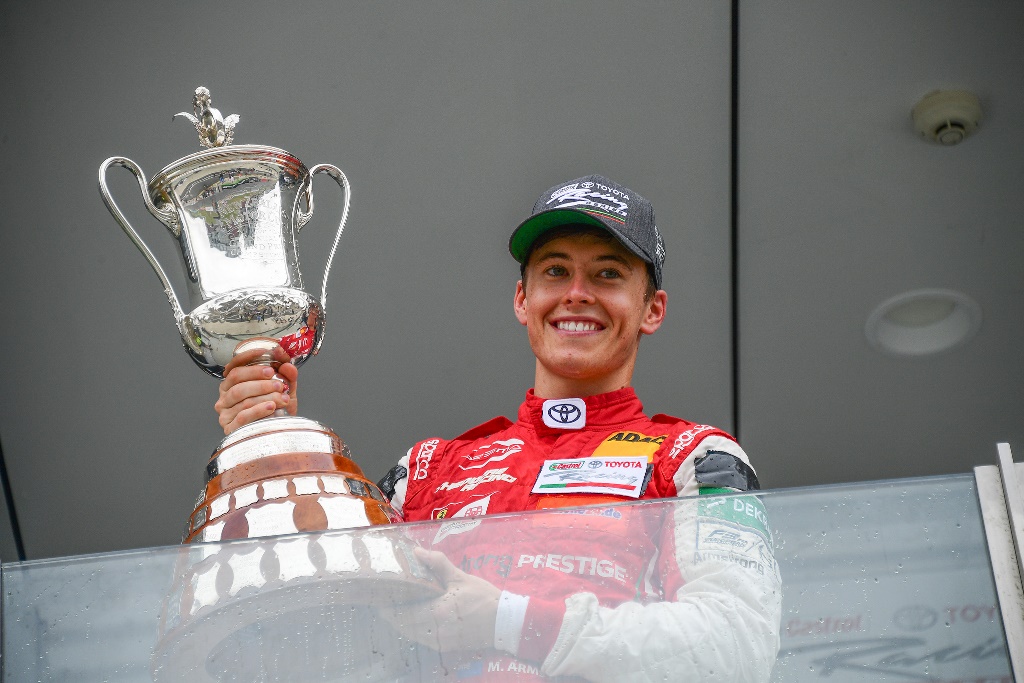 Armstrong wins NZ Motor Cup in style
Marcus Armstrong has added his name to New Zealand's most famous motorsport cup and with Liam Lawson crashing out of the race at Hampton Downs, has the title lead back with two race weekends to go in the Castrol Toyota Racing Series.
The Ferrari Junior driver didn't put a foot wrong throughout the 25 lap feature race, making a perfect getaway and controlling the race from the front throughout, even after a race stoppage when Lawson crashed out. He did come under some pressure towards the end when Russian Artem Petrov put in a series of blistering laps to half the gap between himself and the leader, but it was Armstrong's name added to a trophy first presented back in 1922.
With a hint of rain in the air the field of 16 took the start and Armstrong was away and gone immediately, timing his start to perfection. Across the line for the first time and it was Marcus from Lucas Auer, Lawson, Petrov, Brendon Leitch and Cameron Das with the rest of the field in close proximity behind.
As the race progressed Armstrong continued to stretch his lead while Auer slowly fell into the clutches of Liam Lawson, on a charge again and aware that title rival Armstrong was taking a commanding lead in the race. On lap three Dev Gore was spun around by Petru Florescu bringing out a quick Safety Car.  Florescu and Parker Locke took the opportunity to dive into the pits after the contact. Florescu changed a nosecone while Locke needed an engine cover tightening. All were able to continue.
The restart came on lap five and it proved to be a big one. Armstrong was away cleanly but Auer didn't quite get his as start as crisp and Lawson was all over him heading into turn one. He aimed his car for the outside and what could have been another jaw-dropping pass from the sixteen year old turned to disaster when the Austrian's car made contact and sent Liam off backwards across the gravel and into the turn one tyre barriers. There was no recovery for him and that left Armstrong in a very comfortable position out front.
With Lawson's car in a dangerous spot, the race was briefly stopped while the damaged Toyota FT-50 was removed. The restart was much cleaner and as they came round to complete seven laps it was Armstrong from a slightly damaged car of Auer, Artem Petrov, Leitch, Cameron Das, Raoul Hyman, Petr Ptacek, Calan Williams, Kazuto Kotaka and Esteban Muth.
Armstrong quickly re-established his comfortable lead and for the first time the race settled down with the major interest being an intense battle involving Leitch, Das, Hyman, Ptacek and Williams. On lap 11 Leitch ran wide out of the downhill dipper allowing Das through and whilst that delayed Brendon's progress, a lap later Hyman was eliminated from the fight with a spin after Ptacek made contact.
The race at the front remained static for several laps but with eight to go Artem Petrov was suddenly right on the tail of Auer in second. It seemed that he simply could not get close enough but on lap 19 the Austrian slowed suddenly at the final corner allowing Petrov through. Auer lost all speed and was forced to pit as the field sped by.
Immediately Petrov began to put in some fast lap times and carve into the three second lead Armstrong held.  Three quick ones ended with a sub one minute lap that brought him to within one a half seconds of the leader. But that was as far as he got and Armstrong surged across the line to win the New Zealand Motor Cup and add his name on a trophy that also includes some of the greats in the history of motorsport; McLaren, Surtees, Amon, Brabham, Rosberg and whole lot more. More significantly, he jumped back into the series lead with a 34 point advantage over arch rival Lawson.
"It wasn't easy conditions," explained Armstrong afterwards. "I'm keen to see the replay of Lucas and Liam, because maybe it was related to the weather. It was a little bit slippery at some points. The race, however, was nicely manageable and I enjoyed it. I think Artem was coming at me with a great rate of pace, fair play to him. I just wanted to keep it on the black stuff and not bin it. This is one of the trophies I've really wanted, so I'm glad to have my name on it now."
Cameron Das took a fine third place and Brendon Leitch fourth. Esteban Muth had a solid race in fifth with Kotaka, Williams, Walls, Smith and Hyman rounding out the top ten after post-race penalties dropped Ptacek and Florescu to 12th and 13th respectively.
The series now heads to the Bruce McLaren Motorsport Park, Taupo next weekend for the penultimate round of the championship.
2019 Castrol Toyota Racing Series – Round 3 Hampton Downs NZ Motor Cup Result
1. Marcus Armstrong (New Zealand)
2. Artem Petrov (Russia)
3. Cameron Das (United States)
4. Brendon Leitch (New Zealand)
5. Esteban Muth (Belgium)
6. Kazuto Kotaka (Japan)
7. Calan Williams (Australia)
8. Jackson Walls (Australia)
9.  Thomas Smith (Australia)
10. Raoul Hyman (United Kingdom)
11. Parker Locke (USA)
12. Petr Ptacek (Czech Republic)
13. Petru Florescu (Romania)
14. Dev Gore (United States)
15. Lucas Auer (Austria)
DNF: Liam Lawson (New Zealand)
2019 Castrol Toyota Racing Series – Championship Points
1. Marcus Armstrong 203
2. Liam Lawson 169
3. Raoul Hyman 141
4. Brendon Leitch 125
5. Cameron Das 123
6. Lucas Auer 119
7. Artem Petrov 119
8. Esteban Muth 118
9. Kazuto Kotaka 97
10. Calan Williams 95
11. Petr Ptacek 89
12. Dev Gore 65
13. Thomas Smith 58
14. Jackson Walls 54
15. Parker Locke 53
16. Petru Florescu 48
2019 Castrol Toyota Racing Series
January 12-13 – Dorothy Smith Memorial Cup – Highlands Motorsport Park, Cromwell (completed)
January 19-20 – Spirit Of A Nation Cup – Teretonga Park, Invercargill (completed)
January 26-27 – NZ Motor Cup – Hampton Downs Motorsport Park, Waikato (completed)
February 2-3 – Denny Hulme Memorial Trophy – Bruce McLaren Motorsport Park, Taupo
February 9-10 – New Zealand Grand Prix – Manfeild Circuit Chris Amon, Feilding
Caption:  Marcus Armstrong was dominant at Hampton Downs in the New Zealand Motor Cup race. Picture Bruce Jenkins.
Media release: Toyota Racing NZ