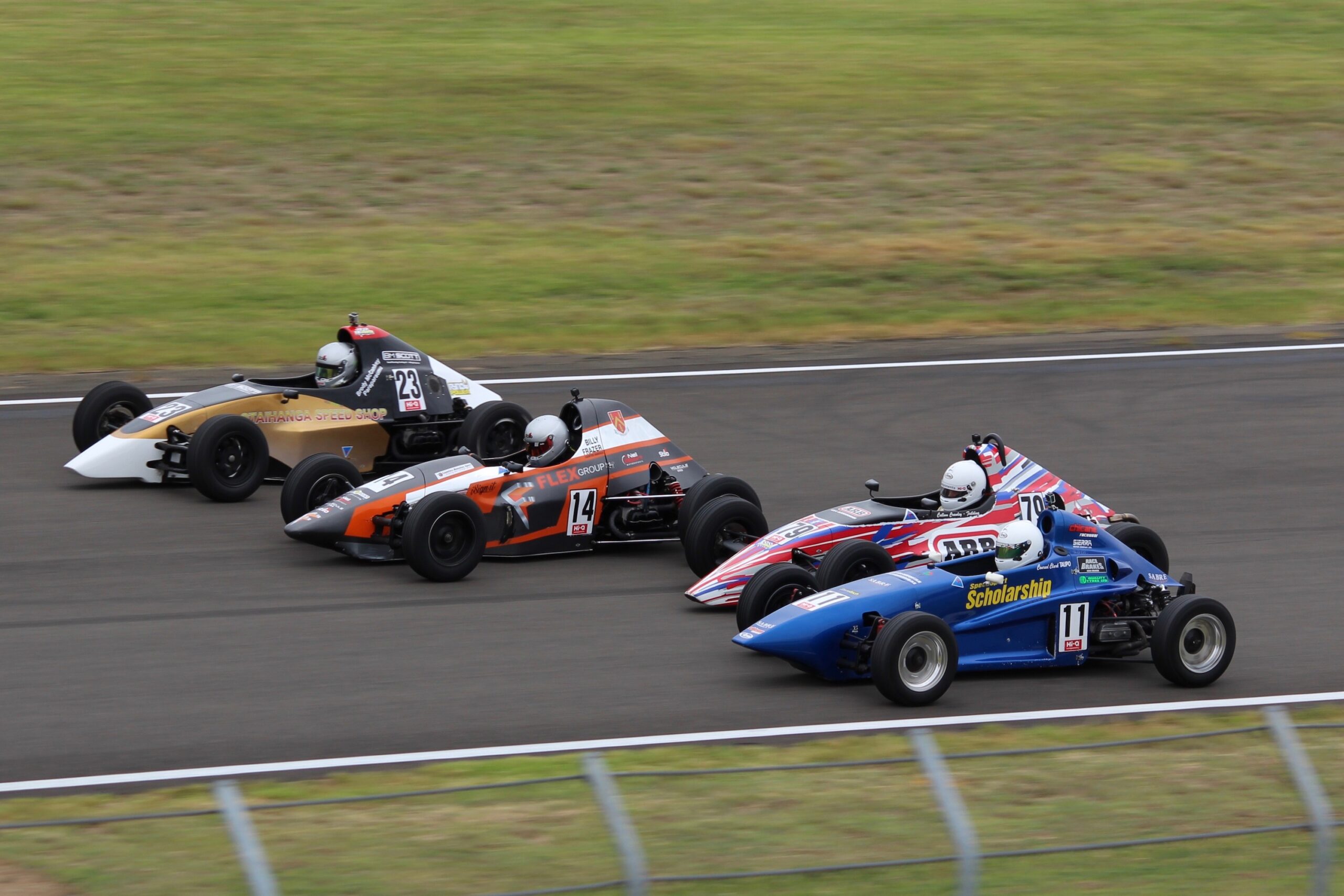 50th celebrations headline 2018-19 NZ Formula First Championship
The Hi-Q Components NZ Formula First Championship is just days away from kicking off its 2018/19 season at Manfeild Circuit Chris Amon, a season in which the long-standing MotorSport New Zealand championship celebrates 50 years of racing in December.
Among the many things to celebrate in this milestone season, at the top of the list is Hi-Q Components continued support of the class, signing on as naming rights sponsor for the fourth year in a row.
Hi-Q Components distributes high quality Plastic and Electronic Components to a wide variety of industries including Electrical, Engineering, Automotive, Aviation, Marine, Construction and Safety
"It's fantastic to have Hi-Q Components onboard again!" said Ian Foster, president of FVANZ.
"Richard and his team have been really supportive of our class and what we are about for a long time now and we really value his support, especially with our 50th-year celebrations taking place this season."
While the championship retains its eight-round calendar, the order and timing of events have had a bit of a change.
This weekend Manfeild will see the opening round of the championship in what has become a traditional Labour Weekend meeting. But the typical November stop-off in Taupo has been dropped in favour of a 50th anniversary meeting at Pukekohe Park Raceway on December 7-9.
The Pukekohe event, which is part of the opening round of the SpeedWorks Events' premier motorsport championship season, will see past and current competitors, teams and organisers join together for the 50th anniversary celebration of Formula First racing. A display to highlight the history of Formula First racing, the cars and careers the category has helped develop will be featured at the track, along with a special dinner on Saturday night.
Foster, also a past champion in the class, looks forward to racing on the traditional Pukekohe layout, without the 'chicane' added in 2013.
"Pukekohe is an amazing track to drive these cars on," says Foster. "It's full throttle out of the hairpin all the way to turn two which is a huge buzz for the drivers and a great spectacle for spectators too with cars often three-wide through Pukekohe's high speed turn one.
"Using the long back straight layout will only enhance our racing, the opportunity for drafting only increases and the speeds we will be reaching will be incredible as a result."
After Pukekohe, the class takes a break over Christmas and New Year before firing up again for the New Zealand Motor Cup at Hampton Downs on January 25-27. The Manfeild doubleheader will hold rounds four and five of the series, first with the New Zealand Grand Prix on February 8-10 and again on February 23-24.
Round six sees another quick trip north on March 8-10 to Hampton Downs before the championship concludes with two rounds in Taupo on March 23-24 and April 13-14.
Another strong grid is set to take to the grid this season, including five rookies. This season there is plenty on the line as a new champion will be crowned after the 2017-18 champion Callum Crawley moved up to Formula 1600.
Following a successful debut season, Formula First TV will return with an all-new, improved format. A weekend preview filmed on location will air on Friday night with an event highlights video being released during the week. The season preview can be viewed at www.formulafirst.co.nz/tv.
/ENDS
2018/19 NZ Formula First Championship Calendar:
Round 1: Manfeild Circuit Chris Amon – October 19-21
Round 2: Pukekohe Park Raceway – December 7-9
Round 3: Hampton Downs Motorsport Park – January 25-27
Round 4: Manfeild Circuit Chris Amon – February 8-10
Round 5: Manfeild Circuit Chris Amon – February 23-24
Round 6: Hampton Downs Motorsport Park – March 8-10
Round 7: Bruce McLaren Motorsport Park – March 23-24
Round 8: Bruce McLaren Motorsport Park – April 13-14
Photos are free for editorial use. For further information or photos please contact FVANZ at media@formulafirst.co.nz  or 027 479 1510