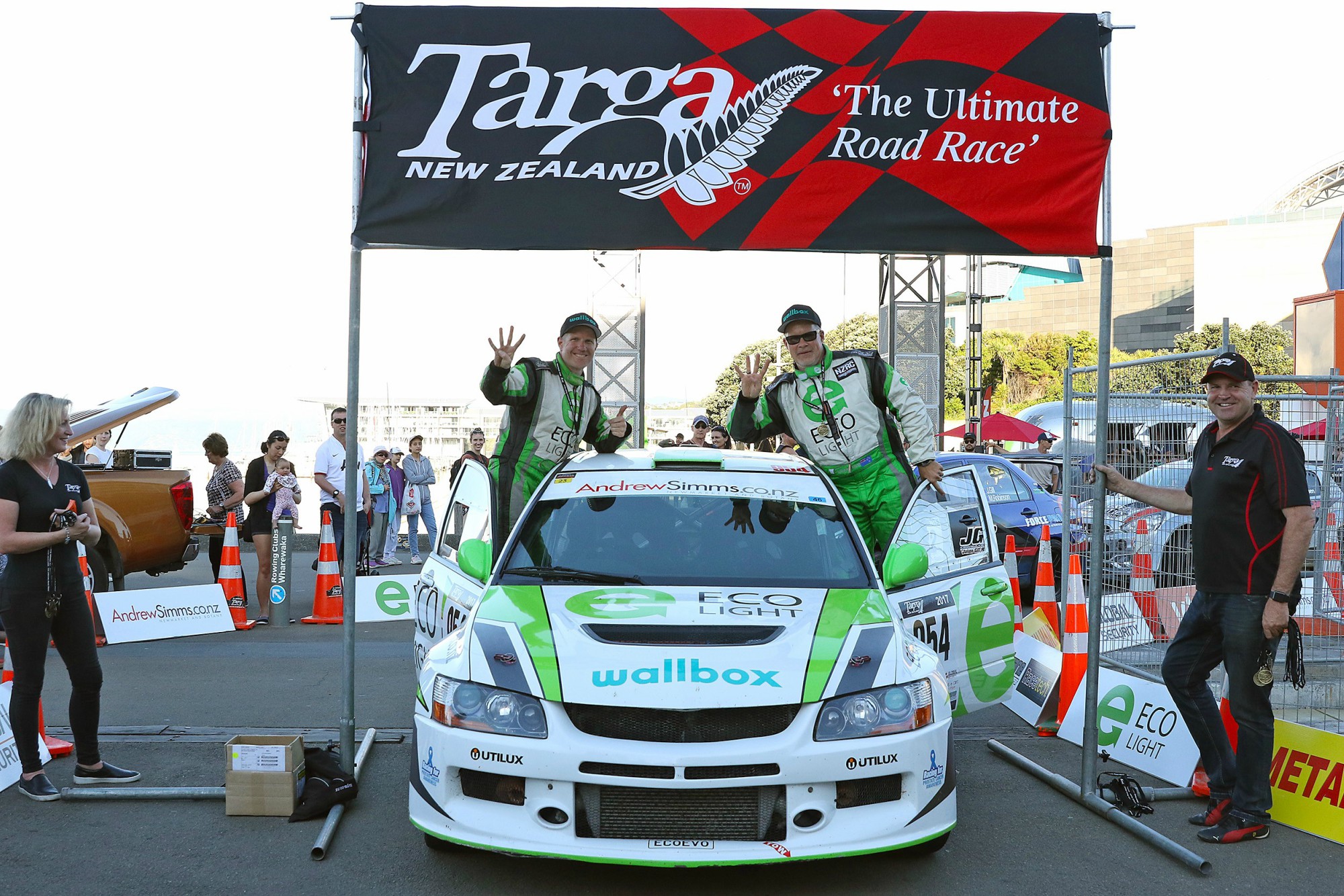 CONTENDERS LINE UP TO TRY AND WIN SECOND SOUTH ISLAND TARGA EVENT
Four-time Targa New Zealand event winners Glenn Inkster and Spencer Winn (Mitsubishi Evo 8) from Auckland head south this week as favourites to win this year's five-day tarmac motor rally marathon from Invercargill to Dunedin and on to Queenstown which starts on Tuesday October 23 and finishes on Saturday October 27.
Such is the attraction of the stunning, fast, open, beautifully-surfaced roads in the Deep South, however, that the 24th annual event – and only the second held in the South Island, the first back in 2014 – has attracted an unprecedented number of potential winners.
Five-time previous winner Tony Quinn, and co-driver Kieran Anstiss are back, this time in circuit-owning entrepreneur Quinn's Porsche GT3 RS, and as in previous years, they top the list of combinations able to take the battle well and truly to former gravel but now tarmac specialist Inkster and co-driver Winn.
What really stands this year's event apart from any previous ones, however, is the number of other combinations which – potentially – can run at or near the same pace as Inkster and Quinn, who between them have won eight out of the past nine multi-day Targa New Zealand events.
'What it shows, I think,' says event director Peter Martin of the Auckland-based Ultimate Rally Group, "is that we now have both a core group of people like Glenn, Tony and the likes of the Kirk-Burnnands in our Classic class, who are focused 100% on our Targa events, then you have any number of what you could call 'ring-ins' with a top-level gravel or circuit racing background who might do one event to see what it is all about, love it, and decide to do some more."
All up this year's southern South Island-focused event has attracted 142 starters, 65 in the main competition classes, 55 in the associated but untimed Targa Tour, and 22 in the new Time Trial section organised in association with the Vintage Car Club of New Zealand.
With the final 30-stage course now set entrants face 621.63kms of closed special stages linked by 1836.89km of touring stages from Invercargill on Tuesday October 23 through Southland and Otago before a ceremonial finish in Queenstown on Saturday October 27.
Joining Glen Inkster and Spencer Winn on the 'possibles' list from the AndrewSimms.co.nz Allcomers Class 10 are long-time event supporter Leigh Hopper and co-driver Michael Goudie, and fellow Auckland Subaru WRX pair Nic De Waal and Shane Reynolds, as well as Mitsubishi Evo 10 combinations, David Rogers and Aidan Kelly, impressive event newcomers Hayden Mackenzie and co-driver Matthew Sayers, the category sponsor himself, Andrew Simms and co-driver Brianna Little, and NZ Rally Championship sponsor Brian Green and co-driver Fleur Pedersen.
On the 'probables' list from the Global Security Production 2WD Class 6 are 2013 Targa NZ winner Martin Dippie and his co-driver Jona Grant from Dunedin in a Porsche GT3 RS virtually identical to the Quinn/Anstiss one, and former circuit racer Eddie Bell and co-driver Blair Forbes in a BMW M3.
Out – literally – of the left field comes a couple of real dark horses as well. One is 2016 Silver Fern marathon gravel rally winner, Derek Ayson and co-driver Gavin McDermott from Gore who are contesting the HW.Richardson Classic 2WD class in Ayson's 2.4 litre Holbay-Ford-powered Mk 11 Escort.
The other is another gravel specialist attracted to the tarmac-only Targa NZ event because it is in his own back yard, Marcus van Klink and co-driver Matt Richards from Christchurch, who are running in AndrewSimms.co.nz Allcomers Extreme 2 & 4WD Class 7 in van Klink's Mazda RX8.
The concurrent but non-timed Targa Tour has again attracted a mouth-watering array of late model and classic exotica including no few than 13 Porsches, several Aston Martins and one of the very few Italo-US 1966 Iso Grifo V8 sports coupes – to be driven by Peter Lyttle with Geraldine mate Geoff Brien co-driving – still in active use anywhere in the world.
There will also be interest in the 002 promo car, the first new RHD Chevrolet Camaro produced by the Melbourne-based HSV company. It will be driven by four-time former Bathurst winner and now TV pundit Greg Murphy.
Finally, joining the field for a run over the world-renown Crown Range stage on the final day of the event will be New Zealand's WRC ace Hayden Paddon, driving his 2018 New Zealand Rally Championship-winning Hyundai i20 AP4+.
The first car is due to leave Invercargill at 7.55am on Tuesday October and arrive at the finish line in Queenstown at 5.30pm on Saturday October 27.
Targa New Zealand events are organised by the Ultimate Rally Group with the support of sponsors AndrewSimms.co.nz, Chicane Racewear, Global Security, HW Richardson Group, Invercargill Licensing Trust, NZ Classic Car magazine, Race Brakes, Race4Life Trust, Racetech, TeamTalk, TrackIt, and Writeraze.
For more information go to www.targa.co.nz or check out the Targa NZ page on Facebook.
Caption: Glenn Inkster and Spencer Winn (Mitsubishi Evo 8) are gunning for their fifth consecutive Targa NZ win this year.  Photo credits: Fast Company/ProShotz
Prepared by FAST COMPANY on behalf of the Ultimate Rally Group.