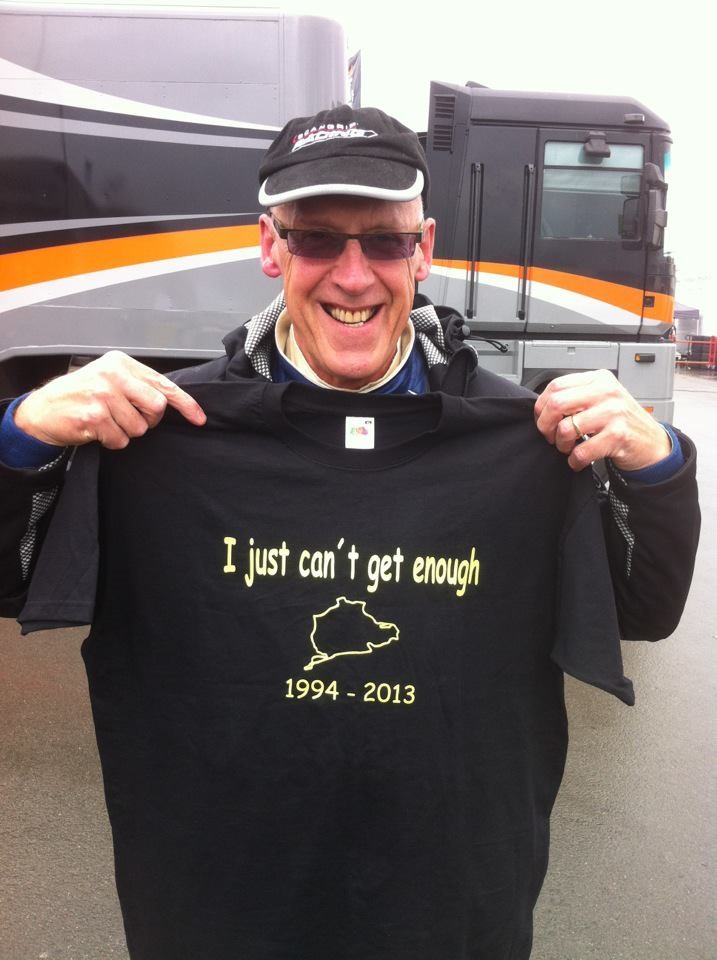 Wayne Moore to Nürburgring for the 25th time
Kapiti resident New Zealand endurance race driver Wayne Moore says; "Nürburgring is the 'n' of my DNA"
He's raced at the infamous 25.3 kilometre German circuit… while mourning his Dad's passing….  having quit a good job to be there…  experiencing the shock of being retrenched from another…  while jubilantly celebrating the class win twice with his VW team…  when English was hardly a spoken language…  when struggling as a privateer  with no money for tyres or even to feed the team…   when the Nürburgring 24 Hour Race accepted 230 starters and still had a wait list of 20…   during the years Kiwi Team Nürburgring shipped Honda Civics from Auckland and proudly waved the Kiwi flag.  Moore was there the year the race qualified for the Guinness Book of Records as the largest motor racing event in the world, when the now-thriving industry park was fields of yellow rapeseed and when speed limits were imposed as a result of a fatal crash.  He was there when his own race car crashed beyond repair before his drive and also when the team were erroneously recorded as first place outright on the timing monitors for a few minutes.
Moore has seen the highs and lows of this extraordinary annual race and 2019 is the 25th year of his participation.
Aside of German-nationals no race driver in the world has competed more times in this event than Moore and in 2018 there were entries from thirty nationalities in over twenty makes of vehicle.  Moore is still thrilled by the enormity of the race and of the Nordschleife race track despite having raced over 30,000km on its ever-changing surface.
Formula 1 great Jackie Stewart described the historic circuit through the picturesque Eifel Mountains as 'The Green Hell' where there was never certainty of his returning to the team pit or to the start/finish line each lap.  Risks are lower now with Armco barriers, FIA-regulation fences and speed variations reduced although YouTube videos feature hundreds of incidents during both races and tourist laps when the circuit purpose built in 1927 becomes a public toll road.
Moore will again join Danish Scangrip Racing with Niels Borum and fellow Kiwi Michael Eden this year.  Their 3.5 litre twin-turbo BMW 335 E92 is tested and proven and may struggle in 2019 with factory teams from Mercedes, BMW, Aston Martin and Toyota Gazoo Racing all entered in the normally privateer-dominated SP8T class.  "We have a goal to finish" says Moore, "and many years have completed the challenge of twenty-four hours well ahead of faster cars who have experienced problems on the way".
Factory teams dominate the head of the 200-car field in front of the 250,000 fans who camp for a week around the race track.  Fans still emerge onto the racetrack as the cars proceed on their formation lap before the rolling start and Moore says the start can actually be quite emotional with fans in past years tapping hands with drivers as they slowly drove past their vantage point.  That comradery often continues with waves and shouts each time the car passes.  Moore has established quite a following over the years and expects the celebration of 25 years to be very special and no doubt memorable.
Over recent years other safety regulations have been improved and no driver may now drive more than 3 hours without a 2 hour break.  Moore's BMW has sufficient fuel for close to 3 hours depending on race conditions and that dictates when the car pits and one driver hands-over to the next.  Many teams race with the maximum of four drivers and Moore's grin tells it all when asked about only having three.  "As a consequence despite now being older than I have ever been before, I'm also fitter and better prepared than I have ever been before.  Race weekend is 20-23 June and I'm looking very forward to it."
Moore's introduction to the Nürburgring 24 Hour Race came through an invitation from Florian Schmidt who he rally co-drove for in the early 1990's in New Zealand.  Schmidt returned to Germany and with a coming rally event on the Isle of Man tarmac roads saw the Nordschleife race as an ideal 'practice' opportunity.  Eberhard and Norbert Rattunde from Volkswagon joined the driving duo and that partnership led to seventeen years driving a wide selection of Volkswagens with support from the Wolfsburg factory.
Moore has also raced in Dubai 3 times in 24 hour races with Eberhard and Norbert and the Volkswagen team and both Bathurst 24 races in 2002 and 2003.  His highlight will always be Nürburgring and you get the feeling he may not stop after 2019 and twenty-five years.
Caption: Wayne Moore with a gift from a fan.