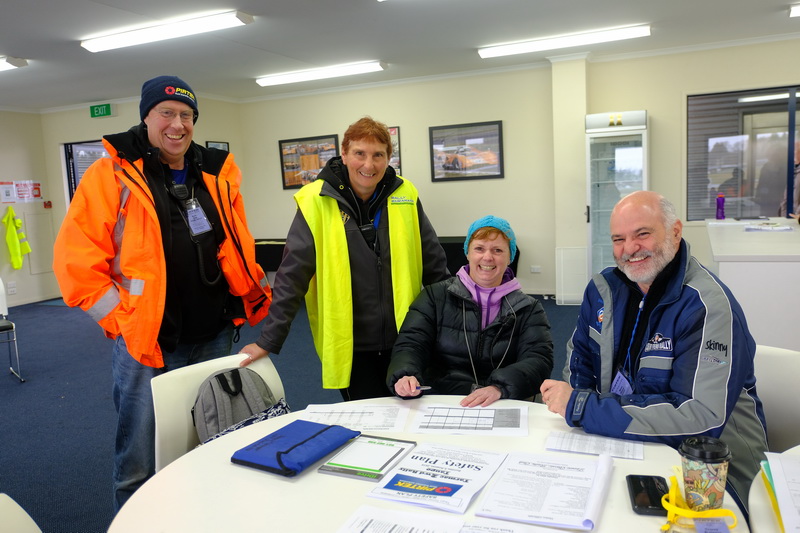 Volunteers vital to New Zealand motorsport
The contributions of hundreds of volunteers at motorsport events across the country every weekend are being recognised by MotorSport New Zealand today, 5 December, for International Volunteer Day.
"Our volunteers are the lifeblood of New Zealand motorsport," says Wayne Christie, President of MotorSport New Zealand. "They undertake key roles such as flag marshals or grid personnel, rally sector marshals, timing or fire and rescue crews, scrutineers or technical officials, competitor relations officers, or event management personnel such as clerks of the course and stewards. Without them, competitors would not have any events to compete in."
Nearly 1,000 Kiwi motorsport volunteers are licenced officials who fulfil specific roles at events such as circuit racing, rallysprints, hillclimbs and motorkhanas. These officials have structured licencing and training systems which recognise and continually build their experience and skills.
"Many hundreds of other passionate motorsport fans contribute to our sport through their car club or directly with event organisers, and are not licenced through the same system," says Christie. "By inviting these hugely valued people to join the volunteer register we developed late last year, we're seeking to develop a stronger connection with them to show how much they are appreciated, explore training opportunities and get feedback on important issues such as volunteer welfare."
The volunteer register is one of the initiatives being led by MotorSport New Zealand's Volunteer Advisory Commission to help retain, attract and recruit volunteers to the sport. The commission members themselves are volunteers and span the country – Auckland to Invercargill – to ensure all regions are fairly represented.
"Motorsport continues to be a very popular sport in terms of television viewership and spectators," says Christie. "Becoming a volunteer at an event offers a motorsport enthusiast one of the best seats in the house to enjoy the action and get to know the drivers. Age and gender have no impact – everyone who would like to contribute as a volunteer is very welcome."
Christie says, like all organisations operating under New Zealand law, MotorSport New Zealand has developed guidelines for its member clubs regarding the health and safety of volunteers during events.
"We are responsible for our volunteers' wellbeing and ensuring that our member clubs understand and take the right actions to meet their legal obligations."
The International Volunteer Day is a United Nations-led initiative and takes place each year on 5 December. The aim in 2018 is about building resilience and skills in our volunteers.
More information about how to become a motorsport volunteer and how to join the volunteer register can be found on the MotorSport New Zealand website or email volunteer@motorsport.org.nz for more information.
Caption: Brett Plim, Tracey Stringer, Jacki Hanning and Steve Phipps volunteer as officials at a tarmac rally for competitors with two-wheel-drive cars in Taupo earlier this year.
Please credit Geoff Ridder.
Release: Relish Communications for MotorSport NZ