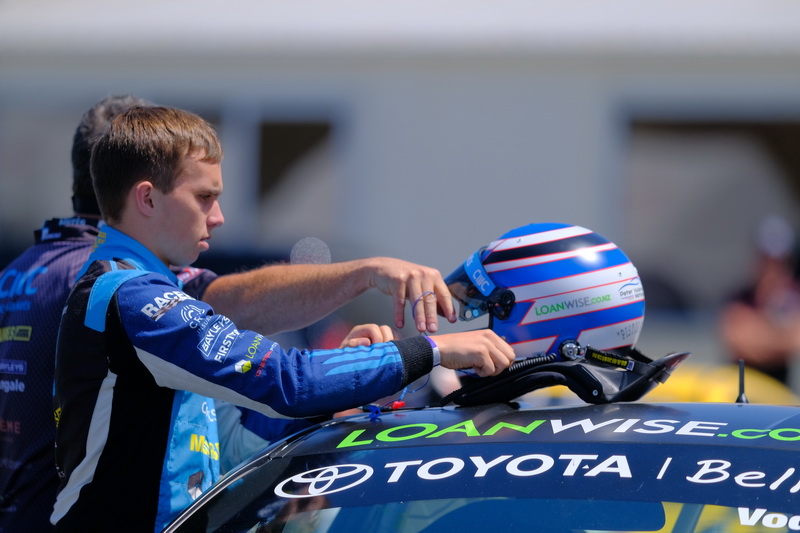 Vodanovich wins 2018 NZ Elite MotorSport Academy title
Young Auckland race driver Peter Vodanovich has topped the points-table of the 2018 New Zealand Elite MotorSport Academy to win the Ian Snellgrove trophy.
The prestigious trophy, awarded in memory of long-time MotorSport New Zealand general manager and Academy programme trustee Ian Snellgrove, was presented to Vodanovich at MotorSport New Zealand's 2019 annual awards dinner in Wellington on 25 May.
New Zealand's highly regarded Elite Motorsport Academy is a year-long programme administered by the MotorSport NZ Scholarship Trust and run by world-class tutors from Otago Academy of Sport. It covers a wide array of skills and techniques for mental and physical fitness specific to motorsport competitors, as well as sponsorship and marketing, nutrition and media skills to aid their success in the sport. The programme also provides a twelve-month follow-up package tailored for each participant to ensure they retain and further develop the training regimes and educational opportunities demonstrated during the camp.
Following the Dunedin camp, Fielding's Callum Crawley topped the points-table. Judging for the overall Elite Academy title continued throughout the year and, in a tight-fought battle, Vodanovich's efforts saw him earn the most points from the various assessed components and thus win the Snellgrove trophy.
Vodanovich was one of eight participants in the 15th year of the Academy programme and says the well-organised development programme has fast-tracked his racing career.
"The Elite MotorSport Academy has provided me with an essential foundation for my racing and strategies to excel," says the 18-year-old Mission Bay, Auckland resident. "The week-long camp was an unforgettable experience, pushing myself to my limits and venturing outside of my comfort zone. The Academy's professionalism is prominent with a great array of advice, tools, and resources from all fields of the sport including sponsorship, fitness, nutrition, social media, and more. I am so grateful for the opportunities and relationships that I have already formed, and I am looking forward to furthering these relationships in the future."
The young racer credits a number of coaches with helping him become more creative and effective with social media, gain greater understanding of nutrition to perform well, translate strength and conditioning work in the gym into results on the track, cope with demanding situations better thanks to mental coaching, and understand how to better balance competition and study with the help of his athlete life coach.
With no family background in motorsport, Vodanovich's skills were initially developed on racing simulators. He convinced his father to buy a Toyota MR2 to contest the budget-focused 2K Cup class. He then applied for the SsangYong Racing Scholarship, winning a fully funded drive in the close-fought, one-make series. Advice from legendary Kiwi racer Ken Smith encouraged Vodanovich to find sponsors and put together a campaign for the 2018-19 New Zealand Toyota 86 Championship, where he finished fourth overall. Currently he's racing in the Australian Toyota 86 Championship while also studying engineering at the University of Auckland.
One aspect of the Elite Academy often commented on are the friendships which are formed, and Vodanovich agrees. "Throughout the camp, I was surrounded by seven other like-minded drivers who were equally as passionate for motorsport. It's been great to learn from each other these past 12 months and despite many of us being competitors for both the Academy award and in our respective race classes, I think the entire class of 2018 has formed a unique and lifelong friendship."
Vodanovich believes he can become a professional racer. "I think what I have learnt from the Academy has given me the fundamental foundations whilst also an innovative approach to go after my dream. I'd like to say a big thank you to all the trustees and coordinators involved in the programme. It is an extreme honour to receive the Ian Snellgrove Trophy from such a well-established Academy in which drivers such as Brendon Hartley, Shane van Gisbergen, Nick Cassidy and many other notable figures in the New Zealand motorsport arena have graduated from."
Todd Pelham who worked as Vodanovich's team manager also credited the Academy: "Peter has grown up so much as a young man as a result of the Elite Academy and the lessons he learned during that time. I cannot praise the skills he learnt with the Academy enough in making him the driver he has now become."
Wayne Christie, MotorSport NZ President and a trustee of the MotorSport NZ Scholarship Trust, says the competition was very close in the Academy class of '18 which was of a very high calibre.
Christie says: "On behalf of all trustees, it must be noted that none of this could have been achieved without the full co-operation and enthusiastic dedication of those members of the Otago Academy of Sport and members of the University of Otago involved in the programme. They have worked with the MotorSport NZ Scholarship Trust and our trustees to hone and continually mould the intensive week of learning to be relevant to the continuing and changing motorsport scene. As in all motorsport, it is not the individual but the team behind them who makes the entire operation work."
Vodanovich's 2018 Elite MotorSport Academy classmates were:
·         Callum Crawley, 18, Fielding
·         Billy Frazer, 16, Pukekohe
·         Callum Hedge, 15, Milford, Auckland
·         Bailey Paterson, 20, Christchurch
·         Matthew Podjursky, 19, Inglewood
·         Jaden Ransley, 17, Christchurch
·         Brock Timperley, 24, Henderson, Auckland