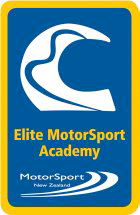 Eight young competitors selected for Elite MotorSport Academy
The 2019 intake of New Zealand's highly regarded Elite MotorSport Academy programme have been named. The eight young competitors come from Auckland, New Plymouth, Taupo, Hawke's Bay, Palmerston North and Upper Hutt and represent circuit racing, karting and rallying.
The 2019 Elite MotorSport Academy participants are:
·         Joshua Bethune, 16, Whitford, Auckland, race driver and karter
·         Thomas Boniface, 15, New Plymouth, race driver
·         Conrad Clark, 16, Taupo, race driver
·         Breanna Morris, 15, Milford, Auckland, karter
·         Ronan Murphy, 17, Havelock North, race driver
·         Katrina Renshaw, 23, Palmerston North, rally co-driver
·         Zac Stichbury, 18, Hastings, race driver
·         Ryan Wood, 15, Upper Hutt, Wellington, karter
The Elite MotorSport Academy is managed by the MotorSport New Zealand Scholarship Trust and run by specialist tutors from the Otago Academy of Sport with input from the University of Otago's School of Physical Education's Human Performance Centre.
The year-long programme for eight participants commences with a 'camp' in Dunedin in July where they will learn a wide array of skills and techniques to aid their mental and physical fitness as a motorsport competitor, as well as sponsorship and marketing, nutrition and media skills to aid their success in the sport. The programme also provides a twelve-month follow-up package tailored for each participant to ensure they retain and further develop the training regimes and educational opportunities demonstrated during the camp.
Wayne Christie, MotorSport NZ President and a trustee of the MotorSport NZ Scholarship Trust, says when reviewing applications, the five trustees look at the applicant's determination and resources to make motorsport a career.
"Once again, we saw a very high standard achieved by the applicants who reached the interview stage of the application process, in terms of their conduct and current racing skills. We stress to them that the Academy is another form of competition and encourage the successful applicants to push themselves throughout the year-long Academy programme. Everything counts – just as it would if a competitor approaches teams and sponsors – from their initial application form, to personal presentation and conduct, and interview capabilities."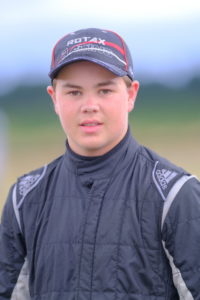 Originally from Dunedin and now living in Auckland, 16-year-old Josh Bethune raced both a kart and a Formula Ford over the past summer. He's contested major karting events in Australia while competing in the South Island Formula 1600 Championship and the New Zealand Formula 1600 Championship, leading the national series from the first race in November 2018 and going into March's final round with a three-point advantage over his closest rival, only to tangle with another competitor and miss out on the title. This earned Bethune second place in the national championship for the second year running. The Botany Downs Secondary Collage student recently contested the first round of the US F4 Championship. He belongs to Kartsport Dunedin and the South Island Formula Ford club, and aspires to race GT cars professionally.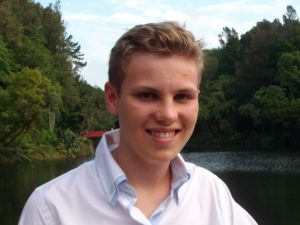 New Plymouth's Thomas Boniface has raced both karts and speedway, enjoying particular success in karts from a young age. Runner-up in the 2016 Speedsport Scholarship, he's tried touring cars in the BMW Race Driver Series before contesting the 2018 Formula First Winter Series, winning the rookie title and second overall. Boniface then contested the 2018-19 Formula First Championship, where he battled with fellow Elite Academy participant Ronan Murphy for the rookie of the year title, and finishing seventh overall. The New Plymouth Boys High School student has already raced at a wide range race and kart tracks, and is looking at the New Zealand or Australian Formula Ford Championships for next season. He's a member of the Formula Vee Association of New Zealand.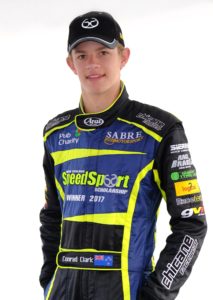 Taupo's Conrad Clark also started in kart racing in 2014 with a clear focus on developing the necessary knowledge and skills and race craft. Moving to Formula First, Clark win his first-ever race and then won the 2017-1/ SpeedSport Scholarship. Next was second overall in the Formula First Winter Series at Manfeild, before taking a big step to race in the 2018 US F4 Championship where Clark's team won the team's championship. Now he's racing – and leading – the Chinese F4 Championship and plans to contest the Toyota Racing Series next season.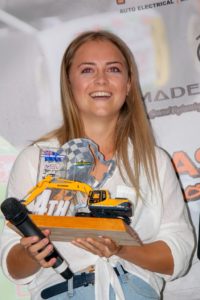 Kart racer Breanna, or Bree Morris comes from Milford, Auckland. She races all over the North Island, and is a regular top ten finisher and often on the podium. A major achievement was to finish fourth overall at the hotly-contested 2018 Rotax Max challenge, a significant improvement on her 11th place in the same event the previous year. A Westlake Girls High School student, Morris is active in both touch rugby and netball. Her motorsport aspirations include stepping up to the Pro Kart Series racign KZ2 karts with its huge fields. Formula First and Toyota 86 are the race categories on Morris's radar for the future.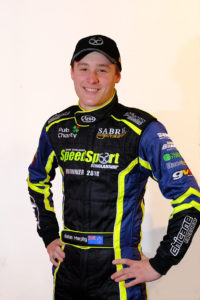 Ronan Murphy, son of Kiwi racing star Greg Murphy, is forging his own career in motorsport. Like his Academy classmates, Murphy Junior started racing karts and he's still a member of KartSport Hawke's Bay. Winning the 2018 SpeedSport 'star of tomorrow' Scholarship, earning him a fully funded season the NZ Formula First Championship and a Formula 4 test in the USA. Murphy finished sixth overall, in a field of 22 championship entrants, and enjoyed a close-fought battle with Thomas Boniface for the rookie of the year title. Among Murphy's aspirations are to compete in the New Zealand Formula Ford Championship, the Toyota 86 Championship and then Australia's Super3 series.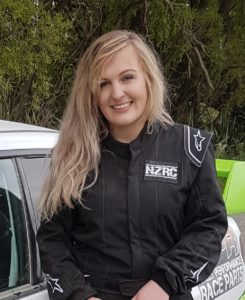 Palmerston North's Katrina Renshaw is the sole representative from the rally fraternity in this year's Elite Academy class. The Dannevirke Car Club member currently competes in the New Zealand Rally Championship, co-driving for Aucklander Daniel Alexander in a Starlet. When not competing with Alexander, Renshaw co-drives with other competitors in rallies, gravel sprints and hillclimbs to increase her experience – she contested about 40 events in the past 12 months. A former Palmerston North Girls' High School student and participant in Rally New Zealand's Co-driver Academy, Renshaw now works as a customer service representative in the primary sector. She aims to keep competing in as many events as a co-driver as possible, tackle more events behind the wheel of her own rally car, assist with event organisation, and write her own pace notes – a vital skill – for all events as part of her plan to become a professional rally co-driver.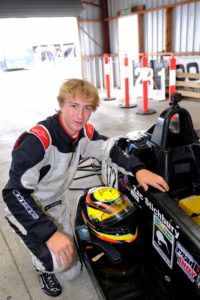 Zac Stichbury, from Hastings, also sports a surname well-known in motorsport circles. The Hawke's Bay Car Club member is a very successful karter, winning the 2018 Rotax Max Challenge and becoming the first Hawke's Bay driver to represent New Zealand at the world Rotax MAX Challenge Grand Finals which were held in Brazil in November – Stichbury finished 15th overall. He returned home for his first season in the NZ Formula 1600 Championship, finishing fourth overall after five rounds and runner-up rookie of the year.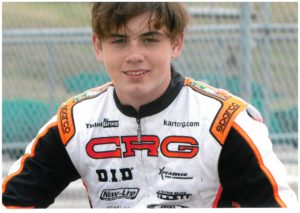 Upper Hutt's Ryan Wood is the eighth member of the 2019 Elite MotorSport Academy class. Another top karter, Wood recently became the first-ever junior Kiwi karter to stand on the overall podium of the Australian Rotax Pro Tour series. He finished third junior overall in the NZ Rotax Challenge, was second in the Australian Race of Stars DD2 class to win a ticket to the world finals in Brazil, was second in the NZ Sprint Kart Championship and won the Bruce McLaren award at the NZ National Schools Championship for the top junior driver. Wood is currently the Australian Kart Championship while also a student at the Hutt International Boys School. His career ambitions include Toyota 86 or Formula Ford in New Zealand, Toyota 86 and/or F4 in Australia and then Toyota Racing Series or Super 3 series.
Christie says the Academy programme is reviewed each year by the trustees and the Otago Academy of Sport. "We want to ensure we are doing the very best for each person who attends. Last year, for example, we added elements specific to the rally co-drivers who attended. We've amended several times the training around data analysis as the sport requires a greater understanding of these technical tools available to drivers and engineers. In what is a very intense week for participants, we constantly assess and adjust the balance of physical and mental training elements included in each of the days.
Christie also says the trustees and trainers can be justly proud of the programme which is highly-regarded around the world. "Our programme is well regarded by the FIA and many other motorsporting countries around the world. No one else has a programme like us, mostly being shorter and costing a substantial fee to attend. Our Academy programme is unique in that it is a year-long programme and provided at no cost to the participants. The value isn't solely monetary; how do you place a value on the skills a driver or co-driver can gain from some of the world's very best sporting tutors, the contacts and networking, and the opening of doors to new opportunities through the Academy.
"Many other sporting codes in New Zealand do not have anything like the Elite Motorsport Academy, and as a sport, we can be proud of the fact we offer our talented competitors this unique opportunity to better prepare themselves for a career in motorsport. The trustees appreciate the support we receive from our benefactors to ensure we can maintain the Academy to this high standard.
"We look forward to seeing the class of 2019 use the tools and skills learned during the Academy to represent themselves well at home and offshore in their future motorsport endeavours."
This year's Elite Motorsport Academy programme gets underway with the camp in Dunedin running 30 June to 6 July.
New Zealand's Elite Motorsport Academy first ran in 2004 with race drivers Nelson Hartley, Christina Orr, Chris Pither and Tim Edgell among the selected participants that year. Since then, many academy graduates have forged successful international careers such as Shane van Gisbergen, Brendon Hartley, Hayden Paddon, Earl Bamber and Mitch Evans. Other national motorsport governing bodies have consulted the MotorSport New Zealand Scholarship Trust on the programme's format and goals to assist the development of their own driver development programmes.
Follow the Elite Motorsport Academy on Facebook.