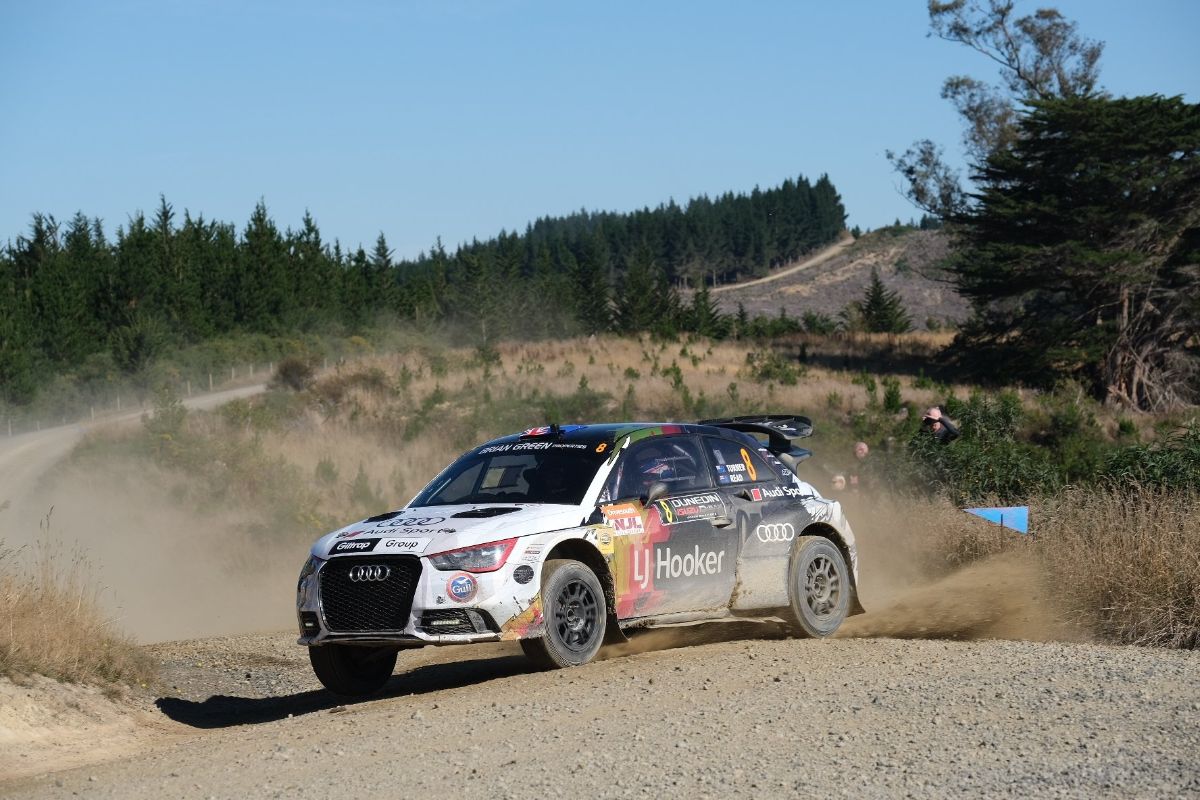 Turner takes Saturday honours at Rally Otago
Audi driver Dylan Turner leads the opening Brian Green Property Group New Zealand Rally Championship event in Otago overnight after a spectacular opening day of action south of Dunedin.
The veteran Pukekohe-based driver overcame a turbo hose issue on the second stage of Rally Otago to hold a 11.5 second lead from last season's championship runner-up Ben Hunt.
Turner has been a regular contender in the championship for a number of seasons but has never claimed an individual NZRC rally win.
"There are a lot of stages left so half the job is done," Turner said at the end of the day.
"You always do think of tomorrow but from the start of the day I have felt very confident in the car."
Hunt is 1:12 mins clear of Phil Campbell in his Ford AP4 in second after a dramatic opening day that saw the majority of the title contenders suffer trouble on some of the most spectacular roads in world rallying.
Local driver Emma Gilmour (Suzuki) had mechanical issues that forced her to retire as did Australian star Brendan Reeves (Ford), who had an alternator issue while leading late in the day.
Junior WRC star David Holder went out early in the day with a mechanical issue but was able to re-enter later in the day but well out of contention while Raana Horan rolled in his Skoda Fabia R5 before re-joining.
Matt Summerfield lost around nine minutes after getting a puncture on the famous Kuri Bush stage in his Mitsubishi while Hunt battled brake issues on his Subaru early in the day. The former NZRC champion got it rectified and set some impressive times later in the day and will battle Turner for the overall win throughout the seven stages on Sunday's schedule north of Dunedin.
Andrew Hawkeswood, the 2017 NZRC champion, was fourth overnight in his Mazda. Hawkeswood's son Jack produced an impressive performance to be fifth overall and just 46 seconds slower than his father.
Regan Ross and Samantha Gray (Ford Escort) hold a narrow lead over good friends Marcus van Klink and Dave Neill (Mazda RX8) in the overall 2WD battle. Ross is the leading Historic 2WD category with van Klink dominating the Open 2WD class. Mike Sheehan and Glenn Goldring head the FIA Group N 2WD class in their Ford Fiesta.
Ben Thomasen and Gavin Haycock (Subaru) claimed first place in the one-day Gull Rally Challenge 4WD event beating Garet and Gemma Thomas (Subaru) by nearly a minute while Bryn Smith and Andrew Beck (Mitsubishi) were third.
Auckland's Wayne Rowberry and Callum Smith took out the Gull Rally Challenge 2WD event with a strong showing in their Toyota Starlet – beating home Daph O'Rourke and Brianna Little's Toyota Corolla. Andrew Gillies and Nathan Pilcher were third in a Toyota Levin.
Phil Collins and Tracy Spark took honours in the Stadium Finance Group A Challenge in their Audi Quattro. They finished over a minute in front of Zeke King and Mark Thompson in the Subaru WRX while the Darren Keen/Sarah Faulkner entry was third in the Mitsubishi.
Former WRC star Hayden Paddon holds the overall rally lead in his Hyundai AP4+ but is not competing in this year's championship. Paddon broke his own stage records on each stage of the opening day except the inner-city super special test in a dominant performance.
Sunday's action begins north of Oamaru at 7.35am.
Media release: Rally New Zealand